MWC16 The Next Generation Mobile Network (NGMN) group of mobile operators wants companies from other industries to join its club and help design 5G networks.
The group has even changed its membership rules to make it possible for non-mobile industry members to join and has already held discussions with multinational companies in the energy, automotive and healthcare sectors - including ABB Group, BMW, Volkswagen, Toyota and Tatung.
"We want to encourage more verticals, media and Internet players to join the [NGMN] alliance," said Bruno Jacobfeuerborn, chairman of the NGMN Alliance and CTO of Deutsche Telekom, at a press briefing here at MWC.
The effort to get verticals and internet players involved is aimed at getting a better understanding of the use cases for 5G technology so that standards can be developed to meet specific business needs and technical requirements. And NGMN wants to be the platform that fosters such cross-industry collaboration.
According to Jacobfeuerborn, the push for cooperation is also about ensuring that 5G development avoids the mistakes that were made in the standardization of 4G: that is, developing technology first and then figuring out later how consumers will use it. He pointed to IP Multimedia Subsystem (IMS) and Rich Communications Services (RCS) as prime examples of 4G technologies that were "isolated and too complex to bring to market. This shouldn't happen once again."
Getting verticals involved in 5G is a big theme at MWC this year. Even the European Commissioner for Digital Economy and Society, Gunther Oettinger, is busily bringing telco and vertical industry leaders to the same table to discuss how they can work together on 5G. The Commission has earmarked €700m of public funding for 5G R&D projects through the 5G PPP.
Speaking to journalists here at MWC, Oettinger said he met with telco and automotive representatives here and hoped their collaborative efforts would be a blueprint for 5G development with other industries.
"Involvement of vertical industries is important from an investment and deployment perspective," said Oettinger. "There's a real necessity to associate the vertical industries to 5G standardization work through closer partnerships."
The EC's flagship 5G research initiative, the 5G Public-Private Partnership (5G PPP), published a new study here that discusses the impact 5G can potentially have on industries like automotive and transportation, healthcare, energy, manufacturing, and media and entertainment. The study posits that 5G network infrastructure could lead to "the fourth industrial revolution impacting multiple sectors."
"5G itself has no value, the value is what you can do with it," said Hermann Meyer, CEO of ERTICO-ITS Europe, an organization that represents transportation companies. "5G makes true what telcos told us four years ago, because it's scalable. That's important for interoperability, costs and performance."
But to ensure 5G gets off to the right start, the 5G PPP also urged mobile standards bodies like the ITU-R and 3GPP to set up new processes to be able to work with vertical industries. Likewise, the 5G research community needs to share its findings with relevant standards bodies. Meanwhile, as 5G is often described as a system of systems and not just one technology, all the different standards groups for mobile, fixed, satellite networks also need to work together, according to the 5G PPP.®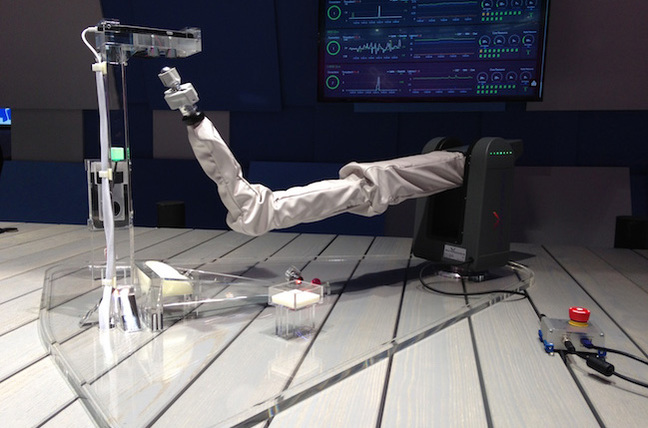 Pic: Deutsche Telekom 5G robotic arm demo at MWC16 shows sub-1ms ultra low latency
Catch breaking news and stories you may have missed from MWC16 here.