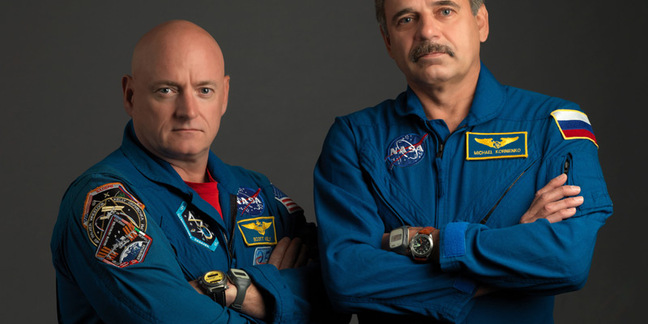 ISS residents Scott Kelly and Mikhail Kornienko are preparing to wrap their One Year Mission aboard the International Space Station, and will return to terra firma on 1 March after 340 days aloft.
The focus of the pair's extended stay on the orbiting outpost was to gain detailed information on how the human body reacts to an extended period in space, knowledge which may one day be vital on a manned mission to Mars.
While Soviet/Russian cosmonauts previously clocked up some impressive time in the heavens on the Mir space station (Vladimir Titov and Musa Manarov, 366 days between December 1987 to December 1988; space residency record holder Valery Polyakov, 438 days between January 1994 and March 1995; and Sergei Avdeyev, 380 days between August 1998 and August 1999), new techniques such as genetic analysis will allow scientists a better insight than ever into how humans cope with long-term weightlessness.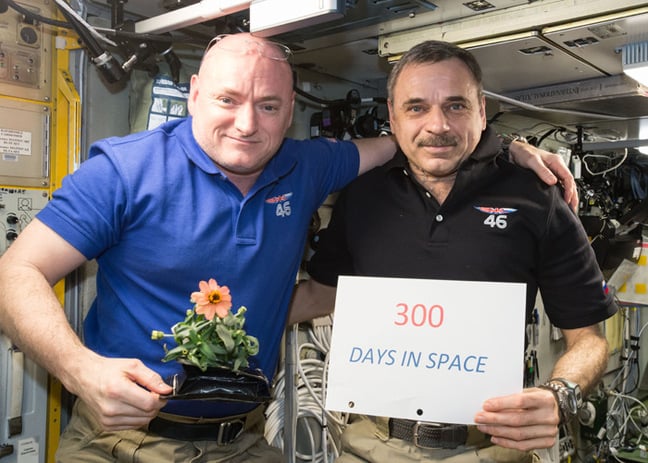 Kelly and Kornienko clock up 300 days. The zinnia is part of the Vegetable Production System (VEGGIE) experiment. Pic: NASA
Analysis of Kelly and Kornienko will continue even after they return home. In the case of the former, NASA "will be collecting post-flight medical data three months and six months after he is back on Earth", according to John Charles, chief scientist of the space agency's Human Research Program.
Handily for NASA, it has been able to compare Scott Kelly's physical state with that of his twin brother Mark Kelly - another astronaut who remained on Earth as a control.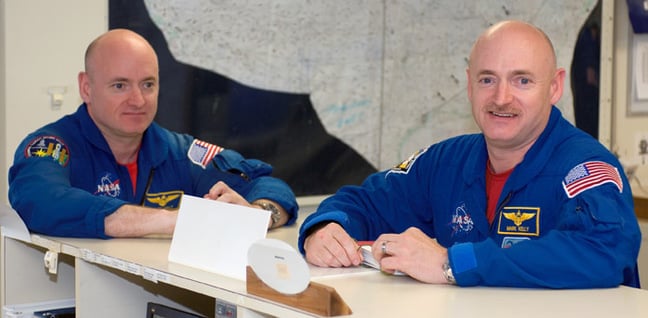 Mark (right) and Scott Kelly. Pic: NASA
For example, scientists will consider the rate of degradation in the twins' telomeres – "the nucleotide sequences that cap off human chromosomes" as part of a comparison of their "omics". John Charles said: "This was the first time we have done in-depth omics profiles on twins. The longer a human is in space, the more that individual is exposed to risks such as radiation and weightlessness. Our integrated team of researchers are addressing those risks to create countermeasures to enable more advanced space travel."
The Russian contribution to mankind's advancement towards the Red Planet includes testing of the "Lower Body Negative Pressure" (LBNP) or Chibis suit - part of the Fluid Shift study which "tests the hypothesis that the normal shift of fluids to the upper body in weightlessness contributes to increased intracranial pressure and decreased visual capacity in astronauts".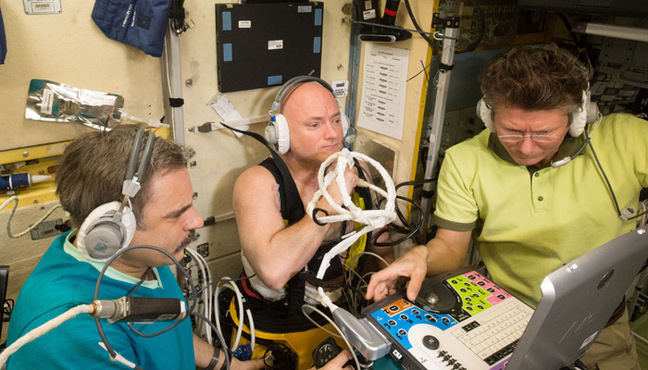 Scott Kelly tries out the Chibis suit for size, monitored by Mikhail Kornienko (left) and fellow cosmonaut Gennady Padalka. Pic: NASA
Scott Kelly will give his final news conference from the ISS tomorrow (Thursday) at 17:05 GMT, which you'll be able to enjoy on NASA TV.
Next Tuesday, Kelly, Kornienko and Sergey Volkov - who will himself have clocked up 182 days in space - will board the Soyuz TMA-18M capsule for the return leg of their epic space journey. ®
Sponsored: Webcast: Discover and secure all of your attack surface