This article is more than 1 year old
Hands on with Xiaomi's Mi 5: Great smartphone, but when do we get it?
'We don't need a cooling pipe system,' says global veep
MWC16 Following a hypetastic presentation from Xiaomi Global VP Hugo Barra, your correspondent was among the first to get a quick hands-on with the 5.15" Mi 5, Xiaomi's newly announced smartphone.
Xiaomi is the huge smartphone brand you may not have heard of, if you live outside the far east. It is the bestselling brand in China, according to Barra, with 15 per cent market share (just ahead of Huawei at 14 per cent), and sold 70 million smartphones in 2015.
Today at Mobile World Congress in Barcelona the company for the first time held a flagship product launch in Europe, shows the company's intent to become more of a global contender.
The first impression is that this device really is light; 129g according to the spec, and thin at 7.25mm, despite its well-specified 3000 mAh battery. It's also notable how little bezel there is surrounding the screen. This is touted by Xiaomi as a good thing, though it does mean that you have to hold it by its edges to avoid obscuring part of the display, so it is a mixed blessing.
The device is smooth and well-made but feels less premium than a Samsung S7, though ahead of an LG G5. Note, though, that the model on display was not the Pro version with its "3D ceramic back cover," but is the mid-range version, which has a glass back.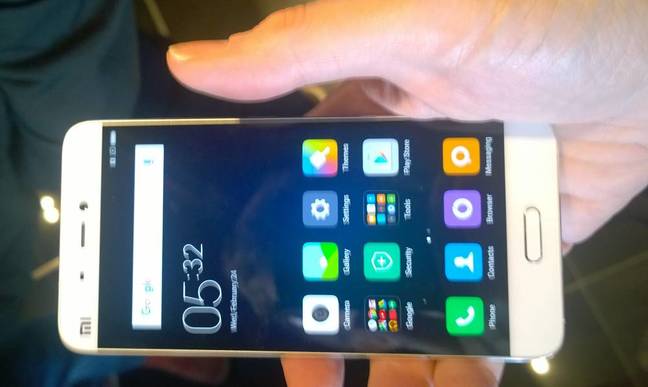 The Mi 5 has a small screen bevel, making good use of space but giving less to grip
Performance on a quick test was outstanding, with fast, responsive screen scrolling and apps that open in a snap. Barra talked up the Qualcomm Snapdragon 820 chipset at the event, claiming roughly twice the CPU performance of the 810 chipset in the previous model, the August 2014 Mi 4, and the Adreno 530 GPU, 40 per cent faster than the earlier iteration. The Mi 5 also benefits from LPDDR4 RAM, twice the speed of LPDDDR3. The hands-on confirms the specs; this will not disappoint.
The OS is Android 6.0, on top of which you get Xiaomi's MIUI. I am more a fan of stock Android; but the UI is not objectionable and I suspect many users will appreciate the huge numbers of themes available, five to choose from immediately and thousands more available online.
What about the camera, with its 4-axis optical image stabilization? Assessing a camera takes more than a quick look at an event, but brief experiments indicated good but not miraculous results; sadly it is still possible to take a blurry pic. The specs are 16MP rear, 4MP front. No hardware camera button means you have to jab the screen. Focus is fast, though. Talking about the camera, the f/2.0 lens does not protrude at all on the back, which is great for look and feel even if it compromises the optics.
While the on-board storage is well specified, especially in the Pro model, there is no MicroSD slot. You do get dual SIM capability though, which is popular in Xiaomi's home market.
No nuclear reactor-style cooling pipes here
The Snapdragon 820 is a common feature in this year's premium smartphones but Samsung has raised eyebrows with its heat pipe cooling system in the Galaxy S7, impressive in its way but why is it necessary?
"We've learned a lot about thermal control. A lot of it is done in software. Qualcomm did an amazing job with thermal control. We don't need a cooling pipe system," Barra told The Register.
The killer feature of the Mi 5 is price. Quick summary:
Mi 5 Pro: 128GB storage, Snapdragon 820 2.15 GHz, ceramic back, RMB 2699 (about £300)
Mi 5: 64GB storage, glass back, Snapdragon 820 2.15 GHz, RMB 2299 (about £250)
Mi 5: 32GB storage, glass back, Snapdragon 820 1.8 GHz, RMB 1999 (about £220)
The launch date in China is 1st March, but what about the rest of the world? "Global markets soon," said Barra, but what "soon" means is inscrutable. "We cannot talk about this," said one of the Xiaomi executives when asked, not even willing to commit to a 2016 date for the USA or Europe.
That said, this is Barcelona, and there is no doubting Xiaomi's global intent. The device looks great, and this well-executed press event will raise anticipation for wider availability; here's hoping that it is not too heavily delayed. ®