MWC16 EMC wants traditional and new communications service providers to use a single network function virtualisation scheme to introduce new services layered on the existing telecoms infrastructure.
The Provider Cloud System (PCS) is a reference architecture for Network Functions Virtualisation Infrastructure (NFVI). By using it, communications service providers can virtualise their networks.
Storage company EMC announced this acronym-dense scheme at the Mobile World Congress in Barcelona, targeting the delivery of distributed, multi-service, carrier-grade cloud services. It's based on NFV (Network Functions Virtualisation) and EMC says it enables new entrants to offer traditional telecom services without having to make the large capital investments that have historically been required, also existing comms service providers to offer new services more easily and quickly.
The actual part of EMC that's involved is, of course, VMware, and its vCloud NFV technology.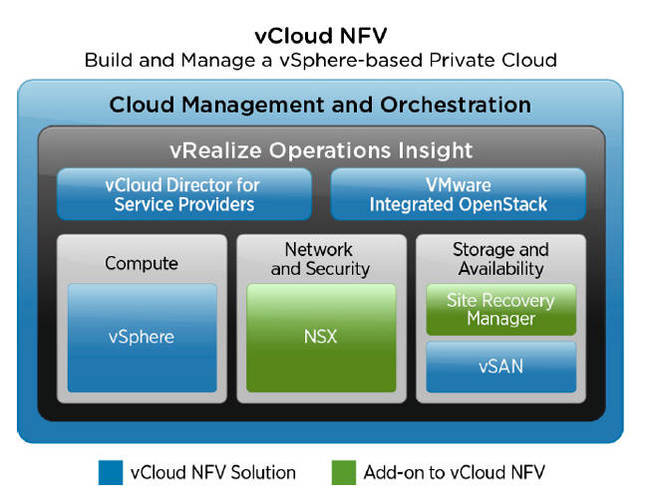 vCloud NFV cloud management components vCloud Director for Service Providers, and VMware Integrated OpenStack were specifically designed and packaged for use with vSphere Telco NFV cloud environments. vRealize Operations Insight can be extended to included bare-metal and multi-hypervisor environments.
It's based on NFV industry standards and has an NFVI layer, data and security services, and a management and orchestration layer. The scheme combines automation, programmability, and predictive analytics to deliver, EMC says, carrier-grade availability - six "nines" availability - and reliability.
The analytics are said to combine real-time intelligence with Data Lake technology to optimise network operations and unlock new use cases. That sounds trendy but hard to pin down.
The modular NFVI stack inside the reference scheme can scale from a single node to large multi-node distributed environments. It's based on converging component server, storage and networking items into a platform entity that can support virtual network functions (VNFs), different networking personalities.
These functions could be traditional telecoms, such as cellular networking software, and newer services - eg, cloud hosting, media and other content delivery.
EMC says it has a bunch of allies, partners providing VNF and mobile networks services: Affirmed Networks, Cellwize and Versa Networks, which have validated their offerings with its PCS scheme. Component suppliers such as Brocade are also onboard. Why not? It costs them virtually nothing.
EMC cites an ACG Research study into the Business Case for a Common NFV Platform (PDF) arguing the case for telcos and others to use an NFV platform instead of individual custom software stacks or appliances.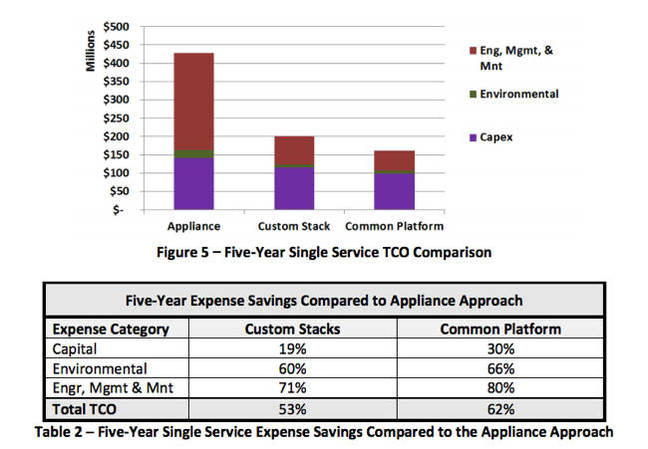 ACG Research TCO comparisons
In effect, EMC/VMware is saying: treat telecom infrastructure as a server and virtualise it to make the darn stuff operate more efficiently. Then you can introduce new services as (relatively) simply as running a new app on a server.
The EMC PCS reference architecture is available now through EMC professional services and sales reps. ®