Scottish brewer BrewDog has agreeably released its entire recipe back catalogue, encompassing the 215 beers developed during its almost 10-year history.
From humble home-brewing origins, James Watt and Martin Dickie have grown BrewDog to an international craft beer operation. Along the way, they've claimed the "world's strongest beer" title twice, firstly with the 41 per cent ABV Sink The Bismarck!, and then with the liver-bashing 55 per cent ABV The End of History.
The recipes for both (albeit with somewhat less lethal ABVs) are available on BrewDog's "DIY Dog" PDF (see here), along with other tempting tipples such as Tactical Nuclear Penguin and Albino Squid Assassin.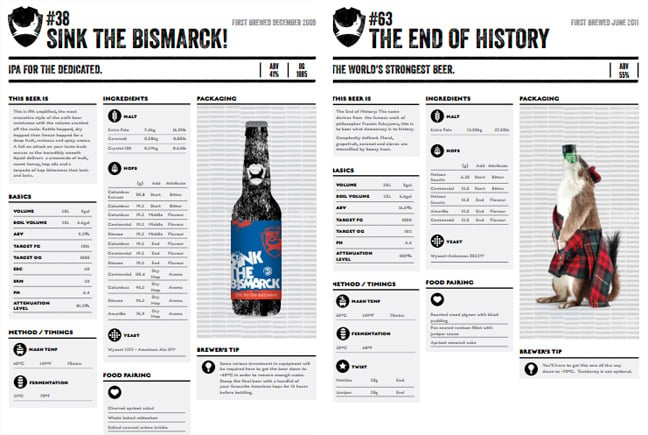 The company says of its decision to let the recipes roam free:
Many of the classic BrewDog beers were developed during our home-brewing days, and we still use a 50L system to develop new beers and new recipes here at BrewDog. Home-brewing is very much ingrained in our DNA at BrewDog as so many of the world's great craft breweries can trace their origins back to home-brewing.

With DIY Dog we wanted to do something that has never been done before as well as paying tribute to our home-brewing roots. We wanted to take all of our recipes, every single last one, and give them all away for free, to the amazing global home-brewing community.
While wannabe home brewers are advised to take the recipes and "copy them, tear them to pieces, bastardise them, adapt them, but most of all, enjoy them", BrewDog concludes with a warning for international brewing monoliths: "Oh, and if you are from one of the global beer mega corporations and you are reading this, your computer will spontaneously combust, James Bond style, any second now. So leave the building immediately and seriously consider your life choices." ®