This article is more than 1 year old
Raspberry Pi 3 to sport Wi-Fi, Bluetooth LE – first photos emerge
Details, snaps of latest addition to tiny-puter family turns up in FCC docs
Pics A Raspberry Pi 3 with onboard Wi-Fi, Bluetooth and Bluetooth Low Energy (LE) support has emerged today.
The Model B Raspberry Pi 3 will be the first in the family of tiny cheap-and-cheerful ARM-powered computers to feature builtin wireless networking. For previous models, owners have had to make do with wired Ethernet, USB Wi-Fi adapters, or Ethernet-to-wireless gadgets. Having wire-free networking built into the little single-board computer will be a boon.
Confirmation of the Pi 3's existence comes from these lab results submitted by the Raspberry Pi Foundation to US communications watchdog the FCC. The documents show the new hardware complies with radio standards, and the regulator has approved the device for use.
The Model B's schematics, block diagrams, parts lists, and other blueprints have been withheld from public view at the request of the Raspberry Pi designers, so the exact specifications of the new system aren't yet known. More details are expected to be revealed next week.
From the submitted dossier, the Model B will use a single chip antenna. The hardware was tested in Hull, UK.
The Pi 3 Model B otherwise looks pretty much like 2015's quad-core 32-bit ARM Cortex-A7-based Raspberry Pi 2: it sports a familiar Broadcom system-on-chip, HDMI port, SD card slot, wired Ethernet socket, and 40 general-purpose IO pins, all in a credit-card form factor.
Here are some photos of the new hardware: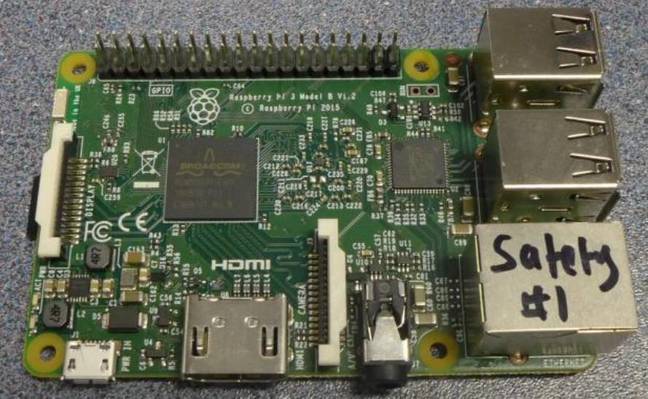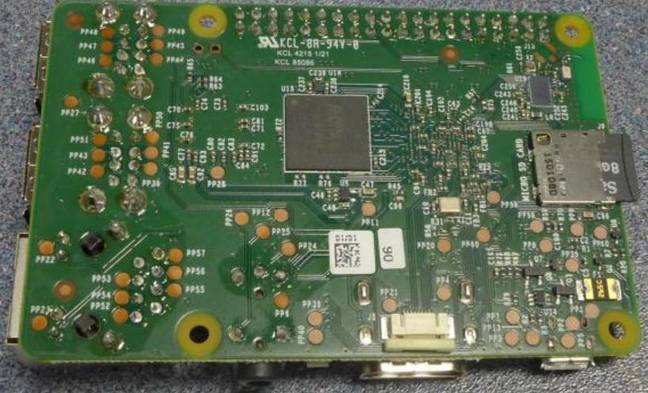 Click to enlarge either photo
A spokesperson for the Raspberry Pi Foundation declined to comment.
The Brit-designed Pi first hit the scene in 2011 as an affordable computer to kickstart interest in programming and technology among kids and adults. Since then the hardware has undergone several revisions, although never exceeding a price tag of about $35 (£25). ®