Huawei, DataCore fire torpedoes into SPC-1 storage box benchmarks
There's a revolution brewing
---
Huawei has broken the 3 million IOPS barrier in the SPC-1 storage performance benchmark. Meanwhile, DataCore has shot past 1.5 million IOPS with staggeringly low latency and $/IOPS numbers. These two suppliers are virtually rewriting the future of SPC-1 performance.
The Storage Performance Council's SPC-1 benchmark measures, in an objective way, how fast an array can respond to IO requests from typical business-critical applications, enabling meaningful cross-vendor comparisons.
The Huawei result, published today, was scored by an OceanStor 18800 v3 box, which attained 3,010,007.37 IOPS [PDF] during a test run in November. The v2 18800 was rated at 1,005,893.43 SPC-1 IOPS in February 2014.
Hitachi's VSP G1000 HAF was, until now, top of the SPC-1 charts with 2,004,941.89 IOPS, which was measured in October 2013. Now Huawei's v3 18800 has blown that away.
The OceanStor's average response time at 100 per cent load was 5.17 milliseconds, and its price/performance was $0.79/IOPS, the system costing $2,370,763. Its configuration included four storage controller engines and 512 400GB SSDs, totaling 204.8TB of raw capacity.
This system basically demolished the Hitachi VSP SPC-1 record.
DataCore's demented dash
A DataCore SANSymphony system running Parallel IO software scored 459,290.87 IOPS in November last year. Its price/performance was an astounding $0.08/IOPS, the system costing just $38,400.29 while similarly performing systems were in the $176,000-plus area. The average response number was 0.32ms, an SPC-1 record at the time, and lower than similarly performing and faster systems.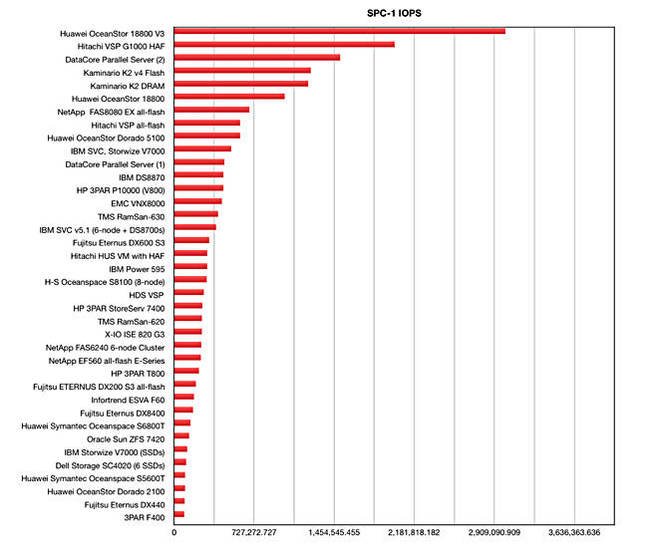 DataCore's SPC-1 IOPS position (Click the chart for larger version)
Now, in a report published today, a new DataCore Parallel Server test has scored 1,510,090.52 IOPS [PDF], promoting DataCore to number three in the SPC-1 performance rankings, beating all-flash systems from Kaminario, NetApp, and Hitachi.
Its average response time at 100 per cent load was, get this, 0.10ms, an SPC-1 record.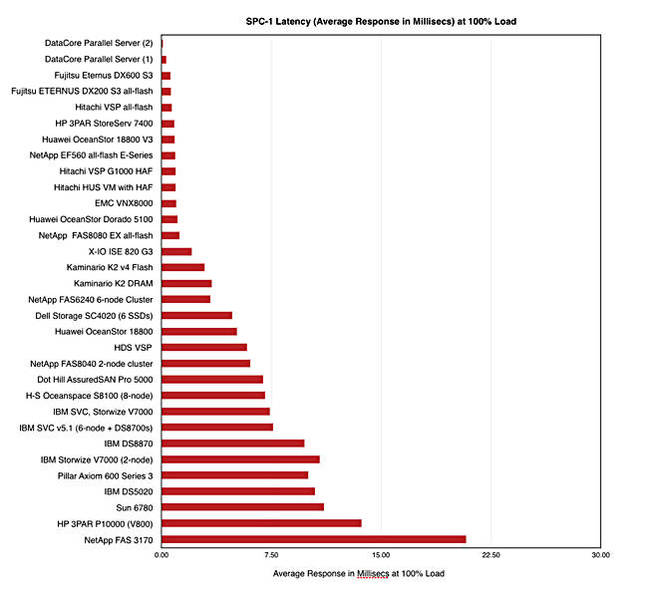 DataCore's Parallel Server average response time position (Click the chart for larger version)
Its price/performance was $0.09/IOPS; the system has a $136,759 price tag. The number four system cost $997,348 – that's 7.3 times more expensive; the number two cost $2,004,941; and the top system, Huawei's 18800 v3, cost $2.3m – that's 17.3 times more expensive and with an average response at 100 per cent load of 0.92ms, nines times slower than DataCore's 0.10ms.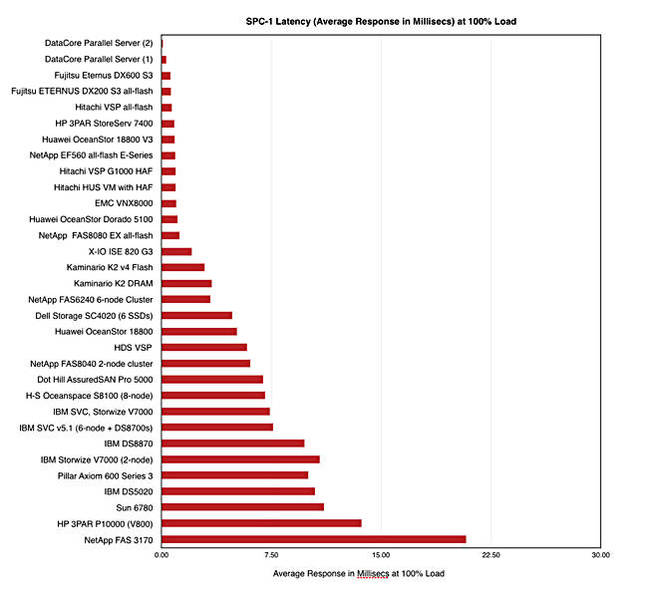 DataCore's Parallel Server price/performance position (Click the chart for larger version)
Here's the DataCore box's bill of materials:
X3650 M5 server with two 2.30GHz Xeon E5-2699 v3 18-core processors
768GB main memory
Internal and external RAID controllers

Five 240GB 6Gbit/s SATA Samsung SSDs
11 x 120GB 6Gbit/s SATA Samsung SSDs
300GB 10K SAS 2.5-inch HDD for system software
250G 2.5-inch Samsung 850 EVO SSD for swap

6Gbit/s SAS link to:

External Dell PowerVault MD1220 containing:

13 240GB SATA SFF Samsung SSDs
11 120G SATA SFF Samsung SSDs
This was a hyper-converged system in effect; the server and the SSD tray could have been bought as a single entity from Lenovo, but DataCore went and tested with what it had in its lab. It said hyper-converged systems like this could be purchased from its server hardware partners such as Fujitsu and Lenovo.
The total capacity was 2.92TB. As a reminder, the 3 million IOPS Huawei 18800 v3 system – a monster in comparison to DataCore's mouse – needed 68.934TB, a massive 23.6 times more capacity, to achieve just twice as many IOPS.
Here's a combo of two DataCore slides comparing the Hitachi VSP and DataCore Parallel Server size and SPC-1 numbers: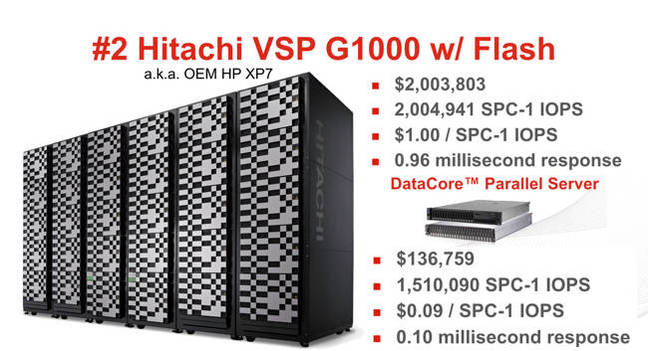 Little and large come to mind, or monster and the mighty mouse that roared
And what's next?
DataCore chairman and cofounder Ziya Aral explained that his company typically does not sell monolithic systems; instead, its customers buy multi-node systems. Suppose it ran the SPC-1 tests with a multi-node system, then?
Aral said it intended to do exactly that, and attempt to take the SPC-1 record, meaning surpass Huawei's 3,010,007.37 IOPS. If we assume linearity and have two connected Lenovo server-based nodes, with today's numbers, DataCore would achieve 3,020,181.04 IOPS and indeed take the record.
We could imagine a system price of around two times $136,759. Meanwhile, Huawei 18800 v3 is 6.5 times more expensive. That shows the sheer power of parallelizing IO.
Of course, nothing is that simple, but DataCore is convinced its parallel server technology can go all the way to total SPC-1 dominance.
What does this mean for storage array suppliers?
In our view, they face having their absolute IOPS and price/performance annihilated by a new round of commodity hardware driven by proprietary software. No matter how fast the basic speed of their systems, they are limited by serial IO-handling in their processing. Overcoming that requires heavy over-provisioning of flash drives to the point that, even if they approach DataCore Parallel Server performance, they are wildly more expensive.
So they have to adopt parallel IO to regain price/performance, realistic absolute performance, and response time parity. They either reverse-engineer DataCore's technology or call up Aral and talk about licensing and joint-development opportunities.
Hyper-converged vendors take note
DataCore has a hyper-converged offering. All hyper-converged infrastructure appliance (HCIA) vendors face having their performance and price/performance in storage access terms being potentially destroyed by DataCore-powered HCIA hardware.
The conclusion for HCIA vendors – Cisco, EMC, HPE, Maxta, Nutanix, SimpliVity and VMware partners, and, indeed VMware – is exactly the same as for storage array vendors; they either reverse-engineer DataCore's technology or call up Aral and talk about licensing and joint-development opportunities.
Takeaways
For now there are two take-aways from this.
Firstly, if you want the absolute maximum SPC-1 performance then Huawei's 18800 v3 is the array for you. Secondly, if you want the best SPC-1 response time, price/performance and up to 1.5 million IOPS then DataCore Parallel Server is unquestionably the best choice based on these SPC-1 numbers. ®
Similar topics
Narrower topics