Raspberry Pi celebrates fourth birthday with fruity version 3
1.2 GHz ARM Cortex A53, 802.11n Wireless LAN and Bluetooth
As rumoured last week, the Raspberry Pi Foundation is celebrating its fourth birthday today with the release of the Pi 3, packing a 1.2 GHz 64-bit ARM Cortex A53, 802.11n Wireless LAN capability and Bluetooth 4.1.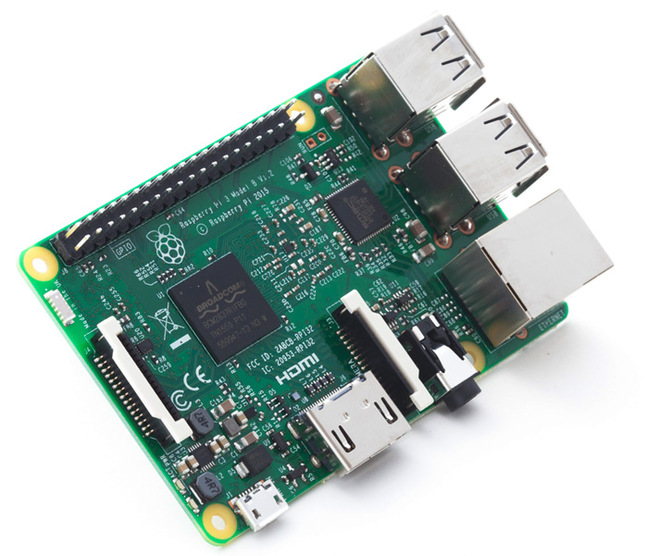 The Raspberry Pi 3
We spoke to Pi head honcho Eben Upton last week ahead of the unleashing, and here's the full spec, straight from the horse's mouth:
SoC: Broadcom BCM2837 (CPU, GPU, DSP, SDRAM)
CPU: Quad-core 64-bit ARM Cortex A53 clocked at 1.2 GHz
GPU: 400MHz VideoCore IV multimedia
More GPU info: OpenGL ES 2.0 (29 GFLOPS); 1080p60 MPEG-2 and VC-1 decoder (with license); ​1080p60 h.264/MPEG-4 AVC high-profile decoder and 1080p30 encoder
Memory: 1GB LPDDR2-900 SDRAM (i.e. 900MHz)
USB ports: 4
Video input: 15-pin MIPI camera interface (CSI) connector
Video outputs: HDMI, composite video (PAL and NTSC) via 3.5 mm jack
Audio input: I²S
Audio outputs: Analog via 3.5 mm jack; digital via HDMI and I²S
Storage: MicroSD
Network: 10/100Mbps Ethernet and 802.11n Wireless LAN
Peripherals: 17 GPIO plus specific functions, and HAT ID bus
Bluetooth: 4.1
Power rating: 1A (5.0 W)
Power source: 5 V via MicroUSB or GPIO header
Size: 85.60mm × 56.5mm
Weight: 45g (1.6 oz)
Effectively, then, the $35 (more or less £30 inc VAT in the UK) Pi 3 is a supercharged version of the 2 Model B flavour, with welcome wireless capability.
Regarding performance of the new model, the Pi Foundation says: "Combining a 33% increase in clock speed with various architectural enhancements, this provides a 50-60% increase in performance in 32-bit mode versus Raspberry Pi 2, or roughly a factor of ten over the original Raspberry Pi."
Eben told El Reg that in anticipation of the expected geek stampede for the new kit, there are around 200,000 units already produced, with capacity to knock out a further 100,000 per week to meet demand.
Customers will be able to enjoy the Raspberry Pi 1 or 2 "for the time being", "as long as there's demand". The Pi Foundation adds: "Raspberry Pi 1 Model B+ and Raspberry Pi 2 Model B will continue to sell for $25 and $35 respectively."
To date, roughly eight million Raspberry Pis have been sold, meaning it's eyeing the Commodore 64's "highest-selling single computer model of all time" crown. Between 10 and 17 million C64s were shipped, according to this decidedly imprecise Wikipedia entry.
So, it's a very happy birthday indeed to the diminutive Brit computer, and here's a celebratory vid by Matt Timmons-Brown, aka The Raspberry Pi Guy:
®