Windows Phone devs earn double what poor Android devs pocket
Don't feel sorry for the fandroids, though...
---
Windows mobile developers need every crumb of comfort they can muster – so mobile ad network InMobi has offered a few.
InMobi's annual developer survey suggests that Windows Phone devs pocket twice the monthly revenue of Android developers.
There might be far fewer users of the platform, but there is less competition in the App Store, too. So what apps there are, are more discoverable, and in turn, used more.
The average WinPho developer took home an average of $11,400 gross per month, with 49 per cent grossing at least $10,000. That compares to $8,100 for iOS developers, and $4,900 for Android developers. Money is by far the single biggest motivational factor in developing mobile apps, cited twice as often as enjoyment.
There were two other comforting crumbs, one of which is surprising. A surprise crumb.
Windows Phone continues to enjoy far more developer mindshare than marketshare, with 34 per cent of developers in Europe targeting the platform (iOS: 65 per cent, Android: 90 per cent). It's half that in APAC and the USA, though. More surprisingly, more developers suggest they expect to do more Windows mobile development (28 per cent) than less (16 per cent).
That suggests faith in Microsoft's Universal app strategy, which involves bridging tools and frameworks to lure web, iOS, Android and Win32 developers over to Microsoft platforms.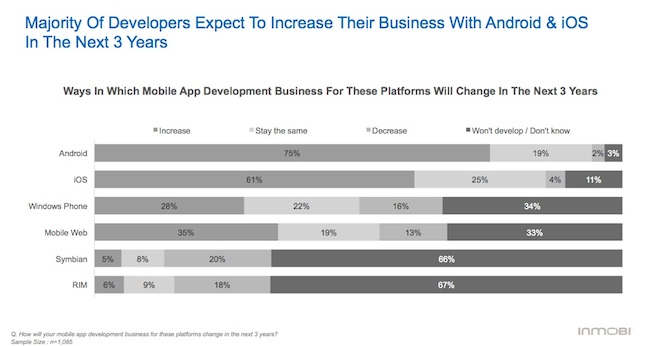 47 per cent of respondents are lone developers.
The survey quizzed over 1,000 developers over half of which are in APAC. You can download it here. (registration required)
Similar topics
Broader topics