Cisco Partner Summit Cisco has announced new Nexus 9000 and 3000 switches with a theme of 25 and 100 gig Ethernet for 10 and 40 gig prices, calling them cloud-scale products. It's also buying cloud app wrangler startup CliQr.
Switchzilla has adding the 9200, 9300 and 9500 models to its 9000 family. The latest gear sports a new ASIC delivering 10/25/40/50/100Gbps. This enables 10/25/40/50/100 Gbps speeds at the price of today's 10/40Gbps network gear.
We're told these new new switches deliver pervasive, real-time visibility at line rate; offer enhanced security through segmentation; and can support more than a million containers per rack.
The 9200 and 9300EX switches are the first native 25Gbps-capable switches. The 9500 offers an upgrade to 100Gbps infrastructure within an existing chassis. Cisco says it's the industry's first non-blocking wire rate router with 36 ports of 100Gbps in 1U.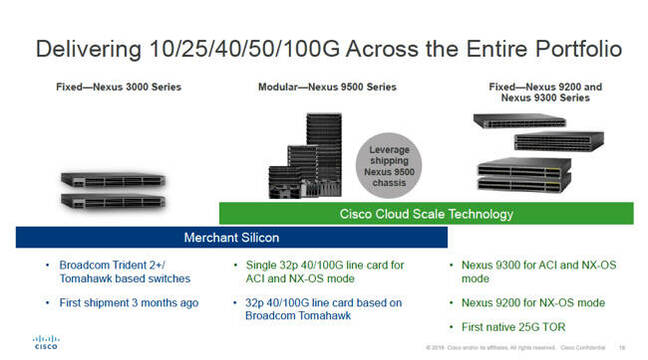 Cisco slide detailing new Nexus gear
There are intelligent buffers in leaf and spine networking – these are dedicated buffers to ensure lossless storage traffic.
NX-OS, the Nexus operating system, has been updated with segment routing, in-service software upgradability, and microburst detection. This latter is claimed to enable "unparalleled traffic control, operational flexibility and fine-grained visibility and security."
A new and more powerful Nexus Fabric Manager version automates fabric lifecycle management with a point-and-click web interface, automated configuration snapshots and rollbacks. It can build and manage a VXLAN-based fabric, dynamically configuring switches based on simplified user-based actions.
Cisco claims a network admin can deploy a VXLAN-based fabric in three steps, with zero-touch provisioning. That person could upgrade all fabric switches to a new software release in four mouse clicks.
It's also added 25/50/100Gbps capability to its top-of-rack 3000 line with a new ASIC, saying this is taking place on its merchant silicon platform.
The Nexus 7000, 6000, 5000, 4000, 2000 and 1000v product lines are unchanged, except that ACI support has been added to the Nexus 7000 switches.
Cisco's ACI ecosystem has grown. New entrants are:
Veritas – newly spun-off from Symantec – information and data management
Infoblox – security policy enforcement
N3N – extends ACI visibility to the entire data center
Tufin – security orchestration products
vArmour – multi-cloud security
CliQr Technologies acquisition
Cisco intends to acquire CliQr Technologies whose CloudCenter platform provides application-centric orchestration for private, hybrid and public clouds. In other words it can deploy virtual machines on one of multiple clouds and move a deployed VM between clouds. CloudCenter ties business apps to heterogeneous data center infrastructure, running across bare-metal, containers and virtualized environments.
Cisco says the acquisition will help its customers simplify and accelerate private, public and hybrid cloud deployments, and will integrate CliQr across its data center portfolio. The CliQr team will join Cisco's Insieme Business Unit reporting to senior veep and general manager Prem Jain.
It's interesting that Oracle has just bought Ravello which supplies technology to enable hypervisors to move between clouds by virtualizing them, and thus encapsulating apps so they can run virtually anywhere.
CliQr was founded in late 2010 by CEO and president Gaurav Manglik and CTO Tenry Fu. They have raised $38.4m in three rounds. Cisco will pay $260m in cash and assumed equity awards, plus retention-based incentives. The acquisition is expected to close in the third quarter of fiscal year 2016, subject to customary closing conditions. ®