Video A photographer in a public place was called a "lunatic", "detained" by private security guards and had the police called on him after he videoed a wall outside the Port of Tyne.
Footage posted to YouTube by 24-year-old media production graduate Alan Noble shows two security guards employed by the Port of Tyne remonstrating with him on a traffic island next to a roundabout by the port's entrance.
One guard, with blue eyes, grey hair and wearing a blue fleece and lanyard clearly marked with "Port of Tyne", can be clearly heard on the video.
He told Noble: "You're taking photographs of an area under the protection of the Department for Transport and if you don't move you're going to be arrested."
"I'm very happy to talk to the police," Noble replied, adding: "This is going on YouTube, you know."
Noble, who completed his course at Northumbria University last year, told The Register: "I wanted to use my new skills by creating a film to highlight the Newcastle area of the North East. It's more to show off Newcastle as the place to be because I absolutely love my home city! The film is a personal project promoting Newcastle."
He explained that to make his film he wanted to video the large Port of Tyne sign from the road running alongside the docks so he could make a time-lapse exposure of traffic driving past it.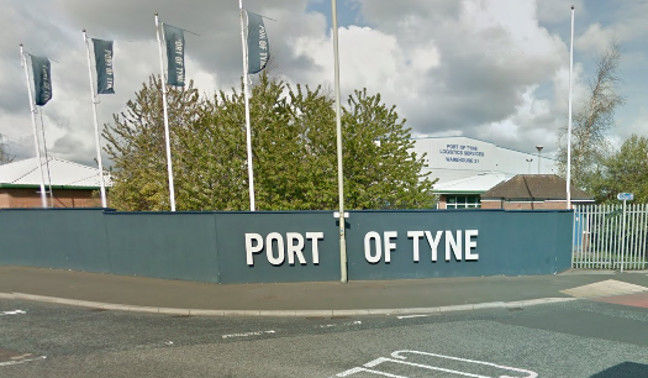 Port of Tyne: This sign is directly opposite the one Noble was filming. Pic via Google Maps
"I don't know why the guards came over to me," said Noble. "I was simply minding my own business when they started hassling me. It's not like I was trying to hide or wind them up."
The guard in the blue fleece appears to call Noble a "lunatic", while his colleague, in a yellow hi-vis jacket, later seizes hold of Noble's camera tripod and refuses to let go of it. Noble can be heard saying "I didn't give you permission to touch my property," while one of the guards replies, "I didn't give you permission to take photographs of our property … yes, you do, yes, you do." One guard then demands to see what Noble had taken pictures of.
The fleece-wearing guard is clearly in shot while phoning the police, and can be heard saying:
I've got a gentleman who's been taking photographs of the port and I believe he might be involved in hostile reconnaissance so I'd like immediate police attendance, please.
"I understand security have a job to do, but there are ways and means of doing it," Noble told The Register. "They were aggressive throughout and made me feel uncomfortable and victimised."
Noble said he was on public land during the whole incident, which appears to be the case from the footage he posted on YouTube. Northumbria Police constables, upon arriving, confirmed that Noble had done nothing wrong and broken no law.
A Port of Tyne spokeswoman told The Register: "Whilst we appreciate the matter could have been handled more sensitively, our employees are required to act in accordance with international security regulations which are designed to protect ports and the public." *
Noble Tweeted the Port of Tyne immediately after the incident asking for the organisation's contact details. He discovered later on that his Twitter account had been suspended and he was presented with instructions from Twitter to delete two Tweets referring to the incident before he could regain control of his account. He told The Register that the Port of Tyne's official Twitter account had also blocked him.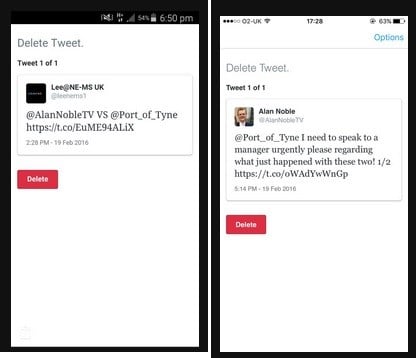 The two Tweets that Noble had to delete before he could use his Twitter account again
Jules Mattsson, a spokesman from campaign group I'm a Photographer, Not a Terrorist (PHNAT), told The Register: "The idea that shooting a time lapse of a sign is hostile reconnaissance is totally idiotic and we're deeply concerned by the actions and attitude of the port's security staff. The legal position and guidelines are clear, people can film and photograph private premises from a public highway without needing permission."
"This position from security guards is endemic despite it having no basis in law and we'd like to see the industry and its regulator step up and deal with it through better education and enforcement," added Mattsson.
A Northumbria Police spokesperson told PHNAT: "The Port of Tyne's security officers acted in accordance with the security regulations that apply to major ports."
The police spokesperson continued: "No offence has been reported and no further action is being taken. We recognise photographers and film makers are within their rights to film outside an organisation, however, it is always beneficial to help prevent them from being asked to explain what they are doing to inform the organisation in advance that they intend to film outside their premises." ®
Bootnotes
So what was all the fuss over? Here's Noble's final time lapse clip, in all its eight second glory:
* El Reg asked what exactly those regulations are. The Port of Tyne replied: "The International Code for the Security of Ships and Port Facilities requires the Port of Tyne to maintain a high level of security in and around the Port facility, expressly covering the approaches to the Port on land and water."
The International Ship and Port Facility Security (ISPS) code is part of the SOLAS international shipping conventions, which govern maritime safety and security. As a party to the SOLAS conventions, the UK gives legal effect to its provisions in statutory instruments. Hence we come to the Ship and Port Facility (Security) Regulations 2004. Regulation 11 states:
(1) A person shall not—

(a)go, onto or into any part of a restricted area of a port facility except with the permission of the port facility security officer or a person acting on his behalf, and in accordance with any conditions subject to which that permission is for the time being granted, or

(b)remain in any part of such a restricted area after being requested to leave by the port facility security officer or a person acting on his behalf.

(2) Paragraph (1)(a) shall not apply unless it proved that, at the material time, notices stating that the area concerned was a restricted area were posted so as to be readily seen and read by persons entering the restricted area.
The public road running past the port entrance is not a restricted area of the port - or, indeed, part of the port at all. Neither, from a quick shufti round the neighbourhood via Google Street View, do there appear to be any visible signs designating the public road as a restricted area of the port.
Readers can draw their own conclusions from here.