In company with Brocade, Emulex and QLogic, ATTO has launched its 32gig Fibre Channel HBA.
Its 32 gig product line centres on Celerity HBAS (host bus adapters) with low profile single and fual-port products. These complement 16Gbit/s product in single, dual and quad-port formats.
The 32 gig products support 3,200MB/sec throughput per channel, with the 16 gig products being half that speed. ATTO says its Gen 6 product has 60 per cent higher IOPS and half the latency of Gen 5 (16Gbit/s) Fibre Channel.
Brian Reed, Emulex VP for marketing, kindly said: "With its 2X increase in bandwidth, Gen 6 Fibre Channel matches the performance requirements created by flash-based arrays and prevents network bottlenecks. The ATTO Gen 6 solution is a key to the success of Fibre Channel."
ATTO tells us it and its FC product-supplying peers are committed to evolving future generations of the technology. Ah, is that 64Gbit/s Gen 7 Fibre Channel on the horizon, and maybe even Gen 8 128Gbit/s following on after that?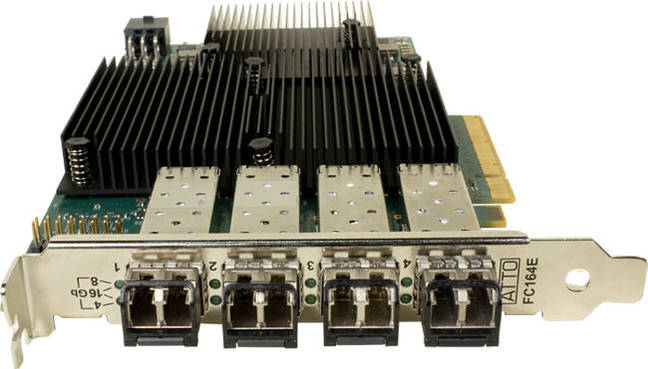 ATTO Celerity 164E HBA
We could roughly assume all-flash-arrays need Gen 6 Fibre Channel and it may be that servers and external array controllers fitted with 3D Xpoint memory may drive a need for Gen 7 and beyond.
ATTO's Gen 6 Celerity 32Gbit/s and 16Gbit/s HBAs are available now in limited quantities, with general availability scheduled for spring 2016. ®