Broadcom's Emulex unit is pushing out 32Gbit/s Fibre Channel HBAs, the host bus adapters linking servers and storage arrays to Fibre Channel cables.
The 32 gig unit's appeal is straightforward enough; it's twice as fast as 16Gbit/s Fibre Channel (Gen 5) and four times faster than 8Gbit/s FC (Gen 4).
Like other 32gig FC suppliers Emulex identifies all-flash arrays as a driver for and beneficiary of 32Gbit/s FC. Jeff Hoogenboom, VP and GM of Emulex Connectivity Division in Broadcom, said: "The new family of Emulex Gen 6 Fibre Channel HBAs … provides the low latency and massive bandwidth that data centres require for optimum flash array performance."
Emulex LPe32000-series HBAs are available in single and dual-port models with 32GFC optics.
The LPe31000-series is ready for 32Gbit/s. It is available in single and dual-port models with 16GFC optics which can be upgraded to 32Gbit/s.
A quad-port, low-profile Gen 6 16GFC HBA is also being announced.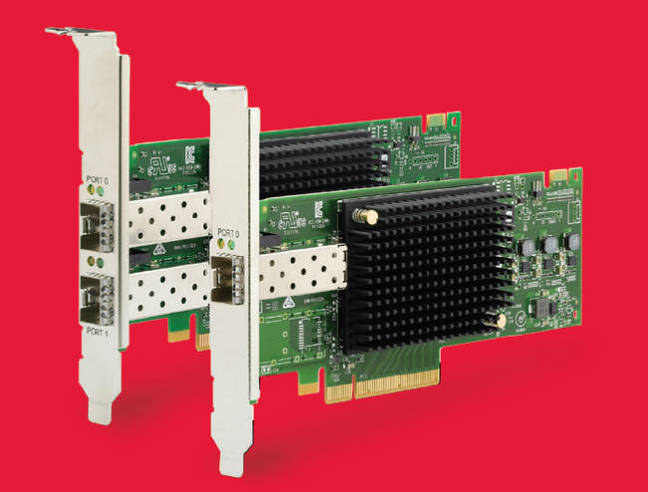 Emulex single and dual-port 32gig FC HBAs
Brocade has announced 32gig FC switch technology, with ATTO, Emulex and QLogic announcing 32gig HBAs. That's every FC switch and adaptor supplier except FCoE-preferring Cisco on-board. It will get dragged to 32gig FC eventually.
Get a 32gig Emulex HBA datasheet here. Single and dual-port Emulex HBA models are available this month, with the quad-port becoming available next quarter. ®