Oracle adds own cloud tier to its mainframe VTL
Latest StorageTek VSM 7 is bigger and badder
---
Oracle has updated VSM 6 to v7 four years after VSM 6 was launched, adding beefier CPUs, greater scale and auto-tiering to Larry's own cloud.
VSM is a deduping virtual tape library (VTL) or disk array with a tape library interface, and up until now has been for mainframes only.
It can write data to an attached tape library for slower speed restores and/or for archiving. It can also have an extension product, Virtual Library Extension, to add more disk capacity.
VSM 7 notably adds policy-driven automated tiering to the Oracle Public Cloud (OPC) , with data either stored in the OPC Object service or the OPC archive service
So there are now up to four tiers of VSM storage: on-premises disk, Virtual Library Extension second tier disk, local or remote physical tape, and cloud storage.
The updated VSM 7 also supports, Oracle says, Windows, Linux and Unix, meaning it now supports heterogeneous hosts, mainframes and x86-based servers.
Oracle says VSM 7 has more performance than, and twice the capacity of, VSM 6, and scales up to 256 systems. Here are the basic VSM 7 specs: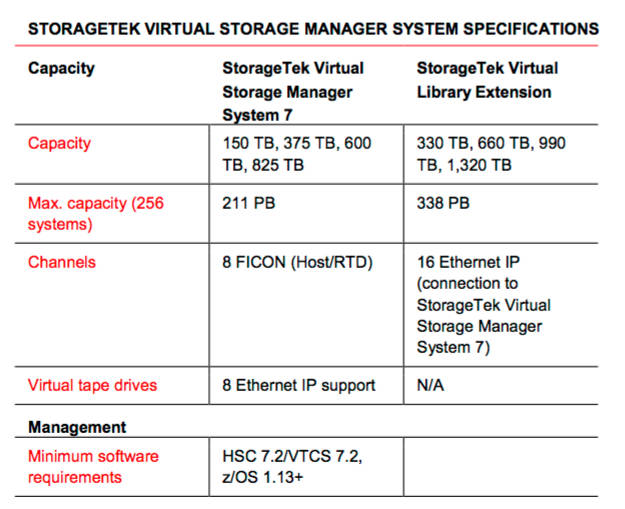 The big boost comes from the use of Oracle's SPARC M7 processor. We're told this has a Silicon Secured Memory feature: always-on, hardware-based memory protection, which detects and reports memory reference errors and is meant to stop unintentional or malicious access of data in memory.
VSM 7 offers:
Wide-key encryption for data at rest and on removable tape media
BC and DR options using clustering and replication within and between VSM sites
Multiple DR configurations including one-to-one and one-to-many multisite configurations
Full data interchange across previous generation VSM systems
Single management pane of glass
Active/active, clustered controllers with sub-second failover
Triple parity RAID protects against multiple, simultaneous drive failures
Multiple levels of data integrity checking including read/write CRC on every tape block and after each compress/decompress cycle
Collect a VSM 7 data sheet here. VSM 7 will be available this quarter, and there was no pricing info in Oracle's release. Prepare your wallets for eye-watering pain. ®