This article is more than 1 year old
Linode: Major cuts to several submarine cables to Singapore
Ugly ping times after quake, Telstra confirms comms are knackered
Updated Once again, it seems, submarine cables around Asia are in trouble.
The first report The Register is aware of came out of cloud provider Linode, which has posted a network status statement that goes like this.
On February 29, several undersea cables in the Asia Pacific region experienced major fiber cuts. These undersea cables are responsible for carrying a significant portion of Singapore's international internet traffic, and this loss of capacity has caused recent incidents of increased latency and packet loss in our Singapore datacenter during peak times when congestion is most likely.
At this stage, the company says it can't give an estimate time-to-repair.
Updated to add
Telstra has confirmed to The Register that something is amiss. In a statement from a spokesperson, the company said: "Telstra operates several subsea cables connecting to Singapore and we are experiencing some disruption to normal services in the region due to cable damage. We are taking steps to re-route traffic to minimise the impact on our customers while we undertake repairs. We apologise for any inconvenience to our customers."
The Register can confirm that Linode's speed-test for Singapore is running far slower than for its US sites.
When it established its Singapore node, Linode said it used transit from Australian Telstra (through its recently-acquired Pacnet operation) and Hong-Kong carrier PCCW.
There are some prospects of a hasty repair as the cable-laying vessel ASEAN Protector was in Singapore earlier this week. Cable-laying ships are, however, in high demand. So when the Lodbrog was pressed into service fixing the PPC-1 cable near the Australian port of Cairns, it took a few days to secure the services of another Alcatel Submarine Networks ship, the Ile De Rey, to fix the Basslink cable connecting Australia's mainland to Tasmania.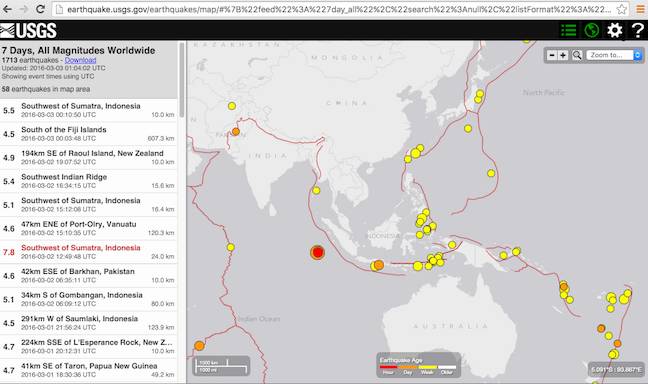 USGS record of SE Asian earthquakes in the last seven days.
Seismic activity is a big problem for cable operators in South East Asia, and the region experienced a number of offshore quakes in the past seven days, as the USGS image below illustrates. It's at least feasible that one of these quakes damaged more than one cable. ®