This article is more than 1 year old
Feel old? You will now: Blighty's mobile network Three is a teenager
A brief history of Li Ka-shing's feisty challenger network
Hutchison Whampoa's Three network turns 13 today. The fifth mobile network to launch in the UK went live on … the March 3, 2003. Or 3-3-03.
(Geddit? The date was no accident: 3 is a lucky number in Chinese culture.)
Car crash
Even with Hutch's billions behind it, 3 had a rotten launch. The entire industry was suffering a hangover. The promise of 3G had been hyped so much, for so long, that the license auctions held at the height of dot.com mania had cost the operators billions.
The UK's UMTS auction yielded about 2.5 per cent of GNP, or £22.5bn (pdf). Across Europe the cost was €100bn. An unexpected bonus for the Treasury, but perhaps not the economy.
"If you calculate the general economic effect of that money, the state did not win anything," Dr Bernhard Rohleder, CEO of the European Information Technology Observatory said . "Germany has lost 28,000 jobs in ICT."
You could argue (and people do) that the mobile operators never recovered from the auction and have been debt-laden behemoths ever since – never shaking off the psychology of a long-term debtor.
Three's bumpy start was down to two problems that the earlier GSM rollout had suffered just over a decade before: spotty coverage, and not enough decent handsets. GSM had been christened "God Send Mobiles". Three launched with just er, … three handsets: the Motorola A830, and two from NEC (the e808 and the e606). And they didn't come cheap: they were roughly twice the price of GPRS handsets. The network covered just 50 per cent of the UK.
What this meant was that reality couldn't support H3G's desired strategy of the network as a premium product. 3 was positioned as a top dollar, dazzling multimedia experience. It wouldn't have any 3G competition for more than six months. The first 20,000 3 customers paid from £59.99 or £99.99 a month. But the network wasn't there and the handsets offered very little dazzle. It was incongruous to see 3 being flogged from Superdrug shops – but Hutchison Whampoa had just acquired Superdrug, and at least the budget pharmacy delivered some foot traffic.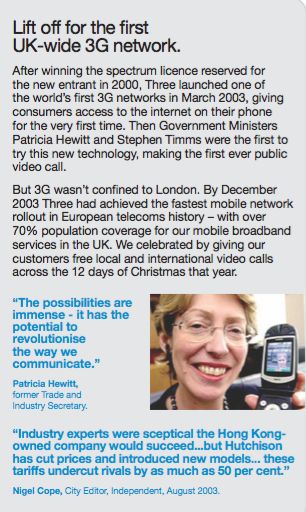 Do you remember the thrill of your first 3G video call? Secretary of State for Trade Patricia Hewitt on 3-3-03.
Within weeks of launching, H3G abandoned its premium strategy
In truth, 3G had come along too late and too early. The previous summer, the networks launched picture messaging, while Voda launched the "Beckham" phone, and that was the state of the art in multimedia. It had taken years to find a way of recouping the 2.5G investment. And now 3G was here.
Pivot!
3 had to execute one of the fastest "pivots" in history. Within weeks, it had repositioned itself as a budget brand. In theory, a 3G operator could compete on cost: UMTS offered spectrum efficiency advantages over time division networks. But in reality, any advantage was wiped out by the termination rates 3 had to pay – more on that in a moment – and the huge costs of entering a competitive market. Three now offered UK punters pay as you go deals and the cheapest tariffs of the big five.
"It is greatly disappointing that '3' have decided basically to join in the voice minute price war rather than focus on all the mobile services, especially video calls, that '3' offers – services, even though they are similar to Vodafone Live, that ought to be the backbone of a healthy 3G mobile market," lamented analyst John Strand. "Everyone knew that '3' had to start from scratch and go out and convince customers to switch to 3G, but it does seem a great pity that customers will have absolutely no idea why they should choose a 3G phone – other than cheap voice minutes."
A year on from launch, though, 3 boasted just 361,000 subscribers in the UK. The cost of launching 3G was dragging down the whole group. Hutchison Whampoa's group cashflow turned negative in 2004 and 2005.
The business staggered along, adding some innovative features and services as it went along. In 2006 it embraced Skype, integrated into its network and offered free Skype calls. It also worked with media slinger Orb. But, somewhat embarrassingly for a "pioneering" 3G network, T-Mobile launched the first flat rate data package, Web'n'Walk. 3 wanted to, but its creaky network wouldn't allow it.
It need change, and change arrived in the shape of 3's Australian CEO Kevin Russell in 2006.