RSA 2016 Judging from comments both public and private, a lot of attendees at this year's RSA 2016 conference were somewhat surprised to pick up badges and lanyards emblazoned with the logo of threat intelligence firm Norse Corp.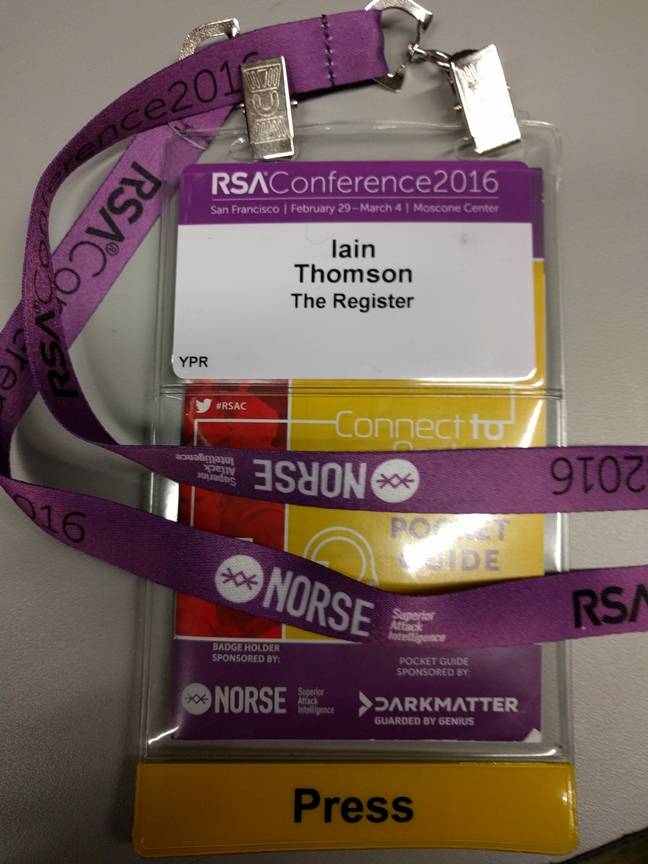 Norse shows it's still out there
The firm has had a rocky road over the last few months, losing a sizable chunk of its staff in layoffs, not to mention its CEO, and going offline for a while. The sponsorship was highlighted on the first day of the conference by Jim Reavis, cofounder of the Cloud Security Alliance in his talk on Monday morning.
"So Norse is one the badges," he said. "I guess what happened is the RSA deal with Enron to sponsor the show must have fallen through and they needed a backup."
A tad catty, since such sponsorship details are generally worked out many months before a show and the badges were most likely printed and ready before Norse ran into trouble, but it got a laugh from the audience.
When the news started to spread on Twitter, other security vendors began to put the boot in. A suggestion by one journalist that people should put stickers over the Norse logo to avoid embarrassment and rival threat intelligence firm Webroot were quick to make an issue of it.
@marypcbuk @iainthomson No stickers, but if you want those bad omens off your neck, we have a few alternate lanyards up for grabs.

— Webroot (@Webroot) March 1, 2016
In addition to sponsorship of the show, Norse also has a stand in the expo area. While somewhat spartan, the booth is getting some visitors – more than some but not as many as most.
The Register asked Norse for an interview to discuss where the firm is going but the request was declined, with a spokeswoman saying "the team is currently only focusing attention on operations and continuing to deliver great value to customers." ®