It was pure pleasure as Pure Storage reported a final fiscal 2016 quarter with revenues up higher than expected and losses down.
The company reported fourth-quarter revenues of $150.2m, a 128 per cent increase from the year-ago quarter and a 14 per cent rise from the third quarter's $131.4m.
There was a net loss of ‑$44.3 million, 21.6 per cent lower than the ‑$56.5 million recorded for the third quarter and, tellingly, 7 per cent less than the year-ago quarter's ‑$47.64m. Losses are declining for the second quarter in a row.
CEO Scott Dietzen said, "We delivered our best ever quarter in Q4, concluding another record-setting year for Pure Storage. The business continues to run on all cylinders fueled by the rapid worldwide adoption of FlashArray combined with improved operating efficiency as we scale. We grew our customer base by more than 120 percent over the past year, capitalizing on the accelerating secular shift to flash and cloud-friendly storage."
Pure's CFO Tim Ritters said, "We are confident in the strength of our business model and estimate an earlier timeframe to achieve sustained positive free cash flow, in the second half of calendar year 2017 versus our previous estimate of 2018. We will continue to make investments in sales, marketing and engineering, particularly in the first half of this year which is a seasonal investment period for Pure."
Here is a quarterly revenue and net income chart showing the good news: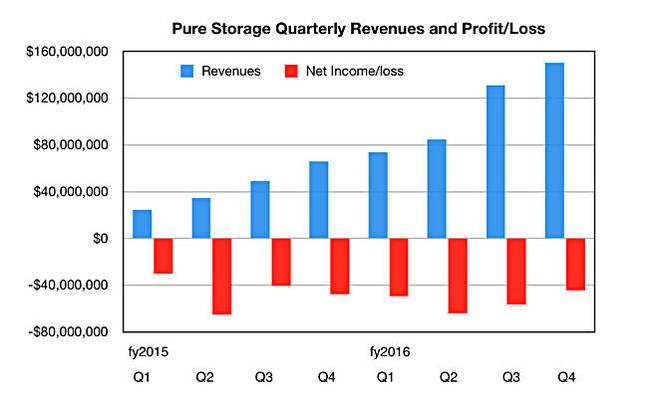 Pure's quarterly revenue and net income
And the full year revenues and net income chart showing revenues growing faster than losses: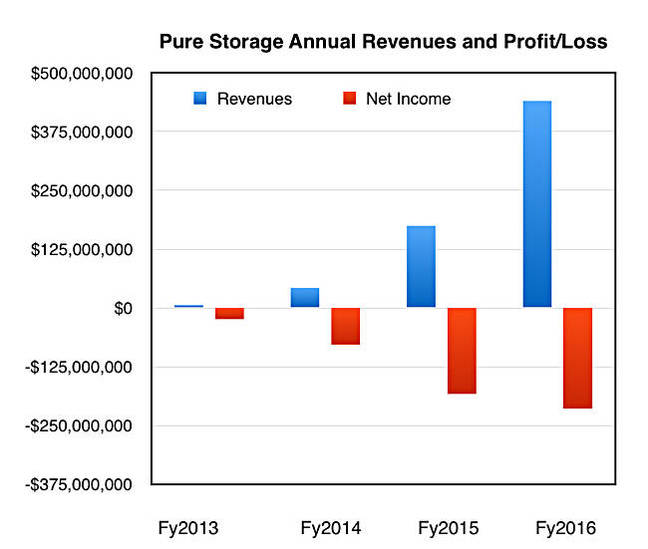 Pure Storage annual revenues and net income
It is undiluted good news.
Pure Storage grew its customer count past 1,650, adding more than 300 new customers in the quarter. This included a couple of big-name sporting ones – the MERCEDES AMG PETRONAS Formula One Team and the eight-time World Series Champion San Francisco Giants.
Dietzen blogged away today, saying, "We are thrilled with the overall performance of our business. We achieved new high-water marks in revenues of $150 million, total customers at 1,650+, non-GAAP product gross margins of 68 per cent and non-GAAP operating margin of ‑14 per cent."
"For the first time in company history, we generated free cash flow, adding $32 million (21 per cent of our 4th quarter revenues) to our balance sheet, which stands at over $600 million."
We now expect to reach cash flow break-even on a sustained basis in the second half of 2017 – ahead of our previous projection of 2018. While we continue to invest aggressively in the business – R&D was 27 per cent of revenue in the latest quarter – our operating expenses are growing considerably more slowly year-over-year than our top line.
He said repeat business was great; "Among our top 25 customers, each initial $1 spent on Pure Storage led to greater than $12 in the next 18 months."
He says the move to the cloud is good news for Pure; "IDC anticipates that the SaaS (Salesforce, ServiceNow) and Consumer cloud (Facebook, Apple) segments will be larger than the public cloud ... While we do not anticipate selling our current product offerings to public cloud hardcore 'do it yourselfers' like AWS and Google, IDC's analysis suggests 80 per cent of the aggregate storage market is available to Pure in 2019."
The outlook for the next quarter, the first of Pure's fiscal 2017, is for revenue in the range of $135m to $139m, $137m at the mid-point; it was $74.1m in the first fiscal 2016 quarter, and beginning to show a seasonal pattern.
Later this month Pure has a customer event, Pure Accelerate, and it is possible that the company will announce a scale-out product, either an extension to its current FlashArray//m product line or a new line.
There is no sign in these financial numbers that Pure's growth is being hindered by moves from its competitors. Perhaps there will be a sign of competitive fightback later this year or in 2017.
The full fiscal 2017 revenue estimate is revenue from $685m to $725m, $705m at the mid-point, and representing 60 per cent growth in fiscal 2016 revenues. If growth at this rate continues, then Pure could have a billion dollar run rate quarter in the second half of its fiscal 2017. ®