NAND flash industry revenue was $8.307bn in the fourth quarter of fiscal year 2015, five per cent less than a year ago and 2.3 per cent lower than in the third 2015 quarter.
These numbers, evidence of market over-supply, come from DRAMeXchange via analyst outfit Stifel Nicolaus' MD, Aaron Rakers.
Samsung grew its flash revenues 4.2 per cent to $2.79bn from Q3 to Q4 2015. Its worldwide market share was 33.6 per cent in Q4 and 31.5 per cent in the prior quarter.
Toshiba, number two in the market, saw revenues decline 11 per cent to $1.55bn from Q3 to Q4 and 19 per cent from Q4 2014 to Q4 2015.
SanDisk's grew just 0.1 per cent between Q3 and Q4 2015, to $1.31bn.
Fourth-ranked Micron's flash revenues fell two per cent sequentially and three per cent annually to $1.154bn in that time. Its Q4 2015 market share was 13.9 per cent.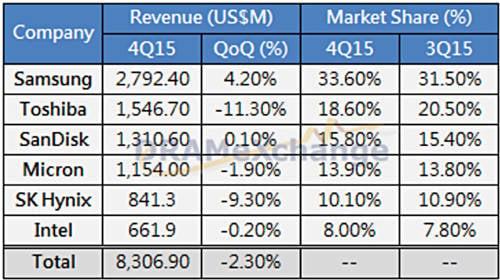 SK Hynix's flash revenues fell nine per cent sequentially and 16 per cent year-on-year to $841m, giving it a 10.1 per cent share of the market.
Intel, ranked sixth in the market, had a share of eight per cent.
Total flash industry revenue for 2015 was $33.1bn, it being $32.2bn in 2014 and $29.1bn in 2013. This is not a fast-growing industry, in revenue terms, at all. Bit growth, however, is relatively high – but so are price drops. Growing supply isn't helping that.
Sean Yang, research director at DRAMeXchange, said: "Besides facing rapidly falling prices, the manufacturers have also reached a bottleneck in their process technology migration. Memory makers that are developing or producing 3D-NAND flash are encountering yield rate issues, with Samsung being the sole exception."
SK Hynix is building a new 3D NAND flash fab, costing about $12.5bn, at its Cheongju facility in Korea's North Chungcheong Province. Construction will start in 2018 with completion through 2019. ®
Similar topics