Array biz's figures leave little to the Imation
Sales crushed, losses strain the floorboards, and where exactly is the exit?
Well, we were expecting diminished revenues and growing losses – and storage biz Imation didn't pull off any last-minute surprises.
The Minnesota-based outfit's revenues were down 52 per cent year-on-year in its final quarter of 2015 as it divested itself of everything except its Nexsan array business and the acquired Connected Data.
Sales in the quarter totaled $94m, a 27 per cent decline sequentially. Over the three months it made a net loss of $9.9m, a 31.3 per cent improvement on the year-ago loss of $14.4m, and a whopping improvement on the previous quarter's $152.3m loss when the consumer business was exited.
Full year revenues came to $529.2m, down 27.5 per cent from 2014's $729.6m. Over the 12 months, Imation made a net loss of $194m, worse than 2014's $114m loss. Here's a tabular summary of this apparent horror show:

Imation's Q4 revenue and net income summary
What did interim CEO Bob Fernander have to say about the numbers?
We are very pleased with our Q4 results. We have nearly completed the restructuring and wind down of our legacy business operations and have sold a number of non-core assets. Importantly, we have also integrated Connected Data into our Nexsan business and repositioned our ongoing storage business to maximise profitability and enterprise value with leading-edge technology.
This idea of maximizing profitability looks a bit of a stretch at the moment because there isn't any. In fact, we were told: "Nexsan and Ironkey revenues declined 14.1 per cent and 14.0 per cent, respectively, as we rationalised our product portfolio and regional footprints to improve the profitability."
Cost controls have worked: the gross margin for Q4 2015 was 26.5 per cent, 6.4 percentage points higher than Q4 2014.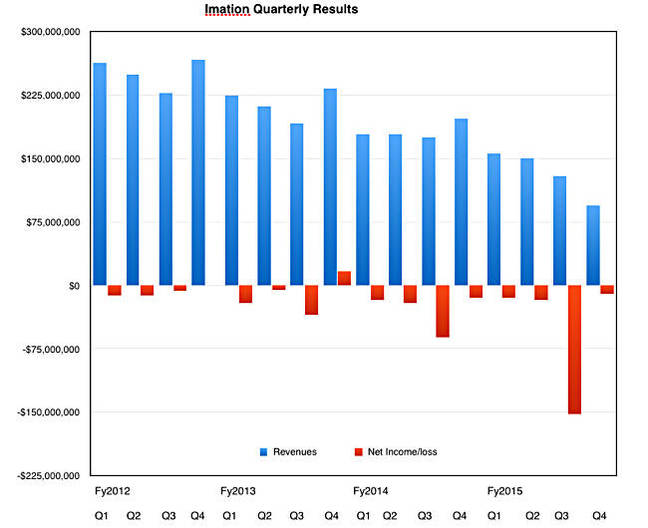 Research and development shrank a little: R&D expenses in Q4 2015 were $4.8m versus $5.1m in Q4 2014. It effectively terminated the R&D expenses associated with legacy storage media products.
This is how Fernander summed things up: "This was a productive year, and our focus is now firmly on our growth areas, Nexsan and Connected Data. As we finish winding down our legacy businesses, we will continue to look at all options to build and create shareholder value."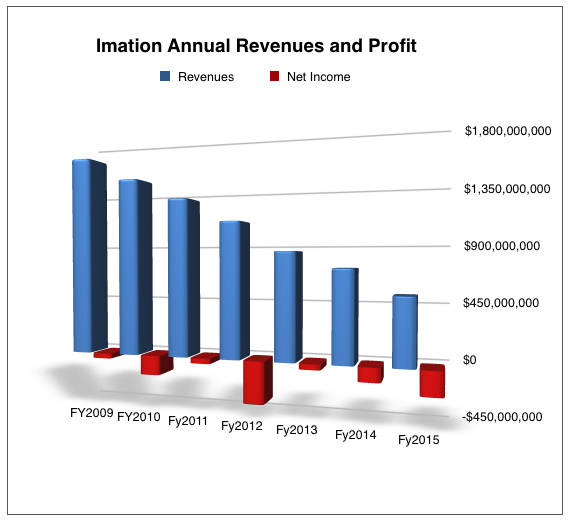 Fernander talked about Imation's excess cash: "Furthermore, we have made significant progress in developing strategies to use the company's excess cash; this involves considering acquisition and investment opportunities outside Imation's historical focus to diversify our business activities. At December 31, 2015, our net cash position stood at approximately $70 million."
Meanwhile the chief exec has to deal with two NYSE delisting threats facing Imation relating to its share price and market capitalization.
We need to remind ourselves that Imation is now controlled by activist investors, the Clinton Group, which is focussed on engineering a sale of beleaguered Violin Memory. Imation holds some Violin shares and is a Clinton ally in that fight. Fernander is a Clinton nominee.
So Imation has two uses for Clinton: get sold off profitably, and help it push Violin into a sale after which the Clinton Group can move on to fresh meat.
The general situation for Nexsan and Connected Data is this: on-premises primary data storage arrays are being assaulted by a fresh crop of fast all-flash arrays, hybrids, and server-centric hyper-converged infrastructure appliances. Meanwhile, IT buyers are being lured by public cloud storage sirens, who sing seductive songs of, er, secondary and tertiary data storage use cases.
With that in mind, Imation's R&D people – guided by CTO and Connected Data's founder and CEO Geoff Barrall – have got to come up with new products. A refreshed SATABeast array came out in February but we are hoping for much more from the Barrall-influenced band of engineers inside Imation.
We expect Nexsan and Connected Data to introduce new products fairly quickly to arrest the decline in revenues and, hopefully, start the business growing again. They are, quite literally, Imation's last hope in the storage business. Fail, and the company is virtually guaranteed to exit the storage product world. ®