This article is more than 1 year old
With Facebook shafted, India now belongs to Google
The path's clear for Loon, the stratospheric data slurper
With Facebook's Free Basics out of the way, Google has a free hand at capturing personal data from Indians who aren't on the internet.
Google is reportedly in talks with two Indian telecom operators to provide backhaul for its Google Loon pilot in India.
The all-seeing solar powered balloons float around 20km above the Earth's surface, in the stratosphere. The balloons establish an LTE connection, and up goes personal data and behavioural information to the world's biggest ad slinger.
Google declined to comment for the report in India's Economic Times.
In February, telecomms regulator TRAI bowed to pressure from internet activists and pulled the rug from under Facebook's Free Basics programme, which has offered a free (and advertisement-free) data services to one million poor Indians, in the name of "net neutrality". That's a drop in the ocean compared to the number of Indians coming online for the full fat internet: 100 million signed up to broadband last year. But at Mobile World Congress Mark Zuckerberg confirmed that Facebook wouldn't be back for another try.
The net neutrality protest looked like it was spontaneous, but appearances can be misleading. It had been promoted by a Google-funded pressure group, Access Now. Access Now's policy director, Raman Jit Singh Chama, joined the firm just two months after quitting Google. Chama had been at Google for four years, and his last post was the chief lobbyist to the government.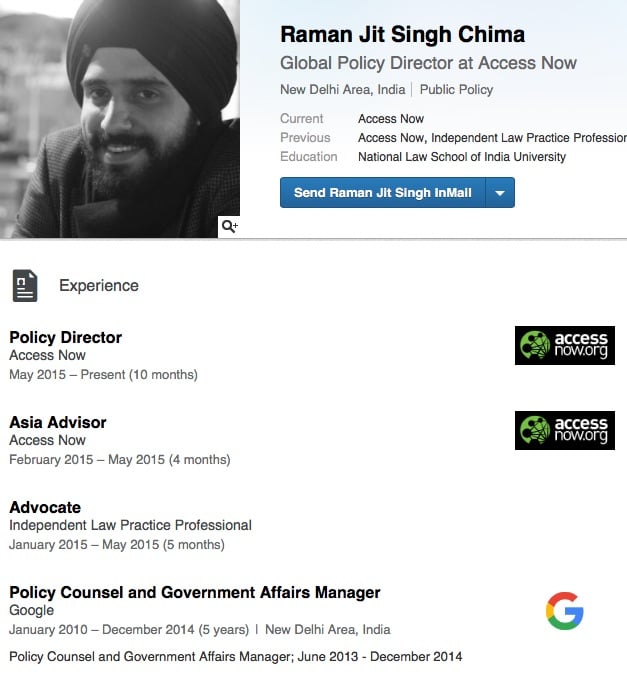 Raman Chama doing Google's good work in India
Google's preferred model for rural access is low cost Android handsets receiving the full internet advertising experience, rather than the Ceefax-like experience of Free Basics, which was denuded of ads. In return, the client devices are controlled by Google, and provide little privacy protection over the data slurped back to the Google mothership.
But while torpedoing Facebook was a huge win for Google, it hasn't all gone smoothly: Google One, the reference platform for basic Androids, has failed to capture much OEM interest.
Elsewhere in Asia, we find that Google has promised to "teach 100,000 university students about digital marketing through online and self learning educational courses."
Resistance is futile. ®