This article is more than 1 year old
Persistent memory: Has HPE got there already?
ProLianting database and analytics apps faster with flashed DIMMs
Analysis Meg Whitman dropped a pair of teasers in the latest earnings call, with a new hyperconverged appliance mentioned plus a persistent memory game-changer. What is that?
It's an hor d'oeuvre before the XPoint entrée.
Persistent memory is a holy grail, the hoped-for love child of DRAM and non-volatility that meshes forgetful memory and persistent storage together. It's what Intel/Micron's 3D XPoint is all about. Has HPE got there already?
Not quite. What HPE's CEO actually said was: "… later this month we'll refresh our server portfolio to include a game-changing new technology called Persistent Memory, which was invented by our server group. This new technology will enable an ecosystem of new applications supporting non-volatile memory and is a key milestone on our journey to the machine."
Persistent Memory was discussed at last year's HP Discover in London by Bret Gibbs, HPE Server Options Persistent Memory product manager in a videotaped talk: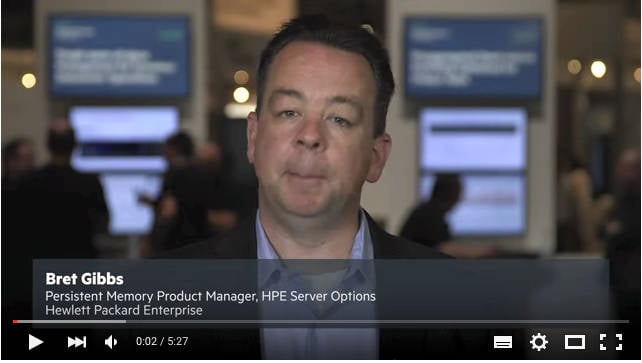 Click the image to get the video rolling.
It isn't XPoint. It's DRAM backed up by flash so that memory contents are not lost if there is a power failure. This is relatively old technology, with Netlist, Diablo Technology and Micron all having such non-volatile DIMMs (NVDIMM).
NVDIMMs are either flash or flash plus DRAM on a memory DIMM card, giving the card access to the host server's memory bus, which is faster than having flash mounted on a PCIe card, the next fastest interface.
Micron and Netlist have joint DRAM/NAND NVDIMMs with the flash backing up the DRAM. Diablo, with OEMs such as SanDisk (ULLtraDIMM) and, through it, Huawei, SuperMicro and Lenovo, offers Flash NVIMMS that are intended to operate as memory address space expansion, being less expensive than DRAM DIMMs.
They work by enabling an application to avoid SSD or HDD data accesses, much slower than memory accesses, by having more of an application's working data set in memory.
Netlist has a strategic deal with Samsung so Sammy can produce NVDIMM product, no doubt with high-capacity 3D V-NAND dies (dice) on the DIMM. It also supplies its NVvault DDR4 DIMM to SuperMicro to speed NoSQL Key-Value store by having more data cached safely in memory, because of the NAND backup, so that slower accesses to that data on PCIe flash or SSDs are avoided.
In essence this is what HPE is doing, only with Micron, and with an added layer of system software support.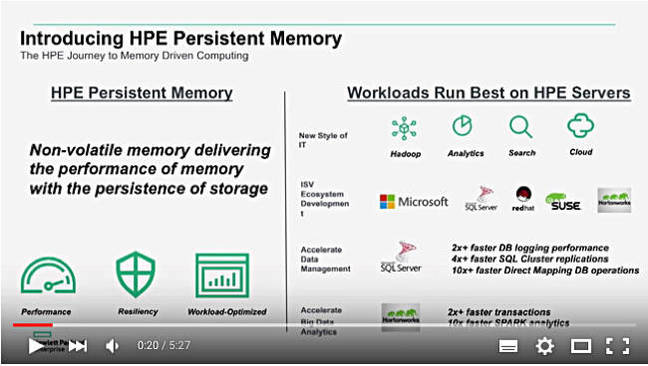 Slide from Bret Gibbs video
A slide from the Bret Gibbs video (above) shows the software suppliers involved in an HPE NVDIMM ecosystem: Microsoft, Red Hat, SuSE and Hortonworks. With SQL Server it says that NVDIMMs can provide twice-as-fast SQL Server database logging performance and 10x faster SPARK analytics.
Gibbs blogged about persistent memory, saying: "HPE is working directly with software application and operating system partners to develop the software ecosystem for persistent memory to ensure customers can take full advantage of the performance potential of this exciting new product category. … Through collaboration with industry partners such as Intel, Microsoft, Micron and Hortonworks."
Micron has 8GB DDR4 NVDIMMs available now, with 16GB ones sampling this quarter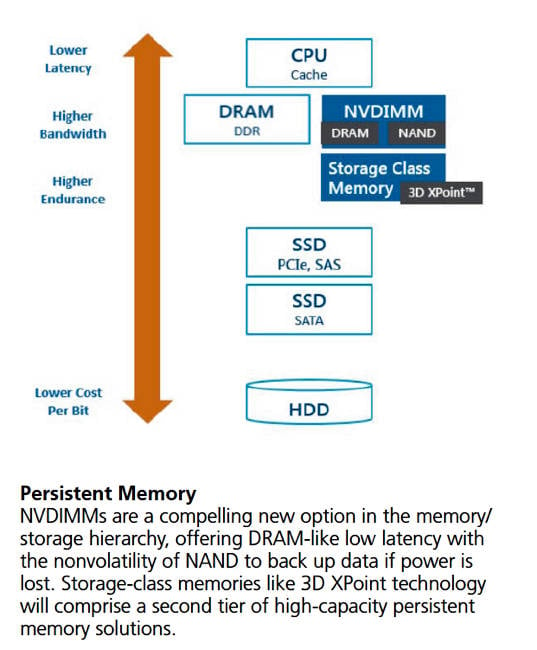 Micron NVDIMM diagram
Gibbs says databases and data analytics are two good use cases and "Early testing results have already demonstrated up to 2x - 10x performance increases in database and analytics workloads."
A specific database log performance test with NVDIMMs showed transactional log transactions changing from 970,000 transactions/minute using mirrored SSDS to 1.08mn tr/min using mirrored NVDIMMSs, with log write latency improving from 372microsecs to 181microsecs.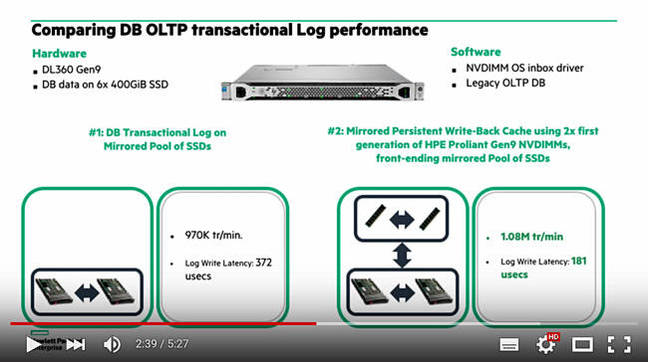 HPE NVDIMM testing
ProLiant Gen 9 servers will use these NVDIMMs and, according to Whitman, be announced later this month, with OS support from Windows and Linux (Red Hat and SUSE) and system software support from Microsoft (SQL Server) and Hortonworks (analytics). That should make them more acceptable to enterprise users of those applications.
The lack of software ecosystem support may explain the relatively low take-up of Huawei, Lenovo and SuperMicro servers using SanDisk's ULLtraDIMMs.
Think of NVDIMMed ProLiants as the hor d'oeuvres before the 3D XPOint entrée, the main course, and appealing to users who run apps that need to cache lots of metadata-type accesses which they would like to have in memory but need the data safeguarding. NVDIMMs can be that safeguard.
It will be interesting to see if Cisco and Dell add NVDIMM technology to their servers. El Reg imagines that they surely will, not wanting to cede any advantage to HPE in the hotly contested server market. Especially with a quartet of system software suppliers who are supporting HPE's NVDIMM'ed servers and wouldn't find it too much bother to support ones from Dell and/Cisco, especially if they used the same NVDIMMs. Step forward Micron with a big smile on its face. ®