This article is more than 1 year old
London cops hunt chimpanzee in top hat
Last seen in the company of a sloth and a giraffe
London's finest have issued an appeal for help in tracing a chimpanzee in a top hat, which was last seen in the company of a menagerie including a sloth, a giraffe, a penguin and a couple of lions.
According to the Met, the sinister creature was one 18 stuffed animals lifted from a warehouse in Wandsworth last Tuesday in a professional operation. The total value of the stolen goods is £100k, according to cops.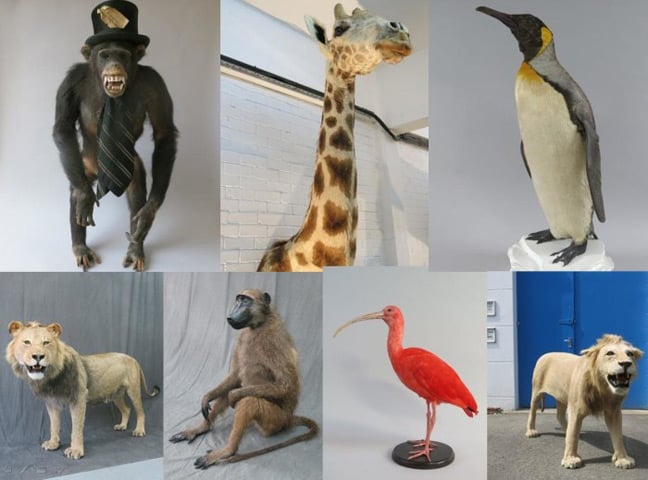 Detective Constable Edward Bird (yes, really) said: "This was not a random crime, the burglars had came prepared and well equipped. This was a criminal enterprise and these thieves need to be stopped before they commit further crimes.
"The items they stole are of high value and are very distinctive. I am appealing for anyone with information to contact police, in particular I would ask anyone who deals in such animals to be on the look-out and contact police immediately if you are offered any of the stolen items."
To describe the stolen chimp as "very distinctive" is a bit of an understatement, so if you are offered a snarling simian off the back of lorry call police on 101, quoting reference 304644/16. Alternatively, contact Crimestoppers anonymously on 0800 555 111. ®
Bootnote
In light of this shocking bit of taxidermy-lifting, we've increased security at Vulture Central to protect Reg the Vulture, seen here guarding our boxed Vulture 2 spaceplane prior to shipping to the US of A: