This article is more than 1 year old
Cohesity and Pure make up a data storage sandwich together
Pure Storage takes primary data role with Cohesity mopping up the rest
Cohesity and Pure Storage are now best buddies, collaborating to push Pure FlashArrays for primary data storage and Cohesity's C2000 for secondary data storage.
Pure says: "Pure Storage and Cohesity together delivers the best of both worlds: all-flash performance for your mission-critical applications and flash-driven consolidation of your secondary storage needs, including data protection with instant recovery and an agile method for repurposing data for test/dev and file services."
It asserts: "The consolidation enabled by Pure Storage and Cohesity's approach will reduce your datacenter footprint by over 80 per cent, with significant power savings, shrinking your primary storage with dense FlashArray appliances, and collapsing data protection, test/dev and fileshares onto a single Cohesity platform."
This is a neat duo deal, capitalising on the marketing needs of both, and, no doubt, setting the stage for other similar deals between primary data and secondary data one-trick pony suppliers.
We could imagine Kaminario and Rubrik hooking up, maybe, or perhaps with Nutanix? Or even SimpliVity and Rubrik?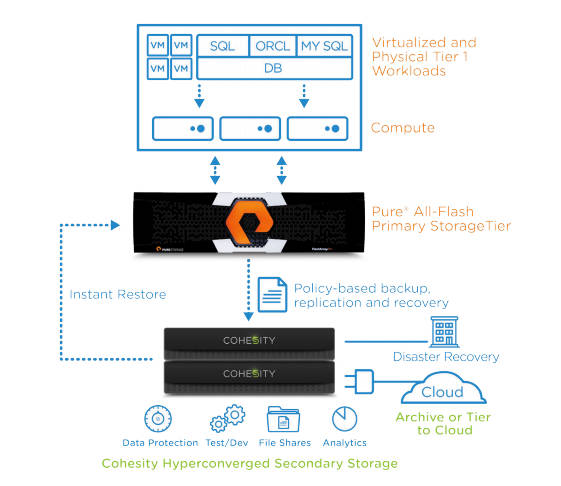 Credit Acceptance and Tribune Media are two customers using a Pure-Cohesity sandwich system.
A Pure + Cohesity Solution Brief (registration needed) is available on Pure's website. ®