A British startup backed by Google stole code from a US startup after meeting them, a lawsuit alleges.
Bounce Exchange filed the lawsuit in the federal court for the southern district of New York in December and is seeking $100m in damages for copyright infringement.
The company describes its product as behavioural marketing automation software, predicting when a user will leave (or "bounce off") a site, triggering inducements to stay.
Bounce Exchange says rival firm Yieldify arranged for a demo of its software under false pretences in 2013, and then copied its business model, methods, and even its source code.
Google Ventures invested $11.5m in Yieldify owner Zeus Enterprises – not to be confused with many larger and established Zeus companies – and in 2014 founder Jay Radia claimed Yieldify had 70 staff in London, New York and Berlin. It was Google Ventures' third investment. In its lawsuit, Bounce says it was founded in 2010 and employs 150 staff.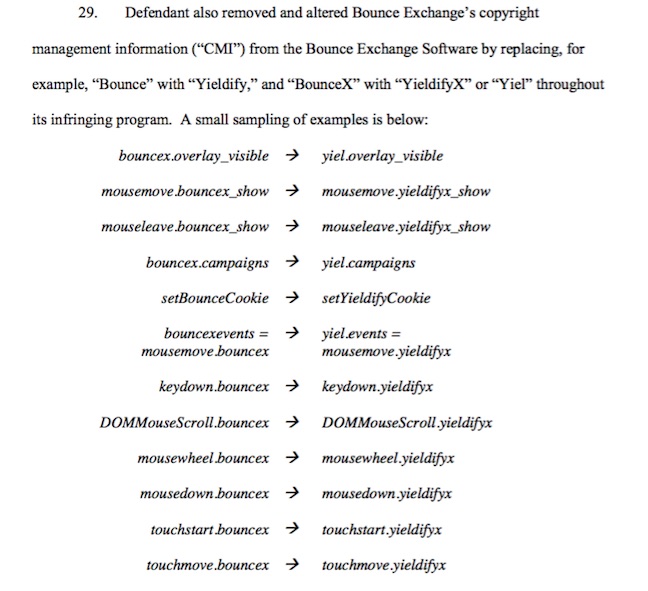 Some of the allegedly copied code, from the complaint in the lawsuit
Bounce says Radia pretended to be a customer in order to obtain a demo, purporting to be a reseller. Non-public information was disclosed to Radia at the meeting, Bounce claims, which later found its way into Yieldify. Only in February 2015 did it unearth similarities.
"Defendant copied hundreds of lines of code and generally replicated the overall structure, sequence, and organization of the Bounce Exchange Software," the lawsuit, reference number 1:15-cv-03268-DLC, alleges.
Yieldify denies almost all of the detailed allegations and will contest the case. CEO Radia told the FT that it had replaced the code anyway. ®