HPE's CloudLine gains some weight – blows up from 72TB to 640TB
Who's down with OCP? This Foxconn-made server line
---
Nonupled? Yes, nonupled: HPE has nonupled* the capacity of its Foxconn-made CloudLine server products with a 640TB CL5200, which has nine times greater capacity** than the 72TB CL2200.
HPE is also updating its Altoline switches for service providers and has a Helion private cloud reference architecture for OpenStack Swift.
HPE's Reaz Rasul, Global Hyperscale Business, VP and GM, fetched out this quote: "Service providers are looking for the operational agility and faster data centre integration that comes with deploying open infrastructures, while others value the integrated management and proven deployment capabilities that come with industry-standard offering."
HPE offers, he says, both standard or open infrastructure products, and the CloudLine is an open infrastructure offering.
CloudLine servers are built by Foxconn and are for Open Compute Project-type customers in the cloud and hyperscale data centre areas.
Up until now, there have been three servers in the line: CL1100, CL2100 and CL2200. The first two are 1U rack boxes with the CL2200 being a 2U box. They vary by maximum disk capacity with the CL1100 having a maximum of 12TB, the CL2100 24TB and the CL2200 72TB.
The incoming CL5200 is a 4U box holding up to 80 x 8TB 3.5-inch disk drives to provide up to 640TB, a substantial jump.
Here's a table summarising the specifications of these servers – the CL5200 details are sparse as HPE has not provided all of them yet: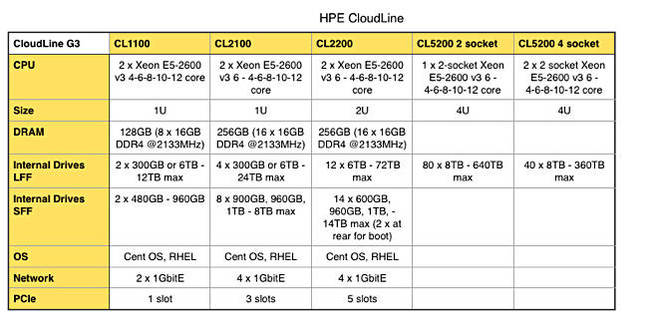 HPE CloudLine overview spec table with sparse CL5200 details
HPE is calling the CL5200 an open, cloud-optimised storage server, a high density, multi-node storage box designed for service providers "with an aggressive $/GB to run cloud storage and data analytics applications".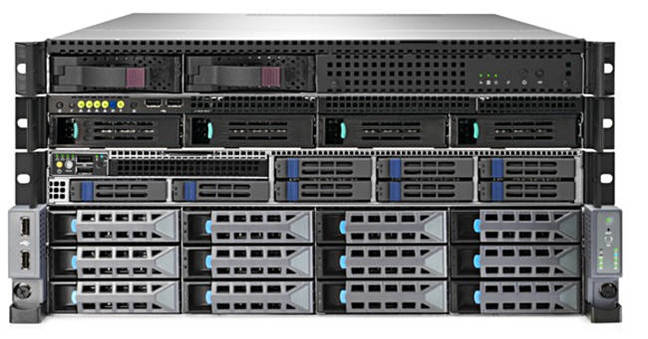 HPE CloudLine 1U, 2U and 4U Servers
It's said to have a minimalist, bare iron design and supports one or two compute nodes, meaning a single dual-socket version or a double dual-socket product.
HPE is working with Scality and its RING object storage software, and Scality has certified support for the CL5200.
Altoline and Helion
There are four new Altoline 6900 switches, with one offering 25/100GbitE. Existing 6940 Altolines offer 40Gbit/E.
Supported network operating systems are Cumulus and Pica8, with OpenSwitch coming later in the year.
Helion, HPE's private cloud, now has an OpenStack distribution with "reference architectures optimised for the OpenStack Swift object storage project [and] for hyper-scale, multi-data centre operations". It specifies gen 9 ProLiant servers.
Availability
Helion OpenStack with Swift is available now.
HPE Cloudline CL5200 servers and Altoline 6900 Series network switches are available for direct order worldwide and service providers should contact their HPE account manager. A support offering called HPE Datacenter Care for Hyperscale is available worldwide as well. ®
*To nonuple something is to increase it nine-fold, as to quadruple something means a four-fold increase.
**Actually, to be more accurate, it is an 8.89 times increase.