This article is more than 1 year old
Austrian mayor spunks €40k on virgin-eating dragon
Klagenfurt rebrand fails to impress
Logowatch The mayor of the Austrian city of Klagenfurt is taking a bit of a shoeing for spunking €40,000 on a "meaningless" municipal rebrand.
According to The Local, Maria-Luise Mathiaschitz of the Sozialdemokratische Partei Österreichs (SPÖ) is under the cosh for hiring Strategy Boutique Smuck, Royer & Die Eins to reimagine the city's logo, featuring its full title, plus the legendary virgin-eating Lindwurm which is said to have prowled the environs of Lake Wörthersee before succumbing to a couple of dragon slayers.*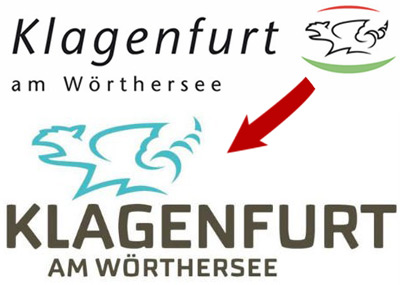 Moving in for the kill on Mathiaschitz is the rival Freiheitliche Partei Österreichs (FPÖ), which described the exercise as a "meaningless waste of money".
The mayor, however, insisted the new logo will present a unified brand frontage for Klagenfurt. She also suggested "six-figure" savings via "centralising homepages and keeping graphic design work in-house".
That'd be handy, because Klagenfurt is in Carinthia, Austria's poorest province. The SPÖ has ruled Carinthia since winning the 2013 local elections, and recently went cap in hand to Vienna in search of a cash hand-out. ®
Bootnote
*The heroes apparently lured the beast to its death by chaining a juicy bull to a tower. Klagenfurt's main square features a statue of the winged creature.