HPE's StorServ filer is very speedy. So for best $/IOPS, get a DataCore
Speed, price, efficiency: You can have any two
---
HPE's all-flash StoreServ 8450 flier has notched up some impressive SPC-1 benchmark results.
The SPC-1 benchmark looks at a storage array's transactional performance, and enables an independent and objective comparison to be made of different suppliers' systems, be they external arrays or virtual arrays built by virtualising a bunch of servers and their directly-attached storage.
This HPE StoreServ 8450 is the 10th fastest array performer on the SPC-1 run, scoring 545,164.29 IOPS, with a price/performance rating of $0.23/IOPS and an average response at 100 per cent load of 0.80 millisecs.
The cost of the benchmarked 8450 system was $126,558.24, the lowest cost of all the top ten systems, including the DataCore Parallel Server which cost $136,759 and scored slightly more than 1.5 million IOPS.
In fact, excluding DataCore, the 8450's cost is the lowest of all the top 23 external arrays, being beaten by X-IO's SE 820 G3's $83,000, but that system only achieved 252,981.83 IOPS, less than half the 8450's performance.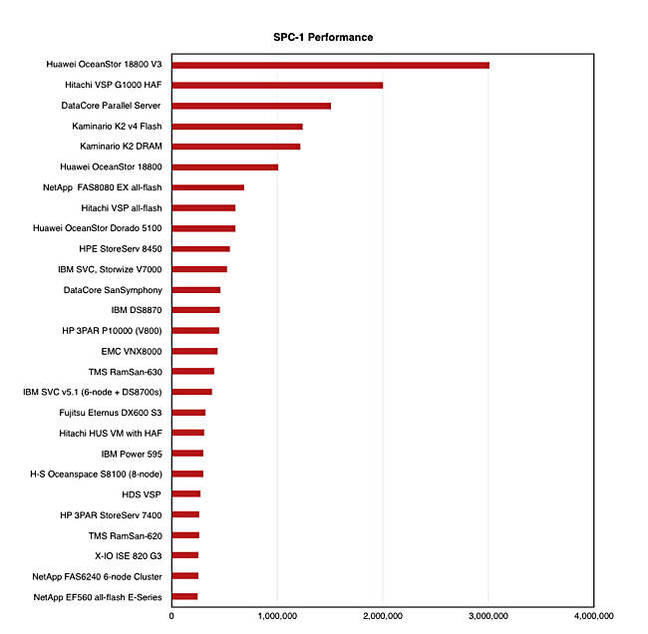 SPC-1 performance ranking
The 8450's latency of 0.8msecs was beaten by the two DataCore systems in the top ten and also by an HDS VSP all-flash system that scored 602,019.47 IOPS at 0.72msecs latency and wth a price/performance rating of $2.86; the system cost was $1,721,620.95. Performance-wise the 8450 is in the same ballpark at a much lower cost.
Paul Haverfield, Storage CTO in HPE Storage's APJ region has blogged about the 8450 SPC-21 result.
He declares that the "HPE 3PAR StoreServ is THE dark horse within the all flash segment," – but he would, wouldn't he. And he also declares: "The HPE 3PAR StoreServ 8450 achieved a world-leading result for SPC-1 $/IOPS – the leading external all flash array on the planet based on SPC-1 Price Performance $ per IOPS."
DataCore's software-defined storage running on Lenovo servers is not included in his definition of external storage arrays, yet the two DataCore/Lenovo results show that a system using the two suppliers' products can, in SPC-1 terms, do what the 8450 does and do it better.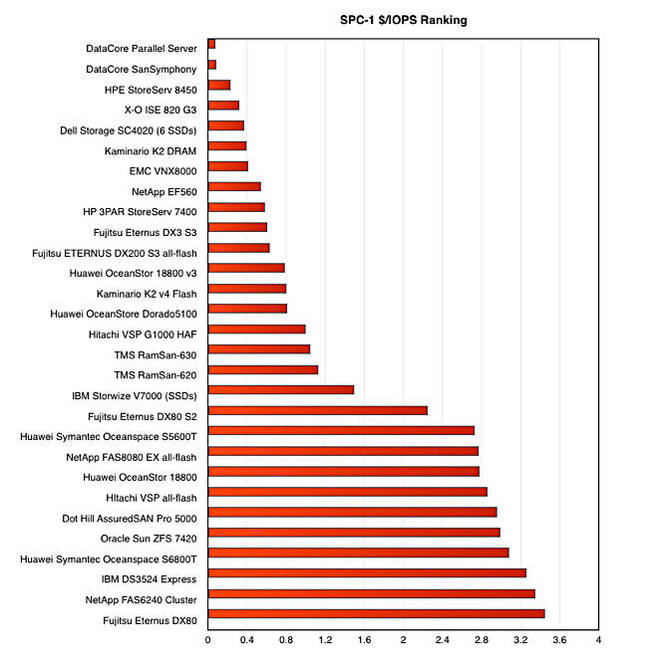 Haverfield praises the 8450's efficiency, saying: "While achieving the 545,164 SPC-1 IOPS the system was almost 97 per cent full. That's right – only 3.07 per cent free space at peak performance. No wasted flash."
And he pushes its affordability as well. "The 3PAR StoreServ 8450 proved to be the most affordable in SPC-1 Price Performance terms amongst ALL of the external arrays including all flash arrays with results." (He puts Daracore/Lenovo aside once again.) Read the rest of his blog; he makes interesting points.
There is a lot of SPC benchmark activity going on, with DataCore, HPE, and Huawei being major players. Interesting times as disk spindle counts count in SPC-2 runs, and all-flash and parallel IO duke it out in the SPC-1 area. ®