This article is more than 1 year old
Ad-slinger Opera adds ad-blocking tech to its browser
Biting the hand that feeds you – in this case, your own
Ad slinger Opera is to add ad blocking to its eponymous web browser – but the company insists there isn't a conflict.
The Opera Mediaworks advertising business contributes 75 per cent of Opera ASA's overall revenue, and it's a booming business, up 40 per cent year on year to $145.5m.
The Opera board has recommended that it accept a $1.2bn bid from Chinese investors for the company.
But Opera is best known amongst consumers for its pioneering web browser. Which thinks that blocking advertisements is a really good idea. The company today launched a new version of its desktop browser with built-in ad blocking. Opera claims that this speeds up web page load times by up to 90 per cent, and the overall browsing experience by 40 per cent.
"Advertising fuels the internet, allowing for many services to be free for users. But, as our new research shows, most webpages today are significantly slowed down by bloated ads and heavy tracking. We don't accept it – we want the web to be a better place for us all, as users," said Opera's engineering chief Krystian Kolondra said in a canned statement.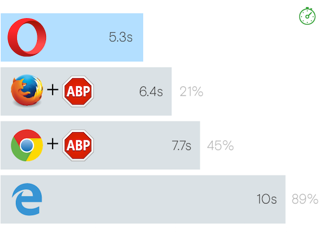 Source: Opera
The new version is available as a developer preview here.
But hang on a second. Opera is ad-supported. Isn't this biting the hand that feeds you? We had to ask, and this is what Opera told us in reply:
Opera's advertising subsidiary, Opera Mediaworks, focuses on mobile in-app ads hence the addition of ad-blocking technology to the desktop browser doesn't directly affect Opera Mediaworks' revenues.

Also, Opera Mediaworks believes in providing the highest quality mobile advertising experience to the user by providing relevant, engaging and beautiful ads that don't drain data usage powered by mobile-first technologies. We believe that ad-blocking technology is an opportunity and a wake-up call to the advertising industry to pay attention to what consumers are actually saying. We believe the need for ad blocking goes away if companies, such as Opera Mediaworks, focus on delivering a high-quality user experience by delivering non-disruptive, relevant and engaging ads.
So there. What Opera will do when users are able to block what they consider to be non-relevant in-app ads, at the network level using technologies like Shine, remains to be seen.
Any guesses? ®