Behold, Microsoft SQL Server on Linux – and a firm screw-you to Oracle
Free licensing offer if you convert from Big Red
Pic In an aggressive move, Microsoft has told Oracle customers: migrate to SQL Server 2016 and Redmond with give you free licensing for the lifetime of the product plus technical support.
Microsoft made the offer at a special Data Driven day in New York City on Thursday, and has taken out full page advertisements in the national press to woo customers. The Windows giant claims it can build a database system for less than a tenth of the cost of a comparable Oracle system.
"I got a few emails, most from customers asking if they are eligible for this," said Judson Althoff, president of Microsoft North America. "Everyone is eligible for this. We're super excited to help you migrate off Oracle and build a data estate using SQL Server."
There are, of course, some caveats to the offer. You'll have to be signed up to Microsoft's Software Assurance program, and if you want Microsoft techies onsite to help with the migration and train up staff, you'll have to sign up before June 30 at the latest.
SQL Server 2016 isn't even out yet, so companies will have to move quickly on this offer. In the meantime, Microsoft has been extolling its virtues: CEO Satya Nadella was on hand at today's event to explain why his firm is going all-in on SQL.
"Data is the new electricity," he said. "We want to help every business to become a data business, able to create data, store it securely, and convert it to insights and intelligence. We can imbue everyone with skills in data literacy,"
On the security side, Microsoft said the US government's National Institute of Standards and Technology (NIST) reports that SQL Server has had the lowest number of vulnerabilities discovered of any database product. The new code will also feature end-to-end encryption, and will use homomorphic encryption to allow records to be analyzed without having to decrypt the information.
Speed is also a key selling point, with Microsoft claiming that the new software will be blazingly fast, especially for in-memory processing which will run 25 per cent faster than current code without needing to upgrade the hardware it runs on. Online transaction processing speeds will at least double for some functions, Redmond said.
Microsoft also said that when the final code is released, SQL will be able to push business intelligence data to all platforms, including Android and iOS devices, and presumably Windows Phones as well – provided they are still being made.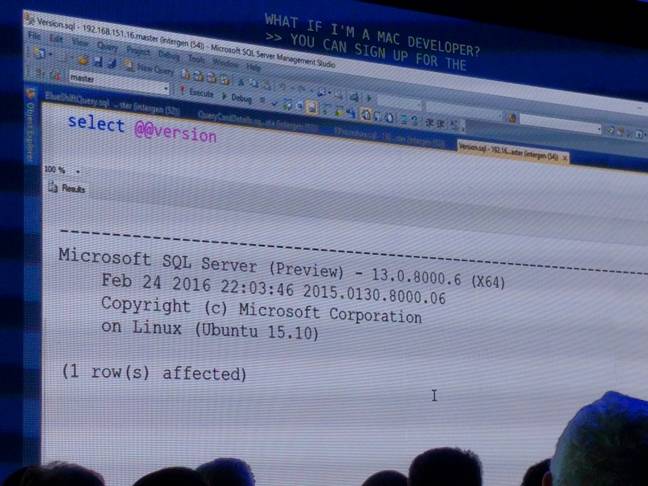 It's alive! ... SQL Server running on Ubuntu GNU/Linux
Microsoft used the event to show off a preview build of its forthcoming version of SQL Server for Linux, demonstrating queries on an early build of the platform. The end product won't be out until next year, although Gartner veep Merv Adrian said the demo was impressive.
"No one does demos on anything that isn't ironclad, and God bless 'em they did it," he told The Register. "It was the same kind of high wire act as Philippe Petit crossing between the old World Trade Center towers." ®