This article is more than 1 year old
Newbie startup Tarmin shines up trendy secondary storage grid
All-embracing unstructured data management software startup
Backgrounder Startup Tarmin has developed an object storage system with a data management system layered on top to provide single and all-embracing access to an enterprise's secondary data.
The software is called GridBank and it stores data and derived matadata either in an on-premises grid of systems (X86 servers + DAS) and/or in the public cloud, meaning AWS, Azure, Rackspace and SoftLayer. It us hardware-agnotic for on-premises storage.
Data is sucked out of source arrays, leaving stubs behind.
Tarmin was founded in October, 2006, by president and CEO Shahbaz Ali and EVP Technology Steve Simpson. It has been developing its software since then, using funding from private investors. Its Board Advisor list may give a clue as to who some of these people are.
This is in the tens of millions of dollars area. It came out of stealth in 2008 with an active archiving system. There are now some 20 customers using the product or the tech as a proof of concept (POC). They are typically $billion/year plus enterprises with 400TB+ deployments – certainly this is enterprise-class software.
Its money is substantially skewed to development, with more than 40 developers located in Bulgaria, the US and South Africa. The company has offices in the UK and Boston.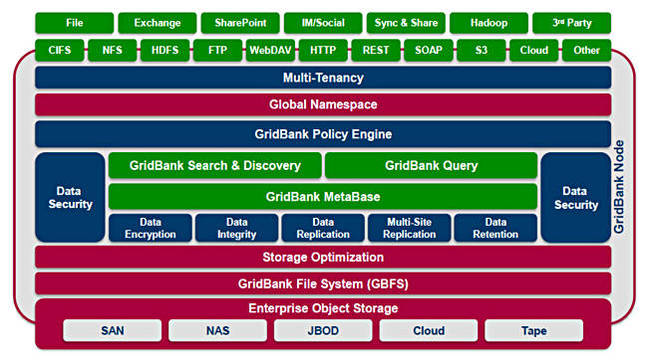 The software has a great expanse of functionality, including retention, search, policy-based compliance, analytics, replication, encryption, compression, data deduplication, file sync and share, and disaster recovery. Because of this, its competitors include Commvault and Veritas amongst the established vendors, and, variously, Actifio, Catalogix, Cohesity, Delphix, Primary Data and Rubrik amongst the startups. Traditional object storage suppliers are not in this list because Tarmin is more about data management than object storage per se.
It's quite a list of competitors, which means Tarmin has the challenge of providing ready-to-understand differentiation and working out the sales and marketing themes for its approach to customers.
The big product is GridBank Enterprise and this includes subsidiary products such as GridBank Cloud Storage, GridBank for Files and Objects, GridBank for Exchange and GridBank for SharePoint.
Target customers are $billion-plus revenue enterprises found in the USA, UK and South Africa, and in verticals like oil and gas, financial services and healthcare. They will be suffering massive unstructured data growth and need to manage this and have informed visibility into it.
Find out more here. ®