IDC's latest quarterly storage tracker * shows HPE gaining share in enterprise storage, and everyone else except the "others" category losing it, as overall market revenues gently slumped 2.2 per cent year-on year.
HPE might say "it StoreServs them right," as that is the product line that is driving all its storage growth.
HPE divides its numbers into total enterprise storage, meaning both server-centric and external array products, and has a separate table for external array storage only.
In the total enterprise category, capacity shipments were up 10.7 per cent year-over-year to 35.5 exabytes in the quarter. But, nonetheless, revenues declined, with ODMs who ship to hyperscale customers seeing a 14.4 per cent fall to $1.2bn.
Server-based storage sales were up 6.1 per cent to $2.2bn. External storage system revenues fell 2.3 per cent to $7bn. Here's a table of the results by supplier:
In the third 2015 quarter, NetApp was in joint fourth place with IBM. Now IBM and Dell tie for third place, with NetApp in fifth place – and the biggest faller – at 14.8 per cent down. Historically, IBM and NetApp have swapped places often.
IDC has graphed this, showing EMC having a nice upturn: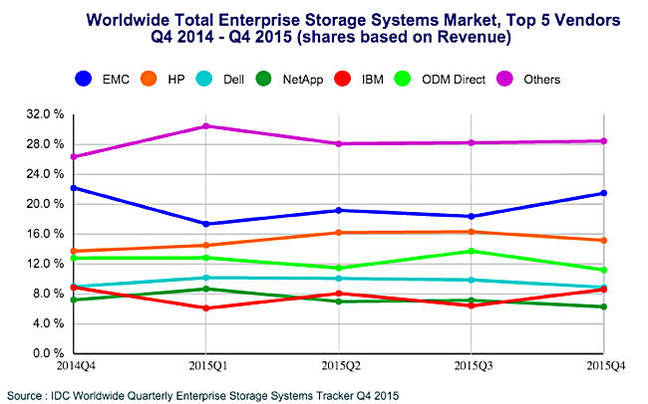 Turning to just external storage, we have a second table where NetApp's fall from grace is more apparent: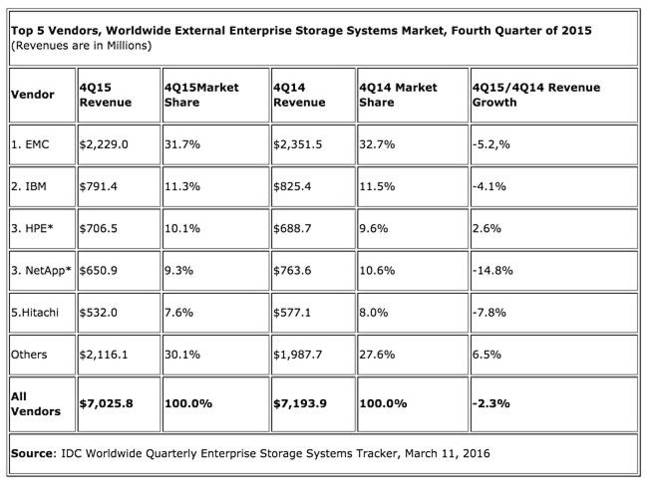 It was in second place last quarter with $651m revenues and 11.3 per cent market share. NetApp is now in joint third place with HPE, and virtually the same revenues ($650.09m), although it only has a 9.3 per cent share. IBM, with $791.4m in revenues and 11.3 per cent share, has passed NetApp.
This is only a quarterly snapshot view and we'll see how things change next quarter. The IDC number wranglers have their abaci and fingers ready. ®
* International Data Corporation (IDC) Worldwide Quarterly Disk Storage Systems Tracker for the fourth quarter of 2015.