Streaming speaker biz Sonos lays offs workers as it finds its voice
Voice control is Sonos' next great challenge
Analysis Hi-Fi Wi-Fi streaming speaker supplier Sonos is in a hole and sees Amazon Alexa-style voice control as the way out.
The firm has decided to develop its own voice-control system, and this is going to cost a great deal of money. CEO John Macfarlane says: "Voice is a big change for us, so we'll invest what's required to bring it to market in a wonderful way."
Sonos is re-organising itself for this effort and has laid off some staff. The CEO continues: "These last few weeks have been tough for everyone at Sonos. We're a tight bunch, so saying goodbye is particularly painful. But I know that making these changes is the right thing to do for Sonos as we look to the future."
Sonos developed and popularised the Wi-Fi speaker phenomenon with music streamed to its high quality and expensive speakers from Wi-Fi-connected smartphones, tablets, mobiles or desktop PCs as well as from internet sources.
The streaming idea has spread from basic internet radio stations to subscription services such as Rhapsody, Napster, Spotify, Google Play Music – and, of course, Apple Music. Apple's entry, blogs Sonos's CEO, has "helped drive a dramatic acceleration of paid music subscriptions.
With Apple's influence, the entire ecosystem – labels, artists, management – began to embrace and advance streaming all over the world... The Beatles library, now available on all the streaming services, is a perfect example of how [music] labels are leaning into streaming."
Streaming music is going to become the dominant form of music consumption, Macfarlane says.
Rivals
So far so good, except that two other things happened. Competing and cheaper Wi-Fi streaming speaker products became widely available, putting pressure on Sonos' premium priced products. Competitors like Bose have supplied similar quality products. putting further pressure on Sonos, but the second hammer blow was Amazon's Echo streaming speaker/music player with its Alexa voice control turning it into a general-purpose intelligent home hub.
Echo has no pretensions to Sonos levels of sound quality but what it does have is impressive convenience and capability as a voice-controlled "smart home" internet service access device. Its sound quality, when combined with this, is good enough that many consumers would rather have an Echo speaker in their kitchen/living room/den/study than a Sonos Play:1.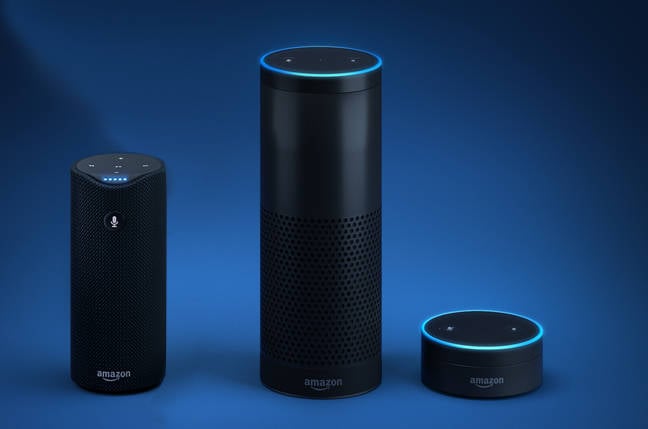 Amazon Echo speakers
The thing is that the Echo device is constantly listening out for an alert word, such as "Alexa". For example, you can say: "Alexa, play 'Let It Be' to listen to the song or "Alexa, get me an Uber," and the Echo-Amazon system will find the nearest Uber taxi and book it for you. With a Sonos speaker this is impossible.
Alexa is now a more capable voice-control system than Apple's Siri, OK Google or Microsoft's Cortana and its capabilities are constantly being extended. Macfarlane says: "Alexa/Echo is the first product to really showcase the power of voice control in the home. Its popularity with consumers will accelerate innovation across the entire industry. What is novel today will become standard tomorrow."
Apple co-founder Steve Wozniak is an Echo fan. In a CNBC interview he said he thinks the Echo is the next big platform for the near future.
Finding its voice
About its new voice tech investment, the CEO says: "Building a company capable of sustained innovation, steady growth and future vitality requires that we run the business profitably. We're not chasing short-term gains or answering to impatient investors."
Sonos is going to "focus on building incredibly rich experiences that were all but unimaginable when we started the company, and will be at the vanguard of what it means to listen to music at home. This is a significant long-term development effort against which we're committing significant resources."
What does this mean? Sonos will develop a voice control input system.
There's obviously an enormous software element to this. With Sonos' existing screen/keyboard-based controller app getting appropriate voice commands and interactions, but that's not all.
Will Sonos will also develop its own streaming music service, or partner with an existing one? I don't think that's the most interesting question.
Voice-controlling music playing against a known catalogue is one thing – using voice input to check the weather, listen to the news, book a restaurant, arrange a taxi, whatever, is quite another. Sonos has absolutely no relevant experience or back-end infrastructure system to provide the voice recognition, interpretation, search facility, vast databases, connectivity and powerful data centres needed.
Nor, we would hazard, does it have the financial clout needed to buy in technology in such a hot area.
So, will Sonos simply voice-enable its controller, using technology such as SoundHound's or go for the big one and try to get its speakers accepted as a general voice-input/smart assistant facility?
To do that requires a back-end infrastructure.
Such a backend infrastructure is hugely, enormously costly, which is why a business needs annual revenues in the tens of billions of dollars area to fund it: viz Amazon, Apple, Google and Microsoft. It could be that Sonos will either start small and develop its own, initially highly limited capability, or, far more likely, partner with one of the big four.
This would potentially weaken Sonos' control over its customers' music experience but it seems the only feasible route into the wider and far bigger voice-controlled world beyond music for Sonos. And unless it provides a portal for such functionality, it faces being blown out of the water by Echo-class devices.
Partnering with Amazon, with its non-aspirational products and existing Echo product line looks to be a non-starter, which leaves Apple (similarly aspirational), Google or Microsoft. We could see any member of this trio liking the idea of having Sonos speakers incorporate an embedded small computer system and microphones to receive voice input and hook up to one of their infrastructure back-ends for all the functionality and IT resource that Sonos doesn't have.
Having little Sonos partnering with one of the big four could easily result in it being gobbled up, but that is a risk Sonos will have to take, if it enters this vastly bigger game.
Through such a partnering tie-up by Sonos the system could book an Uber and send alerts and confirmations to your smartphone and tablet, check the weather, sports, etc, etc, thus adding value to that device, strengthening its eco-system, and helping move it into the Internet of domestic Things.
In effect, the Sonos speaker would become the front-end embodiment of a smart personal assistant, and if it doesn't then it will likely be replaced by another streaming speaker that will. Sonos has no choice. It's voice control-lite, with SoundHound or a similar partner, or voice control-heavy with smart assistant facilities and access to a back-end infrastructure, or it's oblivion. ®