+Comment Ageing startup Pivot3, fresh from buying all-flash and hybrid array startup Nexgen has taken in a whopping $54.6m of fresh funding.
It's a mix of equity and bank financing and takes its total funding, since being founded in 2003, to almost a quarter of a billion dollars – $247.04m by our reckoning – with this latest financing being equivalent to a G-round.
Our records show 13 funding events in its 13-year history. No longer a startup sprog, Pivot3 has to show its backers and the market that it's got what it takes to succeed as a stand-alone, self-sustaining business.
Pivot 3 says the funding will accelerate its growth and enable it to develop "the most extensive suite of hyper-converged and all-flash storage solutions with predictable performance." It will "accelerate the integration of the combined NexGen and Pivot3 product set and go-to-market strategy."
It's not alone, is it? Let's just list a few other all-flash and hyper-converged vendors: EMC, Cisco, Dell, HDS, HPE, Huawei, GridStore, Kaminario, Lenovo, NetApp, Nimble Storage, Nutanix, Pure Storage, SimpliVity; Tegile, Tintri, Violin Memory and X-IO. Eighteen and probably still counting. We might think having "predictable performance" is not going to be enough to stand out against this crowd.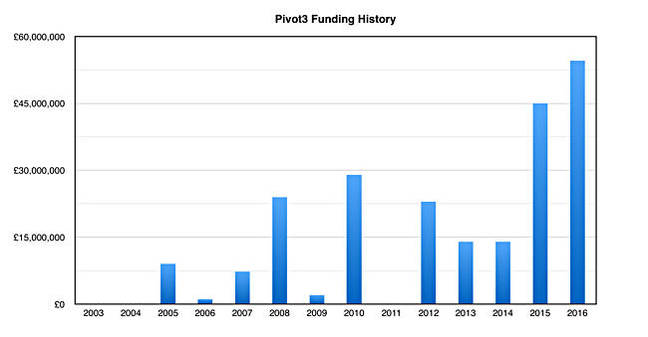 +Comment
We might speculate that Pivot3's backers are throwing the funding dice one more time in this high-stakes, startup game. Argonaut Private Equity joins S3 Ventures in providing funding – both are continued investors in Pivot3.
Steve Mitchell, a managing director at Argonaut Private Equity, said: "Hyper-converged infrastructure and all-flash storage are two emerging markets that are experiencing unprecedented growth. Pivot3 is poised to become an unparalleled presence with truly differentiated solutions that addresses the cost and complexity of the modern IT data center."
"An unparalleled presence" and "truly differentiated solutions" sound great but, really? Since when are startups active in two fronts at once – all-flash and hyper-converged – and also late to market?
The guiding hand of private equity can perhaps be seen in the Nexgen acquisition, with an eye to forming a business that can survive, grow and eventually be sold off or IPO'd.
We're told the fresh cash will enable Pivot3 "to deliver a new set of solutions" by integrating "the NexGen QoS capabilities with Pivot3's leading HCI solution while extending its patented scalar erasure coding to the NexGen high-performance solution."
With the combined technologies, Pivot3 will be able to expand the use cases and standalone architecture of traditional HCI. This is the only solution of its kind in the industry.
Pivot3 will a spend some of its fresh cash to expand sales and marketing initiatives to speed go-to-market functions and, hopefully, fingers crossed again and again, "fuel the company's continued growth".
CEO Ron Nash talked the talk: "Companies today need today a dynamic, agile and flexible IT infrastructure that can provide them with a competitive advantage as well as lower total cost of ownership. Pivot3 is tackling this challenge head-on by initiating a market-wide transformation that will expand the traditional notion of hyper-convergence and high-performance storage and allow customers to effectively and efficiently manage IT and adapt more quickly to emerging business challenges."
You have 18 well-funded competitors Ron, many well-established, industry-leading, reputable and with strong channels. You and your market/PR folks can talk the talk for sure, but can you, after 13 years, walk the walk?
Show us what you are made of Pivot3, and best wishes. ®