Author Alan Stafford has secured himself a place in literary history for his triumph in the 38th Diagram Prize for Oddest Book Title of the Year with his masterwork Too Naked for the Nazis.
Stafford was up against stiff competition for the crown, placed annually on the laureate's head by The Bookseller, following a public vote.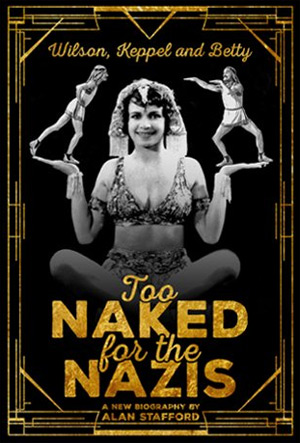 With 24.8 per cent of the ballots, Too Naked for the Nazis - which examines "the career of vaudevillian troupe Wilson, Keppel & Betty" - narrowly beat Dr Jonathan Allan's 24.3 per cent for Reading from Behind: A Cultural History of the Anus.
Third was Transvestite Vampire Biker Nuns from Outer Space: A Consideration of Cult Film by Mark Kirwan-Hayhoe, while Christopher Herwig's Soviet Bus Stops claimed fourth spot.
The also rans making up the shortlist were Reading the Liver: Papyrological Texts on Ancient Greek Extispicy (William Furley and Victor Gysembergh), Behind the Binoculars: Interviews with Acclaimed Birdwatchers (Mark Avery and Keith Betton), and Paper Folding with Children (Alice Hornecke).
The Bookseller diarist and Diagram Prize administrator, Horace Bent, said of Stafford's victory: "When future historians write about 2016, they will inevitably look at two seismic events: the closest Diagram Prize race of all time, and the election of President Trump which led to the downfall of Western civilisation. Until that dire time, we can celebrate a worthy winner from one of the strongest Diagram shortlists in recent memory."
Bent noted voters' historic taste for nudity and Nazis, as evidenced by 1978 winner Proceedings of the Second International Workshop on Nude Mice and How Green were the Nazis?, which topped the vote in 2007.
The public has shown, though, that it's prepared to honour a book on pretty well any subject, as long as the title is suitably daft. Other previous winners include the legendary* How to Avoid Huge Ships (1992), The Big Book of Lesbian Horse Stories (2003), Cooking with Poo (2012), and Goblinproofing One's Chicken Coop (2013).
In a sign of the times, Stafford nominated himself for the 2016 award, and then actively campaigned online for a win. Tom Tivnan, Diagram Prize co-ordinator, said of this shameless self-promotion: "Mr Stafford's Twitter electioneering for his book bordered on an Ahabian monomania. And why not? I think writers have recognised that winning the Diagram could mean a boost in sale of tens, maybe even as much as a hundred copies. High stakes indeed. Although more likely, they are probably after the free bottle of plonk** we give to the nominator." ®
Bootnotes
*Check out the Amazon reviews. One highly dissatisfied customer rates the work as "TOO Informative", elaborating: "Read this book before going on vacation and I couldn't find my cruise liner in the port. Vacation ruined."
**A "passable bottle of claret" to be precise.