Windows 10 updates have begun rolling out to eligible Windows Phone 8.1 devices. Microsoft has promised not to be as aggressive as it has been with pushing Windows 10 onto desktops – a promise that's surely not hard to keep.
It's made good progress fixing the bugs, cranking up the performance, and making the UX transition smoother than we expected, given the dire state of the code three months ago.
The upgrade will mean a loss of functionality for some businesses and consumers; it pays to know what you're losing.
For businesses, the losses fall into two categories. Enterprise features, including Data Protection Under Lock, are missing. And it breaks conditional access to file functions managed by MDM servers.
Users who weren't permitted to share or save files may be able to do so in W10M. For many businesses where DRM is relied on to lock down document permissions, such as law firms, that's a reason to hold off. Weirdly too, W10M can't open .EML files. An upgraded device won't sync Exchange tasks any more, not that it did it very well to start with.
For consumers, the obvious social networks integration is the most obvious missing feature. Notifications won't work on contact tiles, and Cortana is only half finished – it doesn't (in its current state) search the device any longer. Just the web and the cloud.
Here's the official list of deprecated features – and eligible devices.
"Windows 10 Mobile Enterprise users will have the ability to postpone updates," warns Microsoft, before adding, ominously: "The amount of time that Windows 10 Mobile users can postpone updates is limited."
It's not all bad, though. Maps is now better, particularly after the latest mobile friendly update. Microsoft got the message loud and clear that mobile users hate reaching to the top of the screen on today's tall phones. Maps sees this improvement: https://blogs.windows.com/windowsexperience/2016/03/17/new-features-in-windows-10-maps-app/ Email arbitrate is faster, the Edge browser is (usually) faster and there are one or two usability improvements.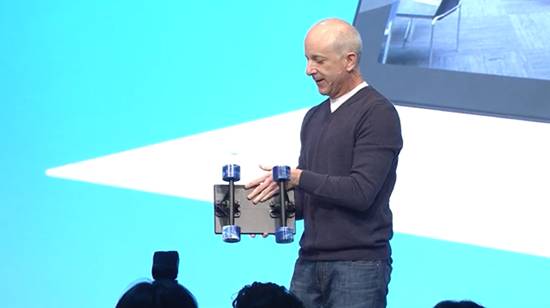 Would you let this man run your platform strategy? Microsoft did.
Microsoft effectively lost a year by deciding to base Windows Mobile on the same code base, and develop a coherent developer story. The last major update was released 20 months ago, and that was a tidying-up operation which took out the Hubs. Other features such as Rooms were abandoned along the way. But as we noted in 2013, Microsoft badly needed to get its platforms story straight: "The chaotic legacy of Steve Sinofsky's tenure left Microsoft building "modern" apps on three incompatible UIs: Win 8 desktop, RT and Windows Phone." Anyone remember Windows RT?
Windows Phone's UK market share had peaked in August 2013, and without fresh new devices or code, the decline began.
Then it became apparent from the earliest previews of Windows 10 Mobile that it was a long way from finished, and while it's solid today, the reputation has suffered from a year of word-of-mouth opinion that it's a mess.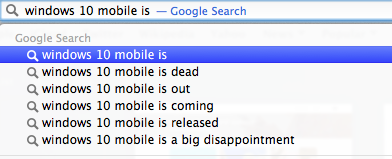 As you can see. I suspect Microsoft has kept the Mobile platform alive not because it thinks it can win the smartphone war – it's already conceded that – but because of the threat of desktop Android. Which is coming along faster than you think – see our hands on with Remix OS.
If tablets are to be the computing device for the next billion internet users, and almost all of those tablets run a multiwindow, multiasking, Android, Microsoft begins to run out of road for its endless reshuffles and strategy shifts. Keeping a lean, mean ARM version of Windows handy keeps it in the game. ®