This article is more than 1 year old
Apple stuns world with Donald Trump iPhone
Samsung, start your Xerox machines
Shy and modest Apple today unveiled a pair of small iPhones and iPads for people with itty-bitty hands.
The Cupertino slinger of iStuffs summoned hacks to a brief hour-long conference in California to unveil the four-inch iPhone SE handset as well as a 9.7-inch iPad Pro slab. Both are powered by the now-available iOS 9.3 firmware.
iPhone SE: Four-inch screens aren't so bad after all
After spending the past two years trying to convince everyone that larger screens are all the rage with the iPhone 6S and 6S Plus models, Apple finally decided to update its iPhone line with the four-inch iPhone SE. The iPhone 5S and 5C use four-inch displays but have been discontinued.
Now there's a new four-incher back on the market: the SE. Perhaps Apple hopes to win over a certain Republican presidential wannabe with small hands who threatened to boycott the biz over its row with the FBI (yeah, we're talking about Donald Trump.)
Sporting the aluminum-backed case design of the iPhone 5S, the SE has been upgraded under the hood from the 5-series with the same hardware found in the iPhone 6S and 6S Plus handsets, including the A9 processor and M9 coprocessor, the 12MP iSight Camera, NFC Apple Pay capability, the "Hey Siri" voice input and Touch ID fingerprint sensor.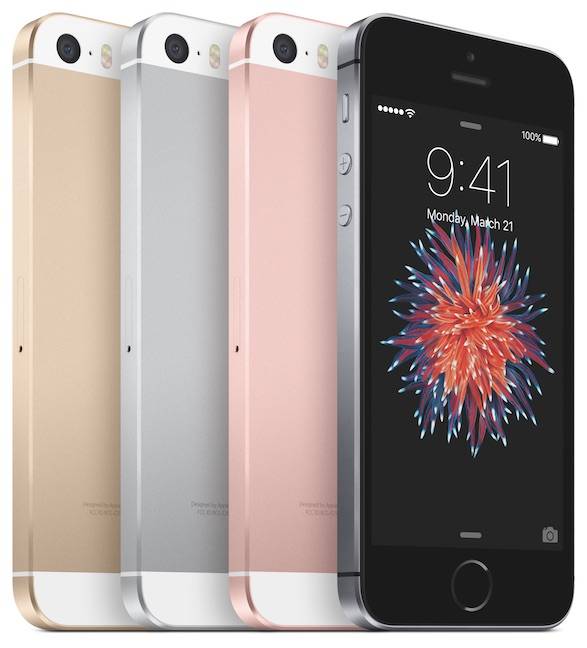 It's just another phone ... Apple's new SE
Apple iOS marketing head Greg Joswiak said that though Apple has made a point of pushing the larger-screen iPhone models in recent years, 4-inch handsets have been a steady seller for Cupertino, shifting some 30 million units in the last year alone.
In particular, Apple's four-inch models have been a big seller for people buying their first Apple handset, either upgrading from feature phones or making the switch to iOS from an Android device.
"Our four-inch iPhones are actually an important part of our lineup," Joswiak told Apple's hand-picked audience. "Some people simply love smaller phones, they want the most compact iPhone design."
The iPhone SE will go on sale March 31. Though the phone starts at $399 with a tiny 16GB of flash storage, most users will opt for a subsidized carrier deal with a device offering more capacity. Some networks are offering the handset free of charge with a two-year contract.
iPad Pro goes back to the future with 9.7-inch model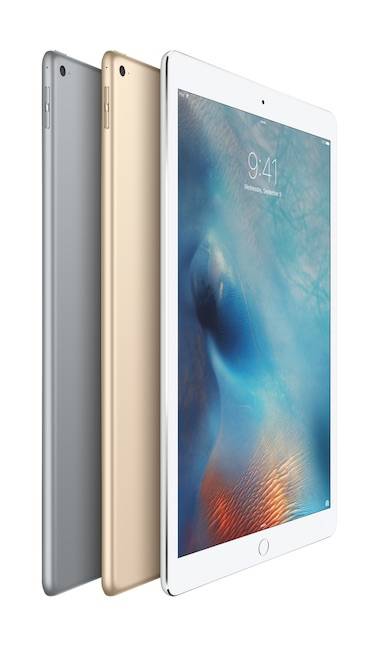 The smaller (but still big) iPad Pro
Giving a nod to the original iPad design, Apple has added a 9.7-inch screen to the high-end iPad Pro. The sub-10-inch model will join the 12.9-inch model at the high end of Apple's tablet line with a starting price of $599.
The 9.7-inch tablet will feature Apple's A9X CPU with the M9 coprocessor, the 12MP iSight rear camera with a FaceTime HD front-facing camera. The new iPad will also come equipped with Apple's built-in SIM card and will use a retina display.
Apple is pitching the iPad Pro as a complete replacement for notebook computers, and in particular Windows PCs.
Marketing boss Phil Schiller made a point of poking fun at what he estimates to be 600 million Windows PCs that have been in use for five or more years. "That's really sad," he remarked, "these people could really benefit from an iPad Pro."
The 9.7-inch iPad will begin pre-orders on March 24, with general release due on March 31.
iOS 9.3: Let Apple put you to sleep
Powering the new hardware will be an update to the iOS 9 firmware. The 9.3 update, now available for all users, will include among its new features Night Shift, a display setting that allows your iPad or iPhone to sense the ambient light and adjust its colors naturally.
Apple believes this setting will be particularly useful for those who read their device or watch video before going to bed, as the Night Shift screens will cut out much of the blue light that has been shown to interrupt sleep patterns.
iOS 9.3 will also bring an updated version of Notes, CarPlay, and Apple News. Users can download the iOS 9.3 update from the iOS Software Update utility or via iTunes.
CEO Tim Cook noted that the Monday event would likely be the last product rollout ever to be hosted in Apple's "Town Hall" theater at 1 Infinite Loop in Cupertino. The Apple "spaceship" campus and its new theater are set to go live in 2017. ®