Electronic Superhighway 2016-1966 – a retro: Texts, ar*se and ASCII rolls
The internet. Before Kim Kardashian. Yes, it really existed
Pics A large photo of a woman's bottom greets you as you walk in. Chat messages are emerging from it.
Not to worry, it's only Olaf Breuning's mischievous "Text Butt" (2015). Immediately to your left is Joana Hadjithomas and Khalil Joreige's Geometry of Space (2014), a mixed-media installation comprising stretched oxidised steel, wall drawings and a frankly hilarious book of reprinted phishing emails entitled "Scams Atlas."
Thus the theme is set for the current principal exhibition at London's Whitechapel Gallery, Electronic Superhighway 2016-1966. Spread across four of its main gallery spaces over two floors, the exhibition brings together 50 years of internet-influenced artworks from more than 70 artists exploring the possibilities of technology.
This is no random mashup of stereotypical computing tropes, however. Rather, as the exhibition title proposes, it is a reverse-direction walkthrough in time, revealing how artists have responded to technological changes in communication over the last half-century. Starting with the present-day cynicism of Breuning's messaging-out-of-your-backside, you are led back gradually decade by decade to view various artists' responses to technology as it was coloured by their era, ending in 1966 just before the ARPANET papers were published.
Speaking out of your a*se? Olaf Breuning's Text Butt (2015) at the Whitechapel Gallery's Electronic Superhighway exhibition
For those of us closer than the average Joe to the unravelling of the internet revolution – either by working in the industry or simply having lived through it – Electronic Superhighway 2016-1966 is a guilty pleasure on a surprisingly big scale in a mainstream venue. No artistic or cultural bent is required, other than an awareness that the internet pre-existed Kim Kardashian: this is an art exhibition for us. You will understand all the references, you will recognise all the memes, you will get all the jokes.
Better still, while occasional nudity or sweary graffiti are inevitable in any contemporary art, you won't find anything outrageously pornographic or unpleasantly violent here, so it should be safe for a cerebral half-term outing – under-16s get in for free. Sure, your kids might be baffled at Jacolby Satterwhite's part-animated movie of dancing uteruses on a beach and the sight of his avatar humping himself in a fantastical 3D landscape in Reifying Desire 6 (2014), but they won't turn blind and take up pinball as a result.
In fact, children of a certain age might learn a thing or two by watching Eva and Franco Mattes' My Generation (2010), a smashed Compaq tower PC on the floor whose CRT monitor shows a seemingly endless video of kids screaming maniacally while playing computer games. They make PewDiePie look like an amateur.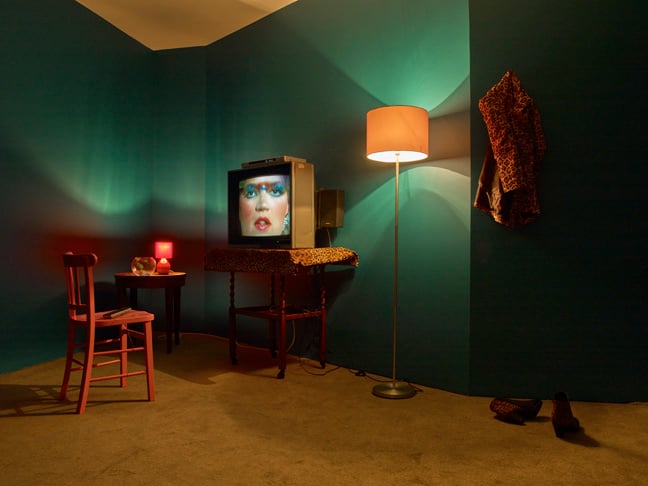 All mod-cons: TV, remote control, laserdisc – you control the full 1970s multimedia experience
This first gallery space is full of entertaining daftness like this, from the stack of supposed "gender-changing" cable adapters in Zach Blas's Queer Technologies (2007-10) to Evan Roth's wide-format inkjet Self-Portrait (2012-13) comprised of the tiny images discovered in his web browser cache. However, if your party includes bored, smartphone-obsessed teenagers intent on imitating art imitating life, they can drag themselves over to Trevor Paglen's Autonomy Cube (2014), a couple of circuit boards inside a perspex block which also happens to provide visitors with free WiFi access through Tor.
Upstairs, you are led through earlier artistic responses to the burgeoning public internet of the late Nineties and early Noughties which, influenced by the first Gulf War and 9/11, evoke a sense of paranoia. Play around with Jan Robert Leegte's claustrophobic three-screen Scrollbar Composition (2001) and gape at the grey hideousness of Netscape 3.04 frames as you navigate Olia Lialina's dizzyingly multithreaded online tale.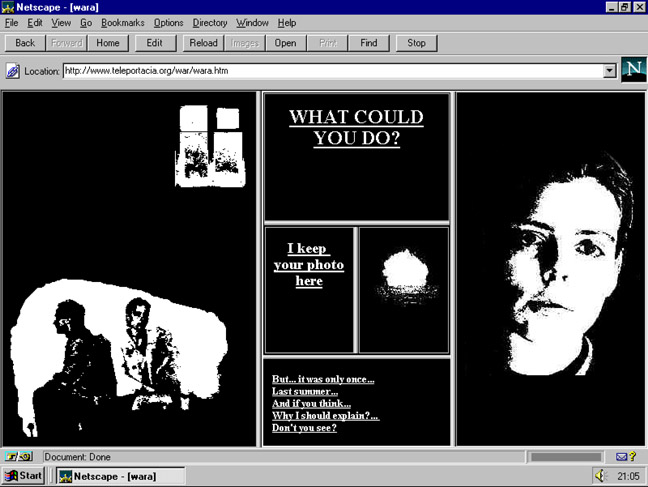 Yes it's Netscape. Click in the ugly frames to investigate Olia Lialina's story My Boyfriend Came Back from the War
There's plenty of trippy video stuff up here, reminiscent of the brainwashing scenes in The Ipcress File, not least Vuk Cosic's ASCII History of Moving Images (1998) in which the classic film Casablanca is played back as live ASCII art on a monochrome green screen.
Moving further back in time through a whole load of early computer-generated fun, you will discover Eduardo Kac's simplistic animations running on a collection of Eighties French Minitels, and Lynn Hershman Leeson's Lorna (1979-82), a reconstruction of a small living room complete with TV and remote control that encourages you to choose the fate of the eponymous protagonist via the multimedia wonders of a Seventies laserdisc.
You then make your way through the Seventies to the Sixties, a time when communications technology was still regarded with optimistic speculation, charmingly represented by artifacts from the Cybernetic Serendipity exhibition held at London's Institute of Contemporary Arts in 1968. Also striking is Allan Kaprow's Hello (1969), a recording of an event in which bemused members of the public stand in front of remote outdoor cameras and are astonished to find themselves able to talk to people in the studio – miles away – in real time.
Allow yourself at least a couple of hours to work your way through the exhibition, otherwise you will miss out on all the deranged video installations. I recommend half a day.
Don't leave without visiting the free-to-enter Gallery 2, a freezing cold icebox of a room on the ground floor hosting Harun Farocki's Parallel I-V (2012-14), six massive video projection screens detailing the genealogy of video games. There's something oddly satisfying in being reminded how, long before kinetic 3D animation, running water in games used to be represented as wiggling blue dots and dashes. Wrap up warm and enjoy the trip down the electronic superhighway.
Electronic Superhighway 2016-1966 continues at the Whitechapel Gallery, 77-82 Whitechapel High Street, London E1 7QX (right next to Aldgate East tube station) until 15 May; open 11:00-18:00 Tuesday to Sunday, late opening to 21:00 Thursday nights, closed Monday. Tickets £11.95, concessions £6 to £9.50, under-16s free. Parallel I-V is free to enter and runs until 12 June. ®