A tiny Violin plays as EMC tops all-flash array revenue chart
Good news for the big dog. Less good for the whipper-snapper
EMC with XtremIO is striding out in front of the pack in the all-flash array market, according to Gartner and Stifel Nicolaus numbers.
Stifel Nicolaus' MD, Aaron Rakers, provided vendor all-flash array revenue share numbers to his clients, adding his Pure Storage ones to a Gartner report.
The tabulated numbers cover the four quarters in 2014 and 2015.
At the end if 2015 EMC was the outright leader at $384.6m, more than twice IBM's $189.1m from its FlashSystem products. IBM's creditable showing was almost $40m, ahead of third-placed Pure Storage's $150.2m. NetApp, with its all-flash FAS and EF540/550 was in fourth place ($89.2m), with HPE in fifth place at $77.8m.
Graphing the numbers shows how Pure and IBM have pretty much level-pegged, with NetApp and HP, overall, roughly level also.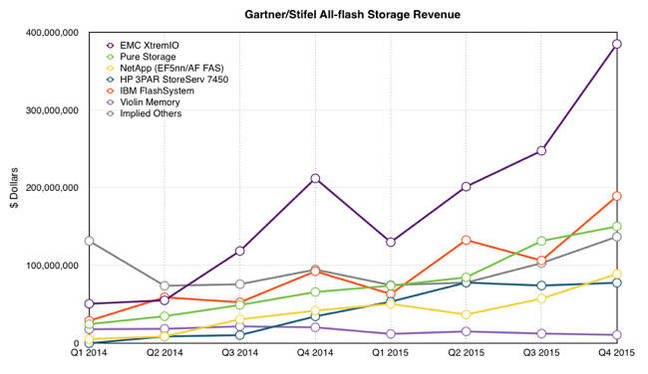 Poor Violin is very much the also-ran at this stage. That's the top six vendors, with Dell, Fujitsu, HDS and X-IO in the "others" category.

Despite EMC's worries in 2014, it was whipping Pure's ass all through the year and greatly increased the whipping rate in 2015. ®