Samsung Galaxy S7: Big brand Android flagship champ
Unless you want the bigger Samsung, that is. Then it's that one
Review If only all reviews were as easy to write as this one. Take last year's product, make small but important refinements, and this year's is much better. The Galaxy S7 is the Android flagship to beat, and everyone who gets one will be really happy with it. That's basically all there is to it, really. Can I go home now?
Samsung made its big break with tradition last year, and this year's model sees only positive improvements. Last year Samsung took its Galaxy S moneyspinner down a major new route, and not before time: the design was weary and the software bloated and incoherent. But not everyone liked the changes Samsung made. The S6 looked better and more modern, but the battery life wasn't very good, and now you couldn't change the battery, or put in a memory card. The S6 was all sleek glass and metal looks, but many Galaxy owners have been practical types, and had to look elsewhere for something with expandable storage and replaceable battery.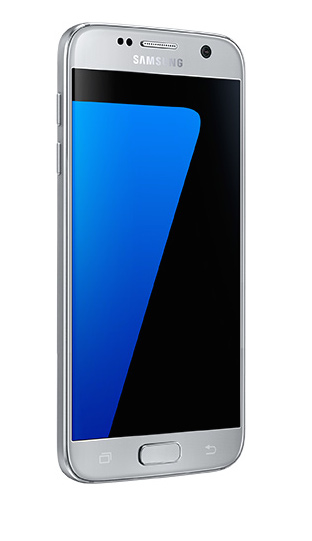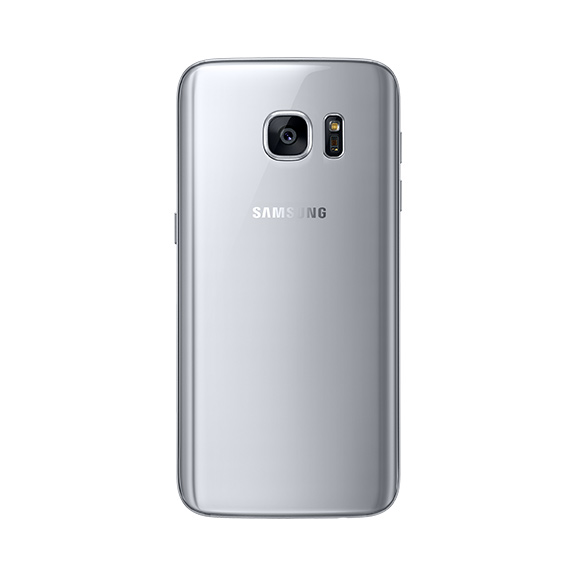 With the S7, the battery is still non-replaceable, but you can put in a microSD card, and Samsung has made it waterproof, as well as more comfortable to hold. The battery is bigger, lasting throughout a day, even under stress. And it's further refined the TouchWiz skin and Samsung own-brand app duplication, so it's fast and unobtrusive while keeping generic Google-y Android at arm's length.
But let's meet the S7.
Hardware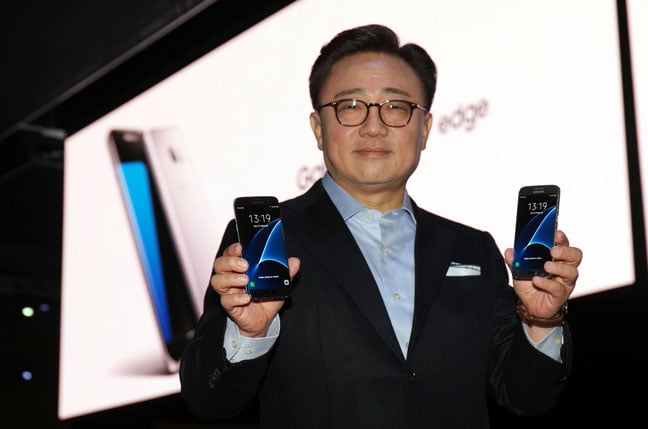 Samsung's mobile chief Koh Dong-jin poses with the Galaxy S7 and its Edge variant.
The S flagship comes in two distinct models: the 5.1-inch Galaxy and the 5.5-inch Galaxy Edge, with a dual curved display. Which looks fantastic, but is more aesthetic than practical; the Edge's larger display and battery are the lure here, rather than the curves. (Hitting things on the edge of a curved display is more erratic than on flat glass). And doubtless, they'll be joined by an Edge+ at some point, an even larger Edge.
Samsung has made the back curved, making the right angle ridge where the tin meets the glass disappear. It's a lot more comfortable as a result. Compared to contemporary big-name beasts, a 5.1-inch model is pretty pocketable anyway these days. On the Galaxy S6, the camera module stuck out a mile, but here it barely protrudes at all. In Galaxy S tradition, the display is a stunner, a 1,440 x 2,560 AMOLED display.
The battery is 3,000mAh, a noticeable improvement on its predecessor's 2,550 mAh, and it seems well optimised. One new feature (there aren't too many) may deplete it: the optional, always on standby display. Samsung reckons this consumes around 1 per cent per hour, or four days of standby, which is about right, and the phone will most likely be flat from normal use long before that. I much preferred the old Nokia Glance screen, which would only come on when you waved your hand over the display, and Samsung's lacks a night mode.
For really parsimonious power consumption, Sony's phones are still the champ. But Samsung has caught up with Sony with waterproofing. It meets IP68 standards, defined as being able to survive a dunk in water 1.5m (4.9ft) deep for 30 minutes. The only loss likely to be felt here is the absence of an IR blaster. That's the sacrifice for regaining a microSD card (which here, lives in the same removable tray as the nanoSIM.)
Performance was excellent. The US gets a model with Qualcomm processors, while Europeans will get the "Global" SKU with Samsung's own Exynos octocore chip. This didn't let me down, and the chip didn't get warm when using GPS in the car, or even when wirelessly charging the unit on a Qi pad. Anandtech's exhaustive work out shows it comes out near the top of most benchmarks, which is impressive considering the S7's disk I/O is fully encrypted.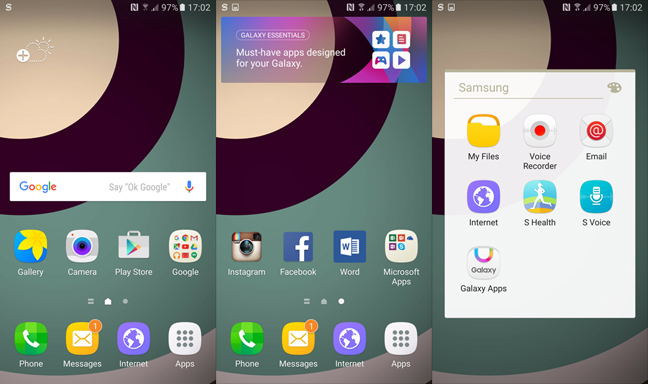 The pernickety will note that it doesn't come with all the latest and greatest mod cons: fast charging doesn't use Qualcomm's latest 3.0 standard, while the USB port is a micro, rather than a new style USB Type C connector.
Radio performance was much improved on last year (when I couldn't get a signal in places others could) and the EE-supplied model could make calls and text on the Underground, thanks to WiFi calling and EE's own tweaks. If you're on a network that supports VoLTE, the Galaxy can do that too. One day we'll have the same HD quality calls we had in 2010. Just imagine. Calls were excellent, the mono speakerphone nice and clear, and it played nicely with most peripherals I tried. The fingerprint sensor worked splendidly, and I'd again rate it tops for reliability.
The only downside of all that glass is that as with the S6, a naked S7 is a fingerprint magnet. But who carries a naked Galaxy S? You'd be a bit mad to.
Camera
The S7 impressed with its imaging, particularly in low light. If it really matters, the S7 Edge has a much wider aperture main camera, with much better low light results. On the S7 I found the colour balance was a little on the saturated side, but much less so than before. The gimmick this year is "Dual Pixel" auto phase detection, allowing for near instantaneous focusing. In practice, though, it means the common touch-to-focus gesture puts everything else out of focus, which isn't what you might be expecting. The S7 didn't oversharpen images to the point of distortion, but I did notice one curiosity you can tell from the pictures below.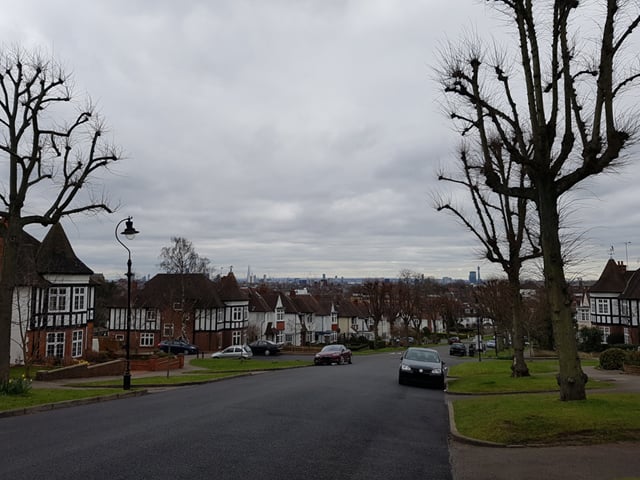 Click to enlarge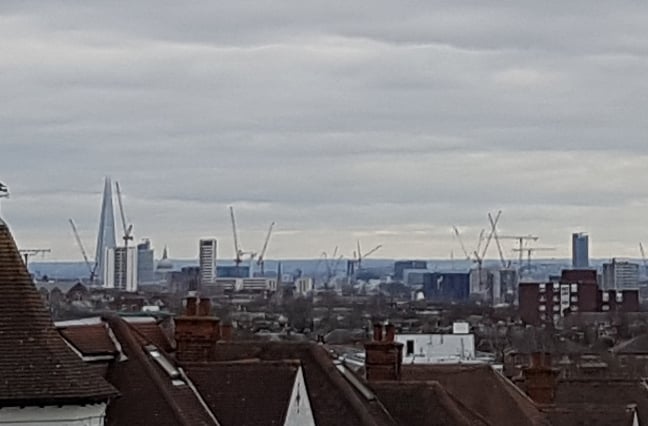 Detail from the photo above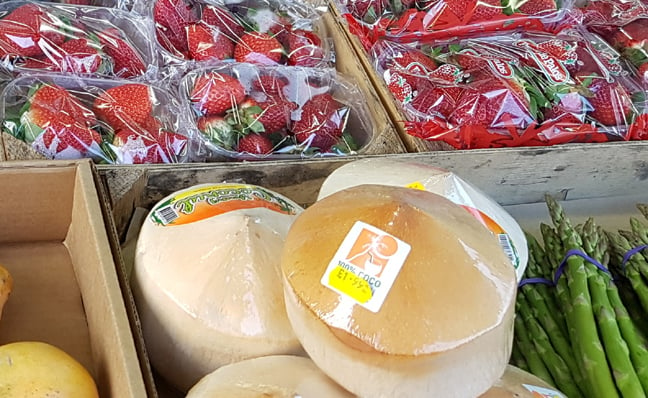 A detail from the image above. On cheaper camera shooters you usually get some noise on the price label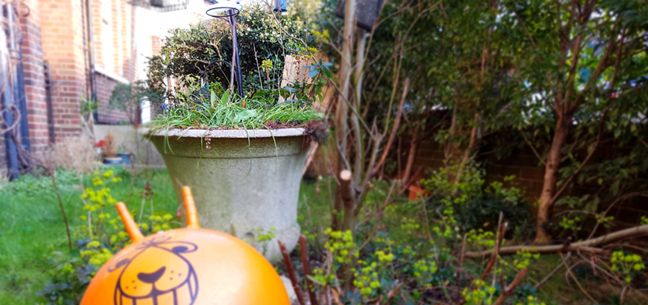 What Samsung calls "Dual Pixel" uses more pixels for APD (auto phase detection). It's easier to bring parts into focus, as here:
Click to enlarge
The picture of Muswell, the third photo down, reminded me of the movie Inception.
What's happening is better illustrated by two shots, taken from the same spot – the same spot as the panorama above. The only difference is that one shot frames the crane at the left of the image, the other frames it on the right. I've superimposed them: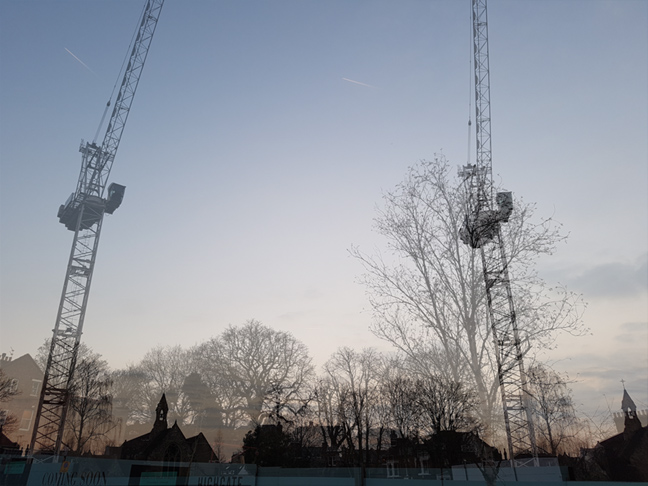 No, the crane isn't wobbling dangerously. It's parallax distortion, caused by the Galaxy's wider and more rectilinear lens. You can see from the panorama, which has come out beautifully, that there's nothing wrong with the camera. Some compositions do have that "Inception" effect, like the photo of Muswell Hill broadway. It looks like the two sides are collapsing in on the centre. Just so you know.
The camera compares favourably with the Apple rival, if only because you can get to it much faster: using a double-click on the Samsung hardware button, and it's up and running almost as soon as you let go. If you need to capture a moment, that's much less hassle than on an iPhone.
Software
Samsung continues to tidy up Touch Wiz UI – the skin that sent thousands (if not millions) of users running, screaming, to alternative launchers like Nova. Well you might still want to do that to get gestures, and a smaller display font (the "Tiny" setting on the S7 is still quite large). But I see nothing wrong with the default for most users. The muted pastel colour scheme means it's much less garish overall, although you can skin it with the usual whimsical themes via Samsung's own Theme store.
There's still some duplication with Samsung's own offerings, but the attempt is less heavy-handed. Most are shoved by default into a Samsung folder. I didn't get Chrome installed or many of Google's own pretty indifferent apps. So the default browser is Samsung's (and is very good – ad blocking is promised), and the default calendar Samsung's too.
The one nuisance feature is the obligatory Flipboard-clone news and social reader on the home screen, but this (like Flipboard-style news readers) is easy to disable. Half the time I wouldn't mind these things if I could customise them, but I can't. The other nuisance is mildly irritating, and caused by the ability to "split screen" apps. Sometimes while scrolling through a web page I'd find myself back on the home screen, with the web browser in a resizable window. But I didn't want to do that. On a screen this small I hardly ever need to split screen. Curiously there's a selection of options under "Labs," such as dispensing with the app drawer, to make it comply with the iPhone/Chinese norm where all the app icons live on the desktop.
Modern hardware has improved to the point where Touch Wiz just isn't a pain. I'd prefer more themes out of the box – with at least one dark alternative.
Conclusion
As an overall package, I liked the S7 a lot.
What keeps Samsung with its nose in front of the pack (particularly ahead of its Korean rival LG) is the aftermarket support of superb own-brand cases, and the accompanying wearable ecosystem. Samsung's Gear S2 watch is more useful and less annoying than Google's generic Android Wear, which now looks like a platform in need of a major rethink. (There's an awful lot of computer inside a Wear watch, and it isn't doing much for you, except running down its battery).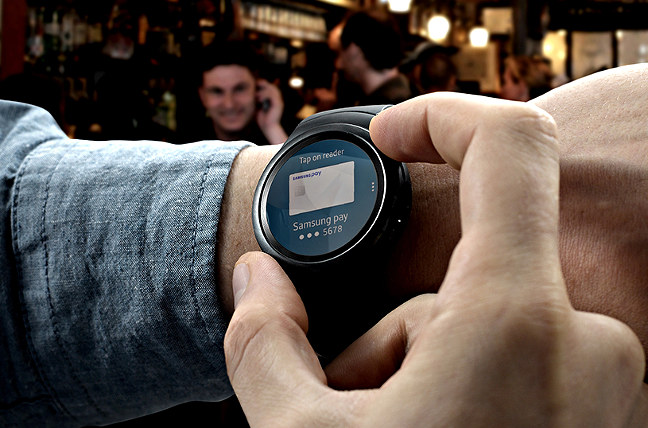 Sync it?
If you don't mind spending upwards of £35 a month for a phone on a two-year contract, and you don't want to buy into the Apple ecosystem, then the Galaxy S7 is the best choice. Unless, that is, you want something with a larger display and (say) a stylus for scribbling, in which case the phablets are good value. If, on the other hand, you think you can get by with something almost as good for a lot less money, and follow the market shift to SIM-only deals, you'll certainly want to look elsewhere, beyond major brands like Samsung, Sony and HTC, and see what Huawei, Xiaomi and OnePlus – all Chinese-based manufacturers – are doing. There's no shortage of innovation there, and the £200 you save can go a long way. ®
Thanks to EE for the loan sample
Samsung Galaxy S7
Review summary: Takes Samsung back to the top of the class
Specs: 5.1-inch 1,440 x 2,560 pixel display (577 ppi)
Fingerprint sensor
Octo-core Samsung Exynos 8890 Octa (World) or Qualcomm Snapdragon 820 (US) 4GB of RAM
32GB/64GB of internal storage
12MP dual sensor and 5MP front-facing cameras
Non-removable Li-Ion 3,000mAh battery
MicroSD expansion and microUSB v2.0
Qi and PMA wireless charging, Qualcomm Fast Charge 2.0 compatible
Full details here. ®