Streaming now outsells downloads – Recording Industry Ass. of America
On-demand music nudges slightly ahead of digital sales for first time
Last year, revenues from streaming music topped those of paid downloads for the first time ever.
This according to a fresh report [PDF] from the Recording Industry Ass. of America (RIAA), tracking revenues reported by US record labels.
The RIAA says that during the year, streaming music revenues accounted for just over one-third of reported revenues at 34.3 per cent. That edges out digital download revenues, which accounted for 34.0 per cent of total revenues.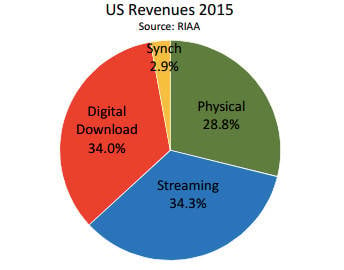 Last year's US music revenues
"Overall, the data for 2015 shows a music industry that continues to adopt digital distribution platforms for the majority of its revenues," the RIAA said.
"While overall revenue levels were only up slightly, large shifts continued to occur under the surface as streaming continued to increase its market share."
This doesn't, however, mean that streaming music is more popular than one-time purchases.
When physical media purchases (28 per cent of total revenues last year) are combined with digital downloads, they cover more than 62 per cent of all music revenues, suggesting people would still rather buy their music up front than get it through subscription streaming services.
Still, the report shows that the popularity of streaming services is still very much on the rise.
"Overall revenues in 2015 were up 0.9 per cent to $7bn at estimated retail value," the RIAA said.
"The continued growth of revenues from streaming services offset declines in sales of digital downloads and physical product."
In total, the RIAA says streaming music revenues account for $2.4bn last year. By comparison, in 2013 streaming music brought in just $1.45bn and in 2014, $1.86bn. Over that same period, digital download revenues have gone from $2.83bn in 2013 to $2.57bn in 2014 and $2.32bn last year.
The RIAA says that total subscriber numbers for streaming services has grown from just 3.4 million subscriptions in 2012 to roughly 10.8 million last year. ®