This article is more than 1 year old
Riddle me this: What grows as it shrinks? Answer: LTO tape
Capacity shipped rising faster than units shipped falling
The LTO (linear tape-open) organization has released a tape shipment report showing capacity shipped grew almost 18 per cent from 2014 to 2015, while unit shipments have been declining since 2008.
The LTO organization basically looks after the LTO format and represents the interests of the LTO Program Technology Provider Companies (TPCs): Hewlett Packard Enterprise, IBM and Quantum.
The outline data shows:
2014 – 64,671PB of compressed LTO capacity shipped (about 25,900 raw PB).
2015 – 76,190PB of compressed capacity shipped (about 30,500 raw PB).
2000-2015 – More than 395,000PB compressed capacity shipped since LTO started.
LTO-7, with its 15TB (compressed) capacity, arrived in September 2015. It succeeds the 6.25TB (compressed) LTO-6 format.
Just under 20 million LTO cartridges were sent to customers last year. As a comparison let's note that WD and Seagate combined shipped more than 350 million disk drives in 2015; the tape cartridge market is less than 0.00567 per cent of the disk drive market in unit terms (ignoring Toshiba's contribution). Still, capacity-wise it is growing strongly: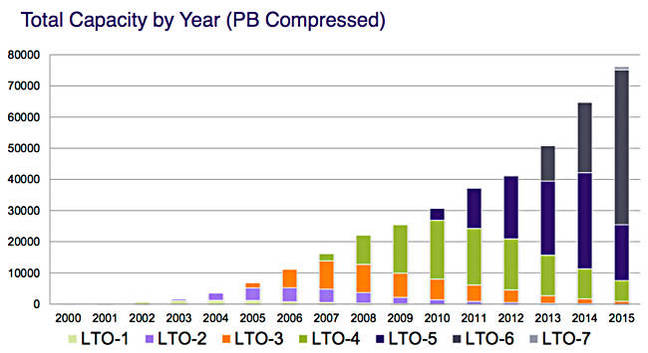 Per-reel tape capacity is growing, and should continue to grow with new generation LTO formats. People using tape for archive are sticking with it because it costs less to archive on tape than on disk, and tape is reliable.
The report notes that "Shipments in 2015 reflect a small decrease in media unit shipments over the prior year, which is typical as the market anticipates the introduction of a new generation."
In fact, total annual unit shipments have been declining quite steadily since 2008: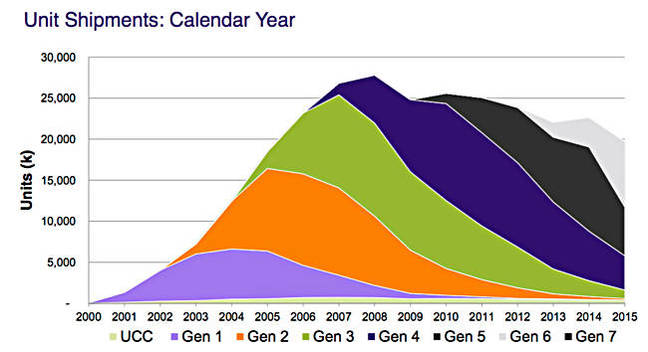 Read the (short) LTO program report here. ®