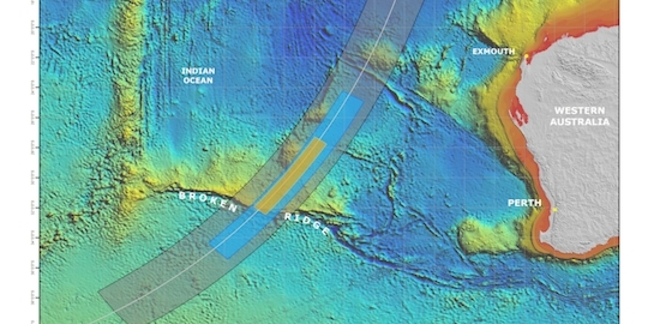 The ongoing search for Malaysian Airlines flight MH-370, the 777 that disappeared in March 2014, has suffered a very significant setback with the loss of its main instrument for scanning the seabed.
The "SLH-ProSAS-60 towfish" is a sonar device that can operate 6,000m below the surface of the sea, but still churn out images with 10cm x 10cm resolution. But as the Australian Transport Safety Bureau (ATSB) weekly report notes, the Chinese vessel "Dong Hai Jiu 101 is en route to Fremantle after an incident on the evening of 21 March in which the failure of a tow cable connector resulted in the loss of the SLH-ProSAS-60 towfish."
"Recovery options are currently being assessed," the report says.
The Dong Hai Jiu 101 was sent to Australia by China's government, as most of the passengers aboard MH-370 were citizens of the Middle Kingdom. The vessel only commenced operations in late February.
The ATSB report doesn't say how deep the towfish was when the "tow cable connector" failed, but chances are it's a long way down and therefore very, very hard to retrieve.
The search for MH-370 has continued for nearly two years and the ATSB says 95,000km2 of the 120,000km2 search area has been scoured. Previous plans called for the search to conclude by mid-2016, but with the towfish lost that timeframe will likely need to be revised.
While aircraft debris felt very likely to come from MH-370 has been found in Africa, the failure of the effort to locate the aircraft led-to a re-evaluation of the search area and the methodologies used to calculate it. A report on those matters concluded that the analysis of the aircraft's likely resting place, which relied on just seven handshakes with a satellite, was the correct approach.
Three other vessels are currently engaged in the search for MH-370, but only one is active. The other two are headed for port for planned resupply stops. ®
Sponsored: Practical tips for Office 365 tenant-to-tenant migration