Microsoft has announced a new Universal Windows Platform Skype app for Windows 10, alongside the three existing Skype apps – one for video, one for messaging and the long-standing desktop app.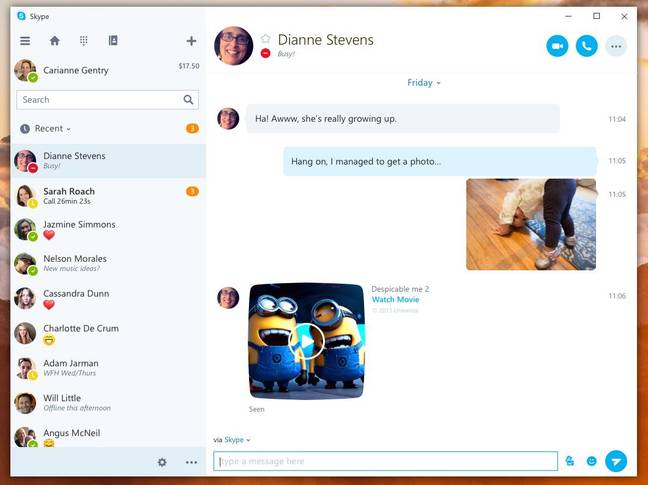 A preview of the new Skype UWP app
The Skype story on Microsoft's reinvented Windows platform is anything but smooth. When Microsoft launched Windows 8 in October 2012, complete with a new touch-friendly app environment, it included a new Skype application rebuilt for the new "modern" platform. "This is our big step forward together with Microsoft to introduce a completely new Skype experience, which is designed to be always on, immersive, effortless and fun to use," said then Skype exec Mark Gillett at the time.
Windows 10, released in July 2015, featured a revamped Universal Windows Platform (UWP), based on Windows 8 but adapted so that application run in windows, and across multiple devices including phone, tablet, Xbox and desktop Windows.
At this point Skype seemed to be retreating from the UWP. "We're updating PC users of the Windows modern application to the Windows desktop application, and retiring the modern application," said Skype's Aga Guzik, while also referring to forthcoming "task-based" apps for messaging, phone and video.
In November 2015, previews of those task-based UWP apps appeared, initially on desktop Windows 10, and then also on Windows 10 Mobile. They were not a big hit with users, who complained of bugs and limited functionality. Most users stuck with the desktop app. Incidentally, those on Windows RT (the ARM version of Windows 8) still have the original Windows 8 Skype app.
Now Microsoft is changing tack again. "We're going to deliver a performant, fully featured UWP hub app. Messaging, calling and video all in the same application. You can think about that as ultimately replacing the Win32 app and of course the Silverlight app on Windows Phone," said Barbie Stafford, Director of Product Marketing.
Stafford told The Reg that while the task-focused apps "tested really well in research," feedback after release was different, especially for desktop and laptop users with large screens. "What people actually do when they get their hands on the tech is different from what they said they would do. Our large screen users top request was to bring messaging, calling and video together in one app," she said.
The new UWP Skype will be released shortly in preview, as part of the Windows 10 Insider programme, first on PCs and later on Windows 10 Mobile. The initial release will include calls, messaging, availability, emoticons and Mojis (short video clips), photo sending and joining existing group chats. The preview will NOT include some features, including creating group chats, group voice or video calling, and screen sharing, though according to Stafford it will be a "fully functional app when it goes into general availability."
The user interface for the UWP app will feature an adaptive user interface so that it is suitable for a variety of screen sizes. It also features what Stafford called a "streamlined user experience", removing clutter like rarely-used status updates, and eliminating the "old-school" top menu in favour of right-click options on objects like contacts.
UWP apps require Windows 10, so the existing desktop Skype will continue for users of Windows 7 and earlier, and will remain an option on Windows 10 as well.
Microsoft is also persevering with the separate messaging and video apps. "We'll continue to add features," said Stafford. Why not make the new app smart enough to replace the task-focused apps by presenting a simplified UI on small screens? "I can't comment on that," said Stafford, though logically this is what should happen. "Over time we will streamline all Skype for Windows 10 experiences into the Skype Universal Windows Platform app," says the press release, which may imply that this is the plan long-term.
In the meantime, it appears that Skype users on Windows 10 will have three ways to make a call, with the most complete set of features still reserved for the existing desktop application.
As a popular first-party application, Skype gave Microsoft an opportunity to show the benefits of Windows 10, but instead it has illustrated the pitfalls of supporting two distinct platforms within one operating system.
Browsing the Skype community forums it is also clear that what users most desire is reliable connections and consistent features across all Skype's platforms, and constant changing of mind about what the Windows 10 client should look like does not further that goal.
That said, the Skype team is right to move on from the poor existing task-focused Windows 10 applications, and rolling all the features into a single adaptive UWP app does make sense, so perhaps better times are ahead for Skype's 300 million monthly users.®