Pure Storage's Accelerate event in San Francisco earlier this month previewed a coming high-end FlashArray//m system with more than three times the usable capacity of the current range-topping m70.
The new system will arrive later this year and give Pure a five box line-up, unless one of the current//m products is dropped.
A slide showed:
1.5PB usable
4 and 8TB 3D NAND modules (SSDs)
1,000s of VMs supported
Always-on QoS
Priced at less than $1GB/usable capacity
We assume that the upgradability from the entry-level m10 to the new system, which we'll call the m90 for convenience, is preserved with Pure's Evergreen scheme.
The Pure Accelerate slide (below) shows just two expansion shelves underneath the controller enclosure. Each appears to have 24 flash modules. Simple arithmetic tells us 48 x 8TB = 384TB of raw capacity, which is in the right ballpark for 1.5PB of usable capacity, allowing for data reduction hype.

Pure Accelerate preview slide
The m70 has 512GB, 1TB or 2TB flash modules, so the new box, with either 4TB or 8TB ones and 48 slots, will almost quadruple its raw and effective capacity. Pure fits the m70's capacity into a 3U controller box and four 2U expansion shelves, each with 24 slots. The new box should take up less rackspace, if the picture shows a fully-coinfigured one.
It's suggested that this new FlashArray could be the existing FlashArray//m architecture with high end controllers, fitted with 1TB RAM or more per controller to address global deduplication and manage that amount of capacity.
We took a stab at filling in boxes on a FlashArray basic specs spreadsheet, calling the new box the m90, but that's only us guessing.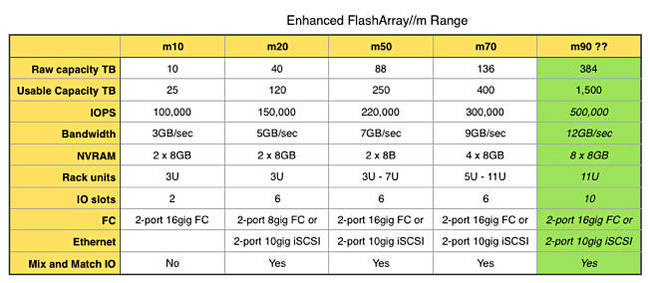 Enhanced FlashArray//m line with new box in green column.
William Blair analyst Jason Ader has tabulated various vendors' all-flash arrays and their raw capacity: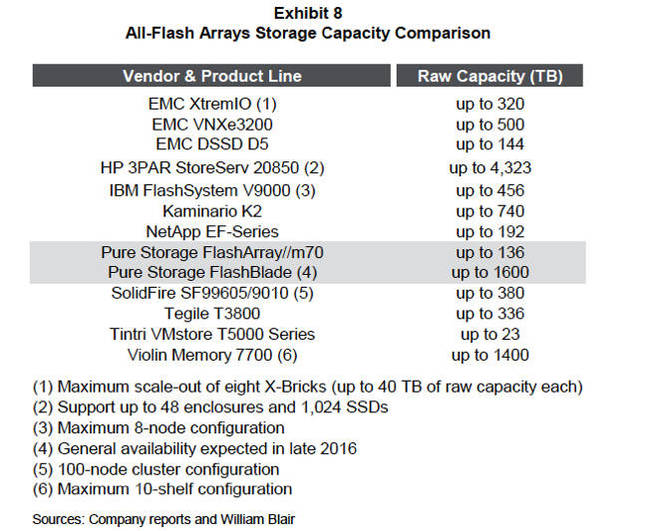 Jason Ader's AFA raw capacity list
If we chart this alphabetically ordered list, re-ordering by capacity size, and add in Pure's coming array, this is the result: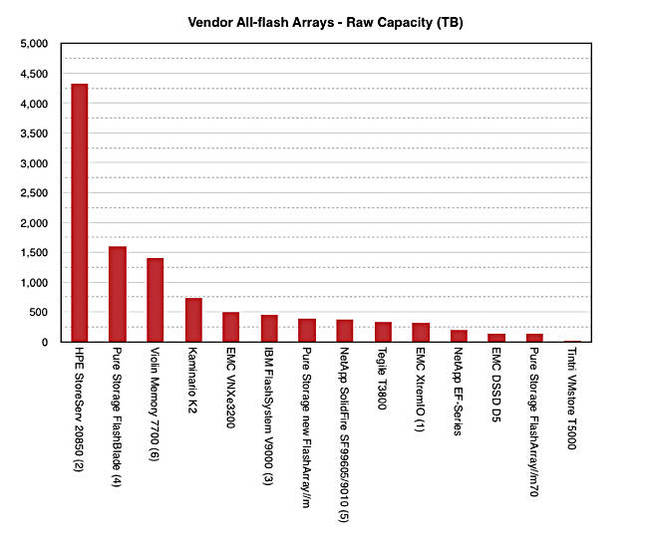 It shows us that, at the estimated 384TB raw capacity, the new FlashArray would exceed XtremIO's current maximum capacity as well as NetApp's EF-Series and the SolidFire line. The existing //m70 is low down on this raw capacity list
IBM's FlashSystem and EMC's VNXe3200 would exceed the coming FlashArray by reasonable amounts while Kaminario's K2 and Violin's 7700 would be well ahead. The FlashBlade from Pure won't reach its 1.6PB capacity for a year or more and, being in the unstructured data area, is not directly comparable.
HPE's StoreServ 20850 is simply a capacity monster.
There is a great deal of variation in AFA's raw capacity, reflecting differentiated SSD and flash chip suppliers with different planar and 3D NAND, and MLC versus TLC chips. Differing data reduction technologies also have a role to play as suppliers target effective capacities at the market sweet spots they are aiming for.
One thing is certain; at the rate of tech change we are seeing, this chart will be completely different in 6-12 months' time.
One more thing: we understand Pure uses Samsung SSDs using 3D V-NAND flash chips, currently available in PM863/PM1633 form in up to 3.84TB capacities, using 30nm, 32-layer, 128Gbit TLC chips.
The PM1633a has 7.68TB and 15.36TB capacities using sub-30nm, 48-layer, 256Gbit TLC V-NAND chips. It started shipping this month. With Toshiba/SanDisk and Micron accelerating their v3D NAND chip shipments expect a wave of capacity updates to flood through the all-flash array product lines. ®