This article is more than 1 year old
ExoMars probe narrowly avoids death, still in peril after rocket snafu
Explosion may doom latest mission to the Red Planet
The European Space Agency's ExoMars probe is on its way to the Red Planet – although the spacecraft may not complete its mission intact.
The craft, carrying the Trace Gas Orbiter atmosphere sniffer and the Schiaparelli lander, took off on March 14 aboard a Russian Proton rocket and began circling Earth. The fourth stage of the rocket was supposed to fire up, push the probe off to Mars, and then place itself in a parking orbit – but that didn't go to plan.
Pictures taken by the Observatório Astronômico do Sertão de Itaparica team in Brazil show ExoMars trundling merrily on its way, but it's surrounded by five or six other objects that shouldn't be there.
Furthermore, the fourth stage of the rocket isn't where it was supposed to be.
It now appears that shortly after separation, the rocket disintegrated before moving itself into the parking orbit; most likely several large chunks of it will be accompanying the Mars probe on its mission.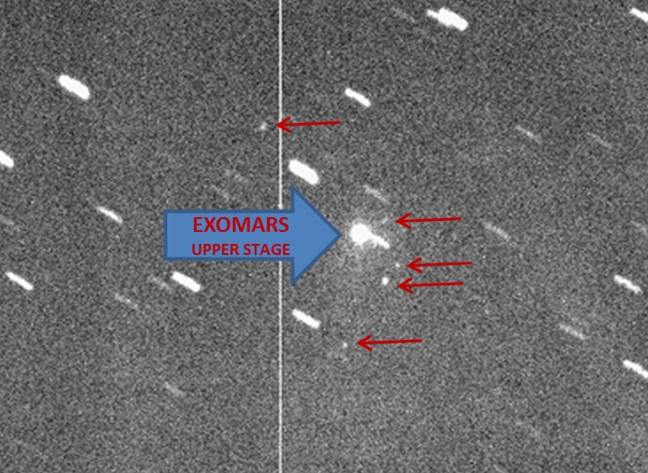 ExoMars and the mystery material (red arrows)
"We are now well on our way to Mars," said ESA flight director Michel Denis. "After the critical first few days in space, TGO is performing flawlessly. Over the next two weeks we will continue to check and commission its systems, including the power, communications, startrackers, and guidance and navigation system."
Depending on how far the probe was from its rocket barge when it disintegrated, some of the scientific equipment could have been damaged. There's also the (admittedly small) chance that some debris will follow the probe to Mars and then hit the spacecraft from behind.
There's also a pollution problem – Mars is going to get a taste of some Earth-born microorganisms. Any probe landing on another planet is rigorously disinfected to make sure that we don't introduce life onto another body, but rockets don't get the same treatment.
If the debris makes it to the Martian surface, it's highly unlikely that it would survive the heat of atmospheric entry or be able to live in the harsh climate on the Red Planet. What's more important is that the probe arrives safely and deploys its lander, and it'll be seven months before we'll know the answer to that one. ®