Oracle v Google: Big Red wants $9.3bn in Java copyright damages
And the judge wants to ban lawyers from Googling jury members
The Oracle v. Google fight over Java took a couple of twists just before the Easter weekend.
The database giant now reckons it is owed up to $9.3bn in copyright-infringement damages for Android's use of Java. Meanwhile, the judge in the trial wants to ban Oracle and Google lawyers from scouring jurors' social network profiles for personal information.
Oracle is suing Google in California for copyright infringement, accusing the search kingpin of ripping off the Java language APIs in Android. Oracle acquired Java when it bought Sun Microsystems in 2010, and promptly sued Google that year for using its class library API on Android without paying a dime for it.
Last year, Oracle successfully argued that it can copyright software interfaces – not just the software itself, but the way it interfaces with other code, too. However, the trial jury deadlocked on whether or not Android's infringement of Oracle's copyright constituted "fair use."
The case is heading back to trial in May to effectively work out how much money Google owes Oracle. In the meantime, the pair have been squaring up to each other in San Francisco's federal court. In January, Oracle revealed that Google has made $31bn in sales and $22bn in profit from Android since it launched in 2008 – figures Google fought fiercely to keep secret.
Now one of Oracle's expert witnesses, James Malackowski, has produced an analysis [PDF] that concludes that Big Red is owed $475m in damages and up to $8.89bn in recovered Android profits. Malackowski is chief exec of Ocean Tomo, which does intellectual property valuations among other things.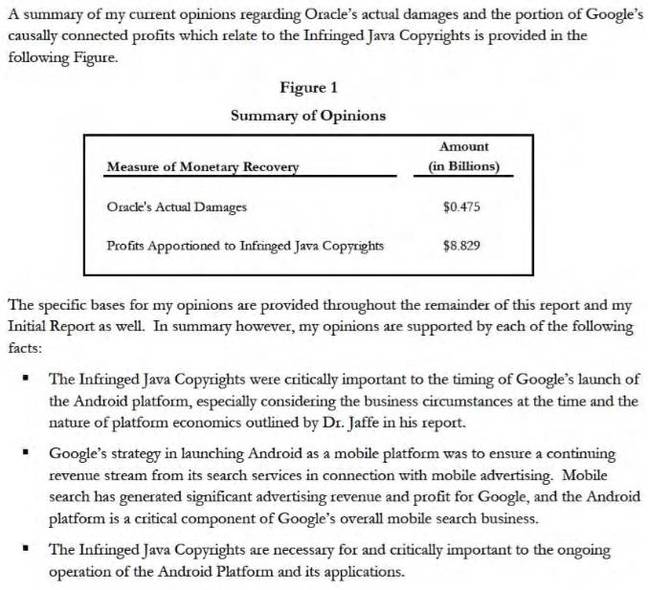 Breakdown ... Malackowski's figures for Oracle
Google has already filed paperwork [PDF] slamming Malackowski: "Oracle's damages expert ignores the statutory standard for copyright damages and fails to offer anything resembling an expert analysis."
The web giant is upset that Malackowski included money made from ads and hardware sales in his calculations for the damages Google owes Oracle for using 37 APIs in Android:
He opines that the Android OS as a whole — including the more than 99% of Android code that is not accused in this case — is responsible for 35.6% of profits on advertisements shown on Android devices and 100% of profits on Google-branded Android hardware, applications and digital content sold for use on Android devices.
Google wants Judge William Alsup to throw out Malackowski's testimony from the case. A decision is due to be made by the end of April.
Oracle, which paid $7.4bn for Sun and earlier tried asking for $6bn in damages from Google, says the search giant will probably want to cough up no more than $100m. Google's operating income in 2015 was $23bn from revenues of $74bn.
No Googlin', Google
Speaking of Judge Alsup, he has proposed banning [PDF] Oracle and Google's lawyers from rifling through jury members' social networking profiles and looking them up online.
The legal eagles tried getting the jury to fill out a questionnaire that would have revealed their names and addresses, allowing Oracle and Google researchers to "scrub Facebook, Twitter, LinkedIn, and other internet sites to extract personal data" about the jurors. This scouring could have turned up messages posted by jurors that the lawyers would in turn exploit to derail the trial or to manipulate members of the panel.
"For example, if a search found that a juror's favorite book is To Kill A Mockingbird, it wouldn't be hard for counsel to construct a copyright jury argument (or a line of expert questions) based on an analogy to that work and to play upon the recent death of Harper Lee, all in an effort to ingratiate himself or herself into the heartstrings of that juror," said Judge Alsup.
"The same could be done with a favorite quote or with any number of other juror attitudes on free trade, innovation, politics, or history. Jury arguments may, of course, employ analogies and quotations, but it would be out of bounds to play up to a juror through such a calculated personal appeal; all the more so since the judge, having no access to the dossiers, couldn't see what was really in play."
He added:
Trial judges have such respect for juries — reverential respect would not be too strong to say — that it must pain them to contemplate that, in addition to the sacrifice jurors make for our country, they must suffer trial lawyers and jury consultants scouring over their Facebook and other profiles to dissect their politics, religion, relationships, preferences, friends, photographs, and other personal information.
Since jurors aren't allowed to search the internet for information about the legal battle in case they stumble upon the millions of words written about it already – including biased blog posts and comments paid for by both sides – lawyers shouldn't be allowed to look up jurors online, either, the judge remarked.
"In this very case, we earlier learned that both sides hired online commentators who have promoted their respective litigation viewpoints on blogs and other websites," Judge Alsup noted.
He concluded: "Both sides shall inform the court by March 31 at noon, whether they will consent to a ban against internet research on the venire or the empaneled jury until the trial is over." We shall wait and see. ®