Pandora punch-up sees CEO exit, shares drop
Music streaming founder Westergren back in charge
---
A row over the future of music streaming service Pandora has led to the departure of its CEO and the return of the company's founder to the position.
Shares in the company have dropped 10 per cent on the news that Brian McAndrews will leave as the company's chief exec, effective immediately, and be replaced by Tim Westergren, who founded the company and for most of the past decade has been its chief strategy officer.
The company's CFO, Mike Herring, will now become its president and CFO, and Sara Clemens will become chief operating officer.
In its official statement on the changes, McAndrews was quoted as saying: "With the team and strategy in place and execution underway, I am passing the baton on to Tim. I wish the Company all the best as it continues on its next phase of growth."
However, the unexpected changes – McAndrews has been in charge for just two-and-a-half years – are almost certainly as a result of McAndrews' response to increased competition in the streaming market, most recently from Apple.
Pandora is largely on its own in the market due to the fact that its service chooses the songs it plays, relying on a predictive system to play related songs to individual tracks or artists that you select. In that sense, Pandora acts more as a radio. Its competitors such as Spotify and Apple Music, however, allow you to choose specific songs or albums.
Acquisitions
In an effort to shore up the company – which has seen its listener numbers fall recently – McAndrews has made two expensive acquisitions in the past few months: competitor Rdio for $75m and ticket company Ticketfly for $450m.
This was largely seen as an effort to keep Pandora independent and to use its musician-friendly credentials as a way to carve itself a specific niche.
The company also launched a new service earlier this month called "Ampcast," which allows bands and musicians to record and release audio messages that can then be sent to their fan base through Pandora's mobile phone app, and tie in with purchases of songs or gig tickets. Westergren described the service on Twitter as "the reason I started this company 16 years ago."
However, McAndrews has also reportedly looked into selling the company. According to reports, Morgan Stanley had been brought in to look for buyers, and the arrival on the Pandora board of media industry veteran Anthony Vinciquerra last week was widely seen as a sign that a sale was forthcoming.
Shares in Pandora jumped 11 per cent on speculation that the company would be sold off to a media giant – a gain that was just as swiftly wiped out when McAndrews was pulled as CEO.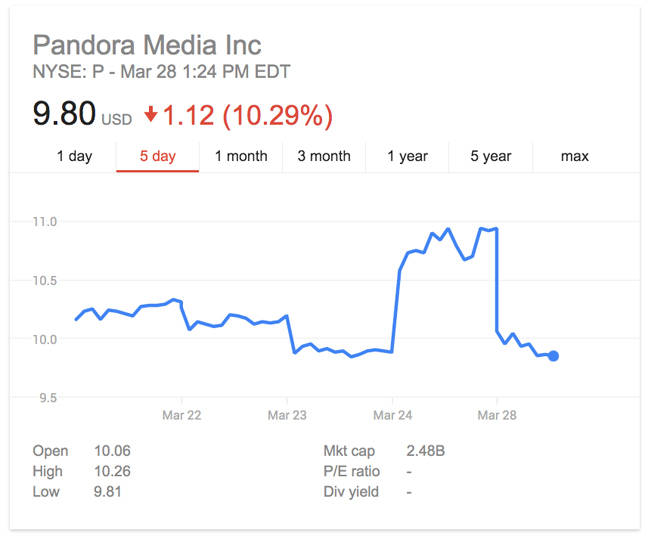 Sale rumors push it up 10 per cent; new CEO pushes it down 10 per cent. And all over Easter weekend
All change
While neither Pandora, Westergren, McAndrews or board members are giving any details beyond canned statements, the changes are assumed to come due to Westergren's long-held desire to keep Pandora independent and supportive of musicians and fans, rather than become part of the corporate music industry.
"I am incredibly excited about the future of Pandora," said Westergren in the official statement.
"We're on the cusp of realizing an extraordinary vision: fundamentally changing the way listeners discover and enjoy music, and the way artists build and sustain their careers. We are pursuing a once-in-a-generation opportunity to create a massive, vibrant music marketplace. We have the audience, the technology infrastructure, the monetization engine and most importantly the right team with the passion and commitment to do it. I'm 100 percent committed to Pandora's growth strategy, as is our executive team and Board."
The truth is, however, that while Westergren is an articulate and passionate speaker for the vision of Pandora, he lacks the skills and CEO-mindset to run a publicly listed company.
The decision to replace McAndrews shows that Westergren retains significant support on his board and clearly felt it was necessary to use that before Pandora went too far down what he considers to be the wrong path. The search for a replacement CEO has likely already begun. ®