Load DynamiX, a storage workload monitoring and simulating company, and Virtual Instruments, a Fibre Channel/Ethernet tapper and monitoring business, are merging after the tapper ran out of meaningful growth room.
The merged entity will be called Virtual Instruments (VI), and Load DynamiX (LDX) CEO Philippe Vincent will be its CEO, with VI CEO John Thompson exiting the scene. VI's marketing VP, John Gentry, will be the CTO of the new VI, with LDX marketing VP Len Rosenthal the new VI marketing VP.
Both companies are headquartered in San Jose, with HQ buildings less than one mile apart. Virtual Instruments was founded in 2008 and has accumulated $76.5m in total funding. LDX, founded in 2009, has $19.25m in total funding. New-VI will be funded with fresh capital of $20m, in a VC round led by contributions from LDX's existing investors.
The rationale for the merger is that the two companies' products and technologies work exceptionally well together, with VI's tapper-based tech contributing real-time data for LDX's workload simulation, monitoring and predicting software.
The drivers for the merger were two. First, customers wanted the two suppliers' products and technologies to work together. Indeed some customers were buying both products and housing them in the same rack.
Second, VI ran out of growth headroom.
VI's crossroads
Our understanding is that VI encountered revenue problems in the middle period of 2015. A couple of bad quarters coincided with a need for fresh funding, and a change in the VC environment towards funding rounds that could help startups become profitable rather than helping them grow and develop over many quarters.
For VI, it had great technology for tapping into Fibre Channel cables and recording, monitoring and analysing the data flows through the cables. But there are only so many Fibre Channel SANs in the world, and only a subset of them are large enough to have infrastructure specialists paid to ensure that the fabric worked at, and could be managed for, optimum efficiency.
VI was expanding into the adjacent Ethernet cabling market, but had a ways to go to build up a good revenue stream and see profits ahead. For Chairman and CEO John Thompson, this situation came to a head when VI's VCs declined to provide fresh funding. It was an existential threat and he saved the company by responding to merger possibilities with LDX.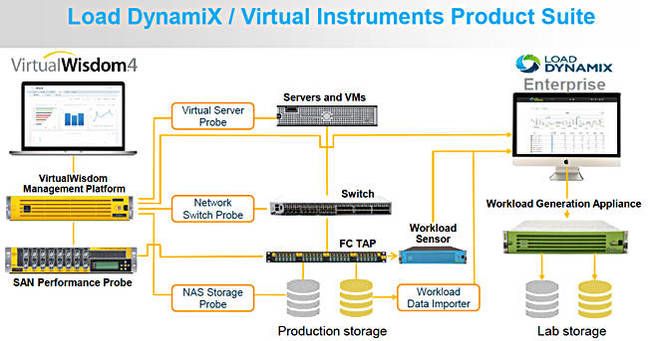 There are a number of former VI employees who work at LDX, and in fact, LDX initiated conversations about merging with VI via its lead investor, HighBar Partners. As VI was looking for fresh funding, the offer from HighBar to merge LDX with VI and also provide $20m in capital was pretty compelling; it was the best strategic and financial deal for both companies.
A merger agreement was signed on March 11. The combined LDX-VI entity, with about 500 customers (including 350+ old VI ones and 100 LDX ones), is attractive to VCs and fresh funding has been arranged. The $20m round has been led by HighBar Partners, with existing LDX investors Azure Capital Partners Benhamou Global Ventures and Kinetic Ventures contributing. It capitalises new-VI to support future innovation and company growth.
Post-merger matters
Apart from old-VI CEO Thompson, new-VI will retain all 180 existing LDX and VI employees and is, in fact, hiring.
New-VI says enterprises need an overall and all-inclusive view of how their application workloads are interacting with the underlying infrastructure. Workloads and data centres are unique, and as data and processing needs grow businesses to, literally, tap into existing network data flows and inspect them with VI's Virtual Wisdom, then they need to feed the information gleaned into simulation processes to explore what happens if workloads are moved and infrastructure elements are changed.
Vincent claims that: "By joining the undisputed leaders in infrastructure performance management and storage performance analytics, we've created a combination of solutions that no one else in the industry comes close to offering." The merged pair's technologies offer, they say, the best infrastructure instrumentation and performance analytics in the data centre.
Merger or takeover
Despite the VI name and the retaining of all staff, should we view this as, effectively, LDX taking over larger VI?
A merger FAQ states "The new [VI] board is the existing Load DynamiX Board of Directors comprised of CEO Philippe Vincent, John Kim of HighBar Partners, Roy Thiele-Sardina of HighBar Partners, Paul Weinstein of Azure Capital Partners, and Industry Executive and former SwifTest CEO Clay Marr."
We note that John Thompson, chairman and CEO of the old VI, does not have a role in new-VI. Both firms' technologies are absolutely necessary to the merged product set and both are indispensable. But a case can be made that this is, in effect, an LDX takeover of old VI.
The bottom technology line is that "while [VI's] VirtualWisdom does an unparalleled job of analysing the performance of the production infrastructure, it has no ability to simulate production workloads in a lab or pre-production environment." That's where LDX's technology comes in, and, of course, the reverse is true for LDX's technology.
One plus one equals three
The two say that, when inevitable production infrastructure problems do arrive, the ability to capture the production workload profiles (VI) and then replay them in a test lab (LDX) will dramatically accelerate problem identification and resolution.
We're also told that LDX supports all FC and IP-based storage protocols, being complimentary to VI, and new VI will accelerate old VI's roadmap to deliver infrastructure performance analytics across any storage technology – NFS/CIFS, iSCSI, and more.
An additional benefit to LDX is that new VI inherits old VI's large enterprise selling skills, which LDX lacked. New VI inherits LDX's IP expertise, which old VI lacked.
LDX, which only had resources in the US prior to this merger, now gets VI's global support and professional services team.
New VI will continue selling services and products both to vendors and to enterprises.
Regarding future product development, the merger FAQ states: "We will be broad in our infrastructure coverage across all storage technologies, hypervisors and network technologies. The new company will heavily invest in workload performance analytics and cloud-based services to make applications and infrastructure perform better together."
For the channel: "All existing partner relationships and contracts will remain in force. All existing partners will have immediate access to all products of the merged company under the same discount structures and incentives."
The new-VI should get itself up and running quickly, with its sales reps and channel cross-selling products to customers ripe to take them. To coin a cliche, it looks like a marriage made in heaven. ®