Microsoft is releasing preview versions of Windows 10 at a rapid rate, perhaps in preparation for its Build developer conference later this week in San Francisco.
Build 14295, released late last week, followed just 8 days after Build 14291, which introduced Extensions for the Edge browser as well as an updated Maps app.
There is also a new Feedback app, now called Feedback Hub, which merges the old Feedback app with another app called Insider Hub.
Perhaps the most interesting feature is the promise that "you'll start seeing Microsoft engineers leaving comments on your feedback." Based on past experience, keep your expectations modest in this regard.
Bugs fixed in this build include freezing when an Xbox controller is attached, Kaspersky anti-virus not working, and on Windows 10 Mobile, new languages and keyboards not downloading.
I have been trying the builds on both PC and mobile. Edge extensions are potentially a big deal, since Microsoft's new browser is crippled without extensibility. The developer story will be unveiled at Build; having said which, it is already clear that Edge extensions are based on HTML and JavaScript. Kyle Pflug from the Edge team remarked that "Edge extensions and Chrome extensions have a lot in common," and that Microsoft is hoping to establish a cross-browser standard for browser extensions via the W3C Browser Extension Community Group. If you download one of the three preview extensions, you will wind up with a bunch of HTML, JavaScript and CSS files.
The extensions currently available, on PC only, are Microsoft Translator, Mouse Gestures, and an Edge version of the Reddit Enhancement Suite (RES). Of these, RES is perhaps the most impressive, adding a ton of features to the popular discussion site.
Translator is meant to show web sites in the language of your Windows installation, via a button which automatically appears in the address bar, but on a quick test the translate button does not always appear when it should, and the translation for complex sites such as Amazon in French or German is only partial.
Mouse Gestures let you navigate with right-click and drag; they work, though some of the time the default right-click menu appears instead.
Microsoft is doing solid work with Edge, but it may be too late. It was released before it was fully usable, pushing Windows 10 users towards alternative browsers, and getting users back after an initial poor experience is always difficult.
The Windows 10 Maps app is substantially improved in these new builds. You can now have multiple tabs, so you can flip between recent searches. The mobile version now has navigation tools at the bottom of the screen, making them much easier to use with one hand. In addition, the user interface for turn-by-turn directions has been improved and will use Cortana's voice where enabled.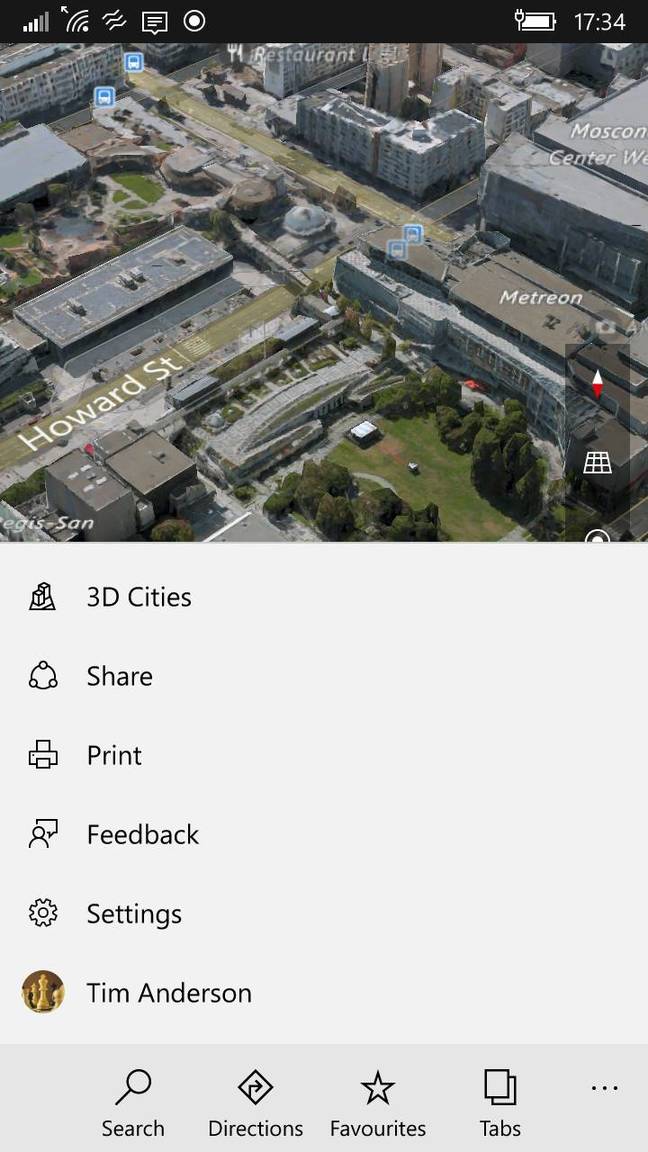 The new Maps app on Windows 10 Mobile showing the bottom menu and a 3D city view
Improvements to the Windows 10 Maps app are particularly welcome, since on 30 June 2016, HERE Maps will be discontinued on Windows Phone.
Windows 10 was released on 29 July 2015, around 8 months ago. Many bugs have been nailed, but despite the advent of "Windows-as-a-service" it is not greatly improved, and the Windows app store remains disappointing. Microsoft's repositioning of Windows Phone as a business device has not helped momentum behind its Universal Windows Platform, and Windows 10 has so far failed to re-ignite the PC market.
None of this is surprising, given the many twists and turns in the evolution of Windows over the last decade and the fact that it has gone backwards as well as forwards during that time. For example, a detailed thread on the Windows Insider forum discusses how Windows 10 is, in important ways, worse than Windows 8.1 for tablet and touch users; of the 56 issues noted, only 33 per cent have been fixed.
At Build this week, Microsoft will be re-presenting its Windows story to developers, as well as emphasizing that it is now a cross-platform company with a strong cloud presence. On the Windows side, it needs to convince developers that it now has a consistent and compelling strategy to rebuild its market, while on the cross-platform side emphasizing that following its Xamarin acquisition, Microsoft has the tools to build apps for every platform – messaging that will be tricky to get right. ®
Similar topics